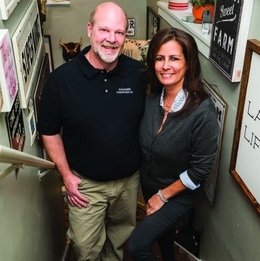 Better with Age
At Salvaged Furniture & Home Décor Boutique in Pottstown, artisans Tom and Maria Roberts breathe new life into reclaimed vintage furniture.
"We get a lot of oohs and aahs," says Maria Roberts. "We even had someone in here crying, because everything about the store brought back all these memories."
As co-owner of Salvaged Furniture & Home Décor Boutique in Pottstown with her husband, Tom, Maria has gotten used to seeing such visceral reactions to their work. The people who step through their front door appreciate the beauty and craftsmanship of the vintage furniture they have on display, but she says it's more than that. For some people, their brand of reclaimed and restored furniture tends to stir up joyful memories from the past—nostalgia. Plus, the pieces on display often have a history all their own.
"People are awed and astounded by what a skilled furniture artist can do," Maria adds. "We can give an entirely new look to something that is 100 years old and has been beat up. Our motto is: 'We're saving old furniture, one piece at a time."
Maria handles the painting of the furniture, working in styles ranging from farmhouse to shabby-chic to industrial. Tom, who is an IT specialist by trade, handles the woodwork in his free time. "This is my second full-time job," he jokes. Maria and Tom Roberts, owners of Salvaged Furniture & Home Décor
With the help of a team of professional pickers, the couple salvages furniture from across the state, including Bucks, Montgomery, Berks and Lancaster counties. Together, Tom and Maria then restore and repaint each piece to create truly distinctive vintage pieces that could serve as the centerpieces of any home.
"We have a little bit of everything," Maria says. "Although we do have some accents and smaller pieces—end tables, coffee tables—we focus on the bigger pieces, like full dining room sets, secretary desks and buffets and servers. I'd say 98 to 99 percent of our inventory is painted furniture, but sometimes we put things out on the floor unpainted so people can pick their own stains."
Customers can be confident that each piece in Salvaged Furniture & Home Décor Boutique's inventory has been well made and artfully restored, according to Tom. Even so, he suggests customers can expect to pay significantly less compared with what they might find in the showrooms of most mass-market furniture stores.
"What you're going to find here is good, quality furniture," he says. "Some of these items are more than a century old but just need a little TLC to bring them back. If someone wants to buy a new buffet, they'd probably pay $1,500 to $2,000 someplace else. Here you can probably find one that has been redone for as little as $500—a third of the price."
From Modest Roots
Salvaged Furniture & Home Décor Boutique started as something of a hobby, with Maria perfecting the art of painting furniture while she was recovering from an injury.
"I really took to it," says Maria, who has a background in marketing. "In the process we found that Tom really enjoyed doing woodwork. Then, through friends, family and Facebook, we started to acquire all of this old furniture that some people were just giving away. We found we could take something that was fairly dilapidated and turn it into something beautiful. Meanwhile, we kept finding new and better ways to get our hands on some of these pieces that were coming available."
Yard sales, auction houses, flea markets—Tom and Maria tried their hand at every possible option, including renting space in other local furniture stores, all while growing their network of contacts. The volume of orders continued to build, usually peaking each year around the winter holidays. The business truly took off after the couple invested in a box truck for pickups and deliveries.
In April 2017, with business booming, Tom and Maria opened their boutique—nearly 1,200 square foot, spread across two floors—in The Shoppes at Pughtown in Pottstown. Since then, the boutique has amassed an extensive inventory of vintage furniture. (They also supply pieces to another shop, Always Never Done, which is located in SalungaLandisvlle, northwest of Lancaster.) If, somehow, a customer finds nothing in the store that suits his or her particular taste, the boutique can refurbish and repaint the customer's existing furniture.
"The time and work required to do something like that far outweighs what most people are willing to do," Tom says. "People love it when you offer to pick it up, paint it and deliver it back to them. Sometimes that gets a little tricky when you're talking about a full dining room set, but we find a way to get it done."
Tom and Maria also offer another option: Commission them to hunt down something specific outside of their current inventory.
"We've developed a bit of a following over the years, and I think people have come to know our style or brand and what we're capable of," Maria says. "The farmhouse style is probably what carried us through before people really knew what we do here, but we're not pegged into one style. We're always up for the next challenge."
Likewise, if a customer wants to follow in Maria's DIY footsteps by repainting their own furniture, Salvaged Furniture & Home Décor Boutique also sells the supplies needed to do the job correctly.
"Rather than going to Home Deport for latex paint, they can come here for milk paint, chalk paint or clay paint, all of which are designed specifically for painting furniture," Tom says. "There's a completely different look and feel to these kinds of paints; they really work well with the grain. We also have the different top coats they'll need, from waxes to polishes to oils, that are specifically made for furniture."
In other words, no matter the need as it relates to vintage furniture, the proprietors of Salvaged Furniture & Home Décor Boutique have the skill and expertise to deliver. The boutique is open from 11 a.m. to 4 p.m. Wednesday through Sunday.
"If it's off hours and we're not at the store, we're usually busy painting or out delivering," Tom says. "Any other time, people are welcome to come in and check out the selection."
SALVAGED FURNITURE & HOME DÉCOR BOUTIQUE
2311 Pottstown Pike, Pottstown, PA 19465
(484) 985-8135
Facebook.com/SALVAGEDFCO
Pinterest.com/SALVAGEDFC
SalvagedFC@mail.com
Store hours: Wednesday through
Sunday, 11 a.m. to 4 p.m., closed on Monday and Tuesday
Photograph by Jody Robinson
Published (and copyrighted) in Suburban Life Magazine, February 2018.
.
.
.