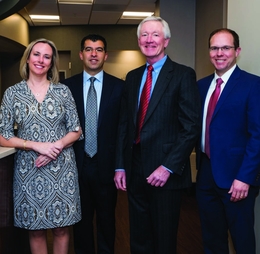 Making an Impact
After years of continued growth, Oral Surgery Associates of Chester County stands poised to improve patients' health and happiness for generations to come.
Shortcomings in a person's bite can have a troubling, and sometimes even crippling, effect on an individual's ability to enjoy life.
Maybe it's an older woman who has spent severa l years forgoing some of her favorite foods because of poor dentition or missing teeth. Or perhaps it's a young man whose impacted wisdom teeth have begun to cause pain or disrupt the alignment of his other teeth. Or maybe a severe overbite has hampered a young woman's abili ty to chew or speak—and, besides that, she just doesn't like how her misaligned jaws make her look.
Oral Surgery Associates of Chester Co unty has spent the past f ew decades listening to patients tell stories about how these sorts of complex oral and maxillofacial problems have affected them— and then providing surgical solutions to change their lives for the better. Today, the practice's team of board-certif ied oral surgeons offers a full gamut of surgical services, ranging from wisdom-teeth removal and realigning improperly positioned jaws t hrough orthognathic surgery to dental implants, including the grafting of bone when needed to support the implants' placement.
"Oral s urgery truly is a wonderful specialty," says James F. Gustainis, D.M.D., the senior member of Oral Surgery Associates of Chester County's surgical team. "If somebody has a problem that's affecting their everyday life, they can come into the office, have the treatment done , and then they leave with their problem solved."
Always Evolving
Oral Surger y Associates of Chester County traces its roots to its dynamic founder, F rederick C. Disque, D.M.D., who retired from the practice only four years ago. The practice has since grown to include four hi ghly skilled, board-certified oral surgeons—Dr. Gustainis, as well as Amin Kazemi, D.M.D., M.D., Cynthia Trentacosti, D.D.S., M.S., and Michael Walker, D.D.S., M.D.—who Serve patients at two state-of-the-art offices in West Chester and Kennett Square.
"Fred is a great surgeon and a really wonderful person," sa ys Dr. Gustainis. "His way of thinking is much different from mine, and even back when he first brought me on he was able to see the big p icture that would establish the future direction of this practice. When Dr. Trentacosti came into the practice, she and Fred tended to think the same way, so she took on more of Fred's role. There was never a hierarchy, but I think the mantle of leadership went from Fred t o Cindy rather than to me."
Having joined the practice in 1982, Dr. Gustainis has seen the profession evolve considerably, both in terms of the surgical tools and techniques and the emergence of 3-D imaging technologies to enhance surgical planning. In his mind, though, dent al implants represent the single biggest quality-of-life improvement the practice has been able to offer patients. Oral Surgery Associa tes of Chester County was one of the first practices in the region to offer dental implants, dating back to 1986.
"Dental implants are a revolutionary way to predictably replace missing teeth, and we see an improvement in implant technology every two to three years," Dr. Gust ainis says. "A hundred years from now, people will look back and say, 'Weren't they primitive?' The next phase of replacing missing teeth w ill be biomedical engineering, where you'll essentially be able to regenerate a tooth and place it right into the patient's mouth. For n ow, dental implants are the next best thing."
Dr. Gustainis has also watched the practice "stretch its legs," not only by adding seasoned s urgeons such as Drs. Kazemi and Walker, but also by opening the roomy, new office location in Kennett Square to replace an older offic e. While the new space has enabled the practice to add plenty of creature comforts for patients and their families—a full coffee bar in the waiting room, for example—it also has larger treatment rooms to accommodate specialized equipment. This includes an anesthetic mach ine used to deliver sevoflurane, an inhalation anesthetic popular in pediatric dentistry.
Dr. Kazemi says the new Kennett office has made him "a firm believer in feng shui."
"When you have the space you need, there's a good flow and you're able to do your job well," he says. "I've noticed that the space even makes a huge difference in our mood and the patient's mood. It's bright, it's comfortable and it helps patients feel understand that we genuinely care about what we're doing."
'A Unique Environment'
Each of Oral Surgery Associates of Chester County's four surgeons brings unique talents and skills to the practice, both in and out of the operatory. Dr. Kazemi says this kind of diversity creates an environment in which new ideas abound and collaboration happens naturally.
"It makes for a unique environment," he says, "and I'm very proud of that."
Diversity aside, the four surgeons also share a number of common traits—namely, a devotion to their craft, and a genuine desire to take care of people.
"When it comes to surgery, there's often anxiety and worry," Dr. Kazemi says. "Maybe it's a result of me having kids of my own, but I think easing patients through the process comes from engaging with patients and showing some humility. I find it so rewarding to be able to gain their trust and help them through something very difficult. You get to build relationships with patients and the community of referral doctors and dentists, and the opportunity to build those kinds of relationships is the best part of what we do."
Looking to the future, Oral Surgery Associates of Chester County will continue to solve its patients' dental woes, just as it has for generations—and as it will do for generations to come, according to Dr. Gustainis.
"I'm seeing a trend among my patients now," he says. "As I'm finishing up a consult for a wisdom-teeth evaluation, the parent of the patient will turn to me and say, 'Do you remember me?' I'll usually say, 'You do look familiar,' because I've seen a lot of patients over the years. Then they'll tell me I took out their wisdom teeth 20 years ago. Sometimes they also say, 'You did surgery on my mother or father, too,' so in some cases I've treated three generations of one family.
"I'm gratified that people have had so much confidence in me," he continues, "and I think people have that same confidence in every surgeon we have here."
ORAL SURGERY ASSOCIATES OF CHESTER COUNTY
OralSurgeryChesterCounty.com
600 E. Marshall Street, Suite 106
West Chester, Pa.
(610) 431-2161
721 E. Baltimore Pike, Suite 200
Kennett Square, Pa.
(610) 444-2818
Photography by Jody Robinson
Published (and copyrighted) in Suburban Life Magazine, February 2018.
.
.
.