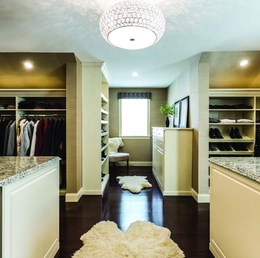 Say Goodbye to Chaos
By bringing order to closets, garages and other living spaces, Closets By Design adds simplicity to clients' lives and value to their homes
Anyone who has spent 20 frantic minutes searching for a pair of shoes, the right shirt for a business meeting or the perfect skirt for an important interview knows that ransacking one's closet is not only a waste of precious time; it's also downright stressful. But it doesn't have to be this way. Closets By Design has created a successful business model built around the premise that a well-organized home is a happy home. The Chester County-based company helps a broad range of clients create one-of-a-kind storage spaces that not only make clothing, footwear and other items easy to find, but it can also generate peace of mind and even extend the life of one's possessions, according to Kymberly Morris, marketing manager for Closets By Design. "We maximize the space you have," says Morris. "We can usually double the amount of storage in your space."
Before construction begins, first comes the initial, complimentary 90-minute consultation, where designers discuss clients' desires for the area, including a conversation about what they might be willing to part with or what items might be a better fit in another room or a different part of the house. This enables Closets By Design to effectively inventory clients' clothing or other articles in need of organization. Next, the company provides a detailed drawing of the space, and clients choose their color preferences and other options, such as hardware, to fully customize their uniquely own area. Whatever the client's preference, that's the way it's built. An ironing board can be installed, as can a hamper, which is handy for dirty laundry, to maintain the space's newfound tidiness.
With a well-organized closet, a homeowner can add variety and style to a wardrobe—all without spending a dime on personal fashions.
"People may argue if it was Oscar Wilde or Will Rogers who said, 'You never get a second chance to make a first impression,'" says Charles Waterman, owner of Closets By Design, who holds a degree in industrial engineering and certifications in efficiency improvement. "What is important is how true it is. How put together or disheveled you look sends a clear signal to others. For some, it may be the first and final impression. We find that many of our clients take the clean clothes from the dryer or dry cleaners and put them back into the one reachable area of the closet and proceed to wear the same clothes over and over until they are tattered."
Consolidation and organization can be the key to much more than just neatness, according to Waterman.
"To us, having a well-organized closet means your clothing is compartmentalized and organized, often by work, weekend, sports and formal wear," he says. "Now, you can shop in your own closet to mix and match from those sections. I promise, if you are perceived as being put together well, you will feel positive about yourself and others will get that vibe."
Of course, Closets By Design offers much more than designing the finest closets. For anyone in need of assistance with a disorganized garage, a cluttered pantry or a dysfunctional home office, even a less than perfectly put-together mud room or guest bedroom, Closets By Design has the solution. The company's highly trained design team works with each client to create a custom-designed space that will enhance a home's value and add to the enjoyment of their largest investment.
Picture a mud room where all the kids' boots, shoes, sporting equipment and backpacks are neatly arranged and easy to find. No more dashing through the house in search of soccer cleats, homework or lunchboxes. It's quite easy to see how a properly organized storage system can make for a calmer, happier life for the whole family. For a messy hobby or storage room, where many people spend more time trying to find what they are looking for than they do actually accomplishing what they intended, a customdesigned shelving and closet system enables family members to locate what they need— and in record time.
All Closets By Design products carry a lifetime warranty. In addition, all closet units are floor based and anchored to the wall for added safety and stability, according to Morris. Also, because the products are manufactured within the company's 30,000square-foot headquarters in Exton, Closets By Design has greater control over the project, thereby "assuring the finest products are utilized and ready for installation on time," Waterman says.
Additionally, only the highest-quality products on the market are used by Closets By Design, including solid—not hollow— handles and knobs on its closets. In the garage, where heavy tools might be stored, ball bearings that can handle up to 150 pounds are the standard, unlike other companies that may use ball bearings that can withstand only 25 pounds.
Customer satisfaction is paramount to Closets By Design. Whether purchasing a simple storage system or a more elegant and elaborate one, each client has the com plete attention of a highly skilled team of designers, all intent on ensuring the client's happiness with the finished product.
"We take every care to create a stressfree and enjoyable installation," notes Waterman. As part of this, Closets By Design's full-time installers typically have the storage space ready to go in just one day.
Workers even take pets and children's nap times into account. Before the crew leaves, the customer inspects the job to make sure they are happy with the finished product. Even though Closets By Design provides a lifetime warranty, "We want to assure that the client is satisfied so we do not have to come back to inconvenience them or their family," Waterman says.
By the time the crew has backed out of the driveway and moved on to the next job, the client is ready to enjoy the newly organized space, making life simpler in a neater, more organized and more beautiful home.
FOR MORE INFORMATION ON CLOSETS BY DESIGN,
call (888) 500-9215 or visit ClosetsByDesign.com.
Published (and copyrighted) in Suburban Life Magazine, February 2018.
.
.
.