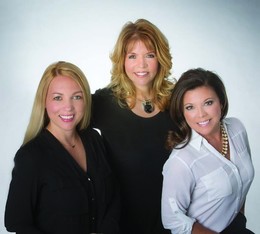 Everything They Touch Turns to … SOLD!
Clients know they're in more than capable hands with premier Bucks County Realtors Hazel Smith, Katie Smith and Jennifer Utterback.
Ernest Forsyth's father had been a Realtor for 25 years, so he had high expectations when, in 2013, he sought out a Realtor to help his family find a new home. A friend had referred him to prominent Bucks County Realtor Hazel Smith, and her performance far exceeded his highest hopes.
"We ended up working with Hazel on two houses so far—the first one in Langhorne, and the second in Richboro, which is our primary home now," says Forsyth, who works as an IT manager. "She seems to know everything about Bucks County real estate; you can't tell her about an area of development she doesn't know. If you have a property to sell or buy, she moves very quickly getting you to the right houses, and she has a very good team behind her."
Forsyth offers this advice for anyone seeking a skilled Realtor: Contact Hazel Smith, but once you do so, be prepared for things to happen quickly. Last year, for example, when the Forsyths wanted to move from their home in Langhorne, Hazel sold their home in just nine days.
"She's friendly, optimistic and has a charming demeanor, but I'd say the best thing she does is that she keeps you focused on getting what you need to get done in order to get into the house you want," he says. "As far as I'm concerned, she's an unstoppable force. She has also aligned herself with very good people who, in turn, do extremely good work."
Golden Touch
Hazel Smith's catchphrase—"Everything I touch turns to SOLD!"—is more than just a catchy slogan. Her dedication to her clients has helped her earn a place among the Tri-State area's leading home buying and selling agents.
"If people are thinking about selling in the next year or so, they should start talking to me now," says Hazel, who leads a dedicated team of Realtors with Berkshire Hathaway HomeServices in Newtown. "They need to get the house ready starting today. They need to prepare the house in the best light. It's like planning a wedding; you don't wait to do everything at the last minute."
To her point, Hazel and her team utilize expert home-staging services as a way to assure to facilitate the sales process. Staging— or preparing a home for sale by transforming it into a welcoming, attractive property to appeal to the highest number of potential buyers—is a critical tool. Hazel remembers one client whose home in Northeast Philadelphia sat unsold for six months with another Realtor. With some careful staging, she sold the home in one day.
"What the present owner may think will be a selling point to a potential buyer might not be the case," she says. "Maybe there's furniture that needs to be moved out, or old artwork you've had on the wall for 30 years, or old light fixtures that need changing. You can paint the outside of your home, the porch—things like that. Maybe old curtains are covering up beautiful windows, so they need to go."
How important is staging? Well-staged homes average six days for selling time on the market versus 48 days nationally, according to statistics from StagedHomes.com, and the average seller gets anywhere from 6 to 20 percent higher in some markets.
Once a home on the market is decluttered, cleaned and repaired or refinished—everything from making the bathrooms immaculate to painting the front door and buying a new welcome mat—Hazel and her team take the next step: bringing in a photographer and videographer to help showcase the newly pristine home. Hazel has been staging homes and posting online videos for more than 15 years ago, and has since taken the practice to the level of an art form.
The Next Step
Whether buying or selling, Hazel and her team of partners, Katie Smith and Jennifer Utterback, are committed to helping clients throughout Bucks County and surrounding areas. The partners have a strong presence in the community, thereby ensuring that clients are represented with professionalism and enthusiasm.
Jennifer, who grew up in Solebury and lives in Yardley, parlayed her background in home construction and décor into a career in real estate. As a Realtor with nearly seven years of experience, Jennifer has developed a deep network of allied professionals. Also, considering her prior experience, she has a keen eye for decorating, which can be incredibly valuable when it comes to the staging process.
Likewise, Katie has strong ties to Bucks County, as her children get their education through Council Rock School District and her husband works as a detective in Bensalem. A Realtor with approximately two years of experience to her credit, Katie has a passion for working with families and the will to make their dreams come true. "Closing deals in heels," as she likes to say. Also, for would-be homeowners with children, Katie understands the importance of living in a good school district. That's why she has become something of an expert on the best areas and neighborhoods to live as it relates to schools that can suit a child's specific educational needs.
No matter the challenge, no matter how big the dream, Hazel, Katie and Jennifer find a way to deliver on their promise to help clients meet their goal. Jennifer relates a story that epitomizes the dedication that has become the firm's hallmark.
"I had clients who had three children," she says. "The husband and wife both worked full time and had second jobs. They had outgrown their home since their first child was born. But they only had X amount of dollars to spend on a larger house. … We found them the perfect home—the proverbial needle in a haystack. There were bedrooms for each child, and a bigger backyard, on a cul-de-sac. It was a wonderful feeling for us to see a family struggling and help them find the home they needed to grow, to feel comfortable in."
Whatever It Takes
The willingness to do whatever is necessary comes back to a singular focus that drives Hazel, Katie and Jennifer: Care for every client as if they are family.
"We stay in touch with clients even after their home is sold or bought," Hazel says. "I'll refer them to plumbers and electricians and other things they need. Every year, I even drop off cookies. I've stayed in contact with clients I had 15 years ago. We do what's best for them because that's what they expect from us."
Forsyth can attest to this uncommon level of attentiveness, recalling how Hazel kept in touch long after the family closed on their new home. Speaking of closing, he says the day in December 2017 when he and his family closed on their new home in Richboro is a perfect snapshot of Hazel's skill as a Realtor. While closings can sometimes be stressful and even contentious events, he recalls sitting across from the gentleman who sold his family the house, and ever yone was relaxed and even laughing as they signed the necessary paperwork.
"It was the most pleasurable closing I've ever had, and that's because Hazel and her team had taken care of everything," he says. "Everything had been orchestrated. Literally, they had thought of everything. That feeling, that everything had been taken care of before I sat down at that table, that's why I'm sure I'll have other closings with Hazel in the future."
@HAZEL SMITH
FOX & ROACH REALTORS
BERKSHIRE HATHAWAY HOMESERVICES
677-693 S. State Street | Newtown, Pa.
ListWithHazel.com | Office: (215) 860-3224 | Cell: (215) 696-2018
Published (and copyrighted) in Suburban Life Magazine, February 2018.
.
.
.