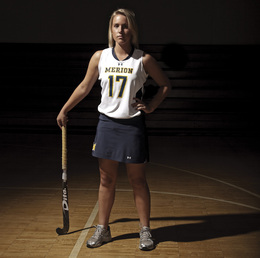 Winning Formula
Despite their young age, these elite high-school athletes are turning heads, both on and off the field
Area high-school athletes tend to make headlines that don't stop at graduation, and this fall's class of superstars is no exception. Suburban Life Magazine's Marc Narducci talks to a group of youngsters that, through a combination of remarkable dedication and outstanding ability, has found success both in the athletic arena and in other life pursuits.
Sarah Hospodar, Merion Mercy Academy - Field Hockey, Lacrosse: Among the top high-school field hockey players in the country, Hospodar was one of four juniors last season to be named All-American by the National Field Hockey Coaches Association. A center midfielder, she has been named an alternate on the Under-19 National Team. In addition she was named to the U.S. Lacrosse Academic All-American Team. Hospodar has accepted a lacrosse scholarship to Boston College.
What has been your most memorable moment as a field-hockey player?
There are two. One as a sophomore we made it to the state finals. It was the first time Merion field hockey made it to the finals and even though we lost, just making it that far was a thrill. Another would be last year knocking Villa Maria out of the Catholic Academies championship. They were undefeated and beat us 6-0 and 5-0, and we won the game 2-0 to win the Catholic Academies championship.
What do you enjoy most about playing field hockey?
It's my escape. When I am on the field, I don't have to think about anything else. It's a stress release for me. I never can know the whole game and I like that I continue to grow and learn about the sport.
Field hockey has provided you more than just great competition. Can you talk about how it has helped you in other areas?
Going into eighth grade I went to Argentina and trained for 16 days with my club team. I had never been outside the U.S., and it opened my eyes. I loved it and it made me want to travel, and I hope to continue doing that.
Jamal Abdur-Rahman, La Salle College High School - Football: As a junior, Abdur-Rahman helped lead La Salle to the PIAA AAAA state title. A 5-foot-10, 180-pound running back and cornerback, he set the school record last year for rushing yards in a season (1,198) and also scored 19 touchdowns. Abdur-Rahman has accepted a football scholarship to Villanova.
What is your most memorable event in football?
My first game that I started vs. West Catholic my sophomore year. I played really well against them, and we beat them (27-26). They went on to play in the state championship. I got a lot of confidence playing well against a team like that.
Any hobbies?
I watch a lot of movies. My dad says I am a movie critic. I like all types of movies. That would be nice to be a movie critic.
What is the best part of being on the La Salle team?
Just the winning atmosphere. The coaches instill this winning attitude and we are winners. We work out 12 months a year and even during the season we are lifting. I feel we work harder than most teams, and that gives us an edge.
You mention winning a lot. Would you say that winning defines you?
I feel I am a winner. The only stat I care about is touchdowns because that is what wins games. All I care about is scoring enough to help the team win. You have to be like that on our team. We have so many people on offense that can do so many different things. We spread the ball around.
Ali Whitney, Downingtown West - Soccer: One of the top soccer defenders in the area, Whitney was an all-star performer on Downingtown West's PIAA AAA state championship team last fall. A member of the National Honor Society, Whitney has accepted a soccer scholarship to the University of South Carolina.
Why South Carolina?
I went down first to visit as a sophomore and I loved the campus. It's so nice down there and I met all the girls and coaches, and they were so welcoming. I felt I clicked with the girls and, of course, the soccer is on a high level.
What has been your best soccer moment?
Winning states last year for high school. It was so much fun. All the students in school came out to see us play. Back in town, we rode around in fire trucks and everybody was waving to us, and it was just so much fun.
Have you always been a defender?
I always loved defending, and I like scoring goals when they put me up for a corner or switch me in the midfield for a reason. But defending is my stronger suit.
What is the best part of being on the Downingtown West team?
We always are big on tradition and we have won a bunch of state championships. Just having everybody work so hard to get where we are and earning the accomplishments of the team together is awesome, and [we] all work so well together.
Gabriella DiMarco, West Chester East - Golf: Last season DiMarco placed sixth in the PIAA state female championship, shooting a two-day total of 160 (82, 78). She is one of two females on the West Chester East team, and this year she has been the Vikings' No. 1 golfer. DiMarco, who is a member of the National Honor Society and the Italian National Honor Society, has accepted a golf scholarship to the University of Kansas.
Finishing sixth in the state as a junior is quite an accomplishment. What did it feel like?
It was really cool. I am friends with many of the girls who placed, and I know the competition was really strong.
Be honest, how old were you when you started beating your dad in golf?
A couple of years ago we started becoming competitive. I give him a stroke just about every other hole. It's been a year or two since I started beating him. My dad and I are close and as much as it probably pained him to lose, he was probably proud of me also.
Any hobbies?
I am into the video department at school. I am the station manager and producer of our in-school news department, WVIK. I am in the control room and I direct, making sure everything runs smoothly.
What is it like being just one of two females on your high-school team?
It is neat to be on a guy's team. It is a lot different than any other experience I had. Golf is a very solo sport, but playing for a team taught me to keep going, boost others up, and it has been a really good experience. We have good chemistry, joke around, go to dinner together. It's nice to have people who care about you and are looking out for each other.
Any visions of playing golf past college?
If I can I would love to play on the pro tour, the LPGA tour. It would be very difficult, but it's a goal of mine.
John Raymon, Council Rock North - Football, Baseball, Track: A three-sport athlete, Raymon entered his senior year having earned six varsity letters in football, basketball and track. The 6-foot-5, 245-pound Raymon is a tight end-defensive end and has already accepted a football scholarship to the University of Iowa, where it is likely he will play defense. Raymon says he had approximately 20 scholarship offers, and in the end, he chose Iowa over North Carolina State.
With so many potential choices, was going through the recruiting process confusing?
I enjoyed it for a while, but it did get tiring. You can't be full of yourself. You have to be humble. What was most important was going to a school that you will like and one that will challenge you academically.
How much does playing basketball and participating in track help you in football?
A lot. The explosiveness, quickness and acceleration you get from the other sports helps so much in football.
What was your best moment on the football field?
I had 15 tackles in a game against Pennsbury last year.
With your size and speed, I'm sure you face a lot of double-teaming. What is that like to deal with?
You know it will happen, and you have to deal with it and overcome it and prepare for it. The stronger you are, the better [you] can handle it.
You are a team captain. What does that mean to you?
I take it seriously. When you hear captain, you think of leadership. You must do all the little things on the field and as a senior be a leader, especially for the younger players.
Marc Narducci is a freelance writer based in South Jersey.