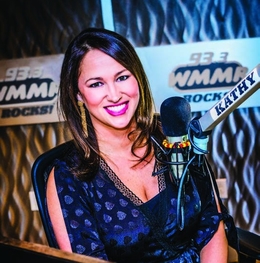 Raising Her Voice
Best known for her work on WMMR's "Preston & Steve," Kathy Romano amps up her efforts to make an impact—as a mother, a philanthropist and the host of her own show.
BY 5:30 A.M., when many of us are still dead asleep, a bright-eyed Kathy Romano has already started her workday behind the microphone for 93.3 WMMR's "Preston & Steve" morning show. Romano has been a central cog in the "Preston & Steve" wheel since 2003—quite a feat for someone who never planned on working in radio.
"I always wanted to be in entertainment, but I wasn't thinking radio early on," says Romano, a Bucks County native who now lives in Conshohocken. "I started in TV as a traffic reporter, but the problem with being a traffic reporter is that you don't often get to show too much of your personality. I wanted to find other venues that would be a platform o show my personality more."
Although Romano enjoys cracking up listeners on "Preston & Steve," she also aims to uplift and inspire. To that end, she hosts "Her Story," a weekly radio program that shares stories of women who in some way shape the society in which we live. "Her Story" airs Sunday mornings on WMMR's sister station, 95.7 BEN FM.
When she's not behind the mike, Romano devotes her time to her family and a select number of philanthropic causes. For example, she sits on the boards of the Philadelphia Police Foundation and the M. Night Shyamalan Foundation's largest fundraising event, Shyamaween, which she describes as "the greatest Halloween party you'll ever attend." She also co-founded the Fresh Smiles Foundation, a nonprofit devoted to keeping children active in organized activities.
We spoke with Romano about her philanthropic work, her family life and her fondness for salsa dancing, as well as the peculiarities of living each day in the public eye.
You've been part of "Preston & Steve" for more than a decade. What keeps it fresh and engaging for you?
Even though you go to the same studio every day, it's not the same thing day in and day out. There's always something happening in the world around us, whether it's a world event or something happening in one of our personal lives. … There have been points in the show where one of us has been going through something deeply personal—a divorce, a sickness or something concerning our children. It happens to all of us. For me, it was becoming a foster. You take your time and wait until you're ready to talk about it, and once you're there you're back to being an open book.
Tell me about "Her Story."
I wanted to make it an entertainment-style show focusing on influential women. Not all of the women we feature on the show are tied to charities, although we do our fair portion of those, too. The point of the show is to focus on women in our area who have a story to tell. (Editor's note: Romano welcomes women to submit their stories by email, at herstory
957benfm.com.)
Why was becoming a foster parent important to you?
I've always had the desire to help children who are in need of something. If you look back at some of the things I've done, the organizations I've been involved in, a lot of them have to do with kids. It also goes back to the way I was raised. In my house growing up, we always had people coming in and out; it was a revolving door for anyone who needed help in some way. My parents were always helping people, and they passed that on to me.
I recently spoke to one of the managers of Bucks County Children and Youth [Social Services Agency], and they said the need for foster parents is at its highest right now because of the opioid epidemic. For anyone who has ever thought about it, I would tell them that it's not easy, but it's well worth it. If you've ever thought about being a foster parent, do it. Getting started could be as simple as contacting Bucks County Children and Youth, Montgomery County Children and Youth or a similar organization for wherever you live. Just pick up the phone and they'll point you in the right direction.
Any big goals or dreams you're still working toward?
My main focus is to make sure my child grows up in a happy life, and to make sure I point him in the direction to do amazing things. He's my goal, my focus.
Your days seem incredibly full. Let's say you have a day all to yourself. How will you spend it?
I love doing yoga, and I still love salsa dancing, which I've been doing since 2004. … I'm also forever shopping, and I have a huge, close-knit family that I love to spend time with. When I'm with my son, we're either running to karate or basketball or something else. If I have time to sit, I think: I could be doing something right now. I take my weekends, but during the week I'm constantly moving. Free time is tough to come by.
Photography by Jody Robinson
Published (and copyrighted) in Suburban Life Magazine, February 2018.
.
.
.