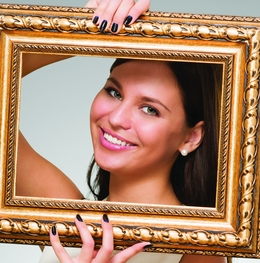 Every Smile, a Masterpiece
These general dentists, orthodontists, and allied dental professionals deliver the cosmetic results their patients seek.
Like a museum-worthy oil painting or sculpture, a great smile needs to be molded,
crafted and cared for by a skilled artisan, one measured stroke at a time.
Perfect smiles are made, not born—meaning virtually every set of pearly whites
needs some degree of TLC, cosmetically speaking, in order to reach its full potential.
Perhaps a smile could benefit from some straightening, courtesy of Invisalign or
traditional braces. Maybe a thorough whitening regimen is in order. Or perhaps more complex
measures may be necessary, such as a full-mouth reconstruction.
No matter the need, the men and women featured on the following pages—general dentists,
orthodontists and prosthodontists, among other specialists—have undergone the training and
education to provide their patients with the best cosmetic and structural results possible.
One might even say they can shape a patient's smile into a masterpiece.
Dr. Jeffrey A. Bellisario
Dental Solutions of Media
Michael E. Docktor, D.D.S.
Franco Pico-Fazzi, D.D.S.,
Russel S. Bleiler, D.M.D.
and Dental Implants, P.C.
Dr. Howard P. FraimanDr. Jeffrey S. Ingber
Pediatric dentists provide primary and comprehensive oral health care, both preventive and therapeutic, for infants and children through adolescence. These individuals ensure the progress of children's dental and oral development, making sure each patient has a strong foundation built to sustain them for the rest of their lives.
Doc Bresler's Cavity Busters
Philadelphia and Elkins Park
ChildrensDentalHealth.com
Published (and copyrighted) in Suburban Life Magazine, April 2018.