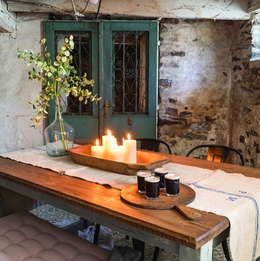 Inspired Design
For more than 40 years, local homeowners have been finding design and décor inspiration at the Bucks County Designer House & Gardens. This year's event gets underway later this month.
Every year, thousands of homeowners from throughout the Greater Philadelphia Area and elsewhere make the pilgrimage to the hillsides of pastoral Bucks County. Their prize: jaw-dropping design and décor, both indoors and out, to give inspiration for their own homes.
The pilgrimage will once again get underway later this month, when the Village Improvement Association of Doylestown (VIA) unveils the 43rd Bucks County Designer House & Gardens. This year's event will begin on April 29 and will run through May 27.
Cedaridge Farm, the featured property to be toured during this year's event, is comfortable with the spotlight; it has been featured in respected publications such as Architectural Digest, Fine Gardening Magazine and the Royal Horticultural Society's magazine, The Garden. The sprawling 20-acre grounds in Pipersville trace their roots back to 1790, when the property was founded a dairy farm and fruit orchard. The farm boasts several distinctive structures: a main stone house, which has a g lass conserv atory, stone fireplaces and a sleeping porch; a 1950s-era ranch house with Mercer tile bathrooms; a gardener's cottage; and a peg barn. In addition, some of the farm's most awe-inspiring features overflow with natural beauty—namely, numerous garden areas, including a waterfall leading to a pond, a gazebo and a cutting garden, as well as a nature trail through the woodlands.
AN ESTATE TRANSFORMED
As with every Designer House, a group of talented locally based interior designers and landscapers has transformed the estate. Inside, guests will be able to see the "fingerprints" of designers such as Bella Interiors of Lansdale, Black-eyed Susan of Holicong and Domani Design Studio of Doylestown. Outside, the grounds will feature the work of landscape artists such as Bucks Country Gardens, Buckman's Home & Garden and Landscape Design Group, all of Doylestown.
Annually, more than 7,000 visitors from Pennsylvania, New Jersey, New York, Maryland and Delaware tour the Design er House, according to the VIA, which hosts the monthlong event. The Designer House serves as the largest fundraiser for the VIA, a nonprofit women's organization behind Doylestown Hospital, with proceeds benefiting Doylestown Health and the VIA's mission of enhancing the health and welfare of Central Bucks County and surrounding communities. Most of the proceeds from the 2018 Designer House have been designated to support the Center for Heart and Vascular Care at Doylestown Health Heart Institute, which has embarked on a significant capital renovation and expansion.
The VIA will hold a Designer House Preview Gala on April 27, starting with a champagne reception at 6 p.m. Tour tickets can be purchased for $30 through April 28, and they are available for $35 at the door for the duration of the event. For tickets and more information, visit BucksCountyDesignerHouse.org.
Photography by Paul S. Bartholomew Photography or courtesy of VIA
Published (and copyrighted) in Suburban Life Magazine, April 2018.
.
.
.