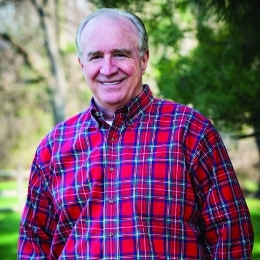 McCauley for Congress
Charting a New Course
PAID FOR BY MCCAULEY FOR CONGRESS
In his bid for Congress, Chadds Ford attorney Gregory McCauley Sr. hopes to help a nation in "crisis" by bringing accountability, ingenuity and "commonsense ideas" to Washington, D.C.
Running for national political office is not a lifelong itch that Gregory McCauley—married to Maureen and father of four boys—is just now, at age 61, getting around to scratch. The reason this Chester County Republican and attorney is running for Congress in the 6th District has to do with the ever-tightening knot in his stomach, which he says stems from watching America in crisis.
H e cites plenty of examples. The U.S. national debt is over nearly $20 trillion and climbing. Student loan debt is $1.4 trillion, impacting more than 44 million Americans. The national opioid epidemic claimed 67,000 American deaths in 2017 up from 64,000 in 2016. Each year totals more than the entirety of lives lost to the Vietnam War.
Given these myriad problems, McCauley says he could no longer sit idly by and do nothing. In January, he decided to toss his hat—and his ideas for a better America—into the ring.
"I am doing this for the future of America and for our children and our children's children," he says. "When there are seconds left on the clock in a game, I always want the ball. I will win! Period! That's what the voters need to know; pass me the ball and let's win this!"
As McCauley's campaign began, he and his wife blanketed their hometown of Chadds Ford and visited many of the communities in Chester and Berks counties. For three solid weeks, from 9 a.m. until 8 p.m., they knocked on more than 7,000 doors, and talked to more than 1,000 families. They introduced themselves and asked folks to sign his petition so he could get on the ballot for the May primary.
"We didn't just ask them to sign the petition," adds Maureen McCauley, the candidate's wife of 33-plus years. "We discussed with people what Greg stands for and, if they liked his platform, they signed the petition. We didn't come across one person who didn't like his ideas."
One issue at the top of McCauley's agenda is his plan to give immigrants working visas so that they can pay taxes, to increase the tax base. McCauley believes it has merit and this has never been tried. "We need a guest visa or permit so we know who is here, where they are and what they earned," he says. "We have to realize we have as many as 30 million people working here from a variety of countries, and from my view they need to pay taxes. If we have 150 million people who file taxes in the U.S., and we have 30 more million working here that are visitors, that's 20 percent of our economy not paying taxes. I'm just asking the government to collect the tax that should be collected, and increase its revenue."
Another big issue that tops McCauley's list is the student debt crisis. His plan is to take lending out of commercial banks and place it in government bonds through the U.S. Department of Education at 2 percent.
"We're handicapping our next generation with student debt," he says. "When a student gets out of college and is lucky enough to get a job but must pay back the student loan, the loan payment is too high for their budget due to the 9 percent to 11 percent interest rates being charged by the banks. Instead, if the loan is in a government bond, students would pay back the treasury at 1, 2 or 3 percent, so maybe they'll have enough money to buy a home. Consequently, the commercial banks will have $1.4 trillion dollars to lend to small businesses. That will be a huge Vitamin B12 shot for the economy."
Experience
Greg McCauley knows of what he speaks. He has been working on tax-related issues since the 1980s and has been concentrating primarily on tax law for more than half of his 35 years practicing law. In 2012, McCauley published a book titled TAXJAMS Simple Solutions, and in 2016 was awarded ASTPS Top 2016 Practitioner.
At McCauley Law Offices P.C. in Chadds Ford, McCauley and his eldest son, Greg Jr., and their staff are committed to help clients become tax compliant. The firm has expertise in areas such as tax liens, wage garnishment and bank levies, as well as criminal tax issues such as evasion or fraud, IRS audit representation and payroll tax problems, among others.
McCauley says his experience with small businesses would benefit him greatly as a legislator.
"I've been working on budgets for small businesses and getting them financing for decades," he says. "I have commonsense ideas based on kitchen table economics."
Coming Home
If voters find his ideas are much like their own, McCauley will be heading to Washington, D.C., which is familiar ground, as he lived in the nation's capital for a few years as a child. His now-late father, Daniel, was appointed by the President as regional administrator and a ssociate general counsel of the Securities Exchange Commission in 1956, and three years later as general counsel for the Federal Trade Commission in the Eisenhower administration.
When Greg and Maureen McCauley met with the National Republican Congressional Committee in Washington, D.C., earlier this year, he felt chills go up his spine when he stepped out of the cab at the corner of First and D Streets.
"I saw a parking lot where I played as a young child," he says. "And I met with the Republican National Congressional Committee diagonally across the street from the house where I lived with my family while my dad worked in Washington. It was like going home."
With any luck on Election Day in November, Greg McCauley will be returning to Washington soon, thereby proving Thomas Wolfe, author of the novel You Can't Go Home Again, so very wrong.

McCAULEY FOR CONGRESS
510 Kennett Pike
Chadds Ford, Pa.
(610) 388-4474
McCauleyForCongress.com
MLOtax.com
Photography by Jody Robinson
Published (and copyrighted) in Suburban Life Magazine, April 2018.
.
.
.