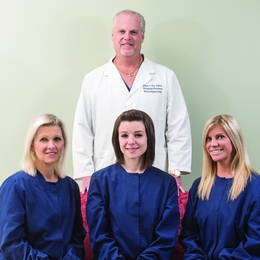 Pursuing Perfection
Main Line implantologist James A. Vito, D.M.D., embraces new technology intended to lessen patient discomfort and enhance aesthetic outcomes with greater predictability.
In a blink, it seems, technology has revamped virtually every facet of American life. As proof, look no farther than the handheld supercomputers we call our smartphones.
Just over 10 years ago, when Apple introduced its first iPhone, the world took a revolutionary step forward. Now, however, compared to Apple's latest super-high-definition miracle, the iPhone X, the first-generation iPhone might as well be a relic from a distant past.
A similar technological revolution is underway in the world of dentistry, according to James A. Vito, D.M.D., an implant, restorative and cosmetic dentist based in Wayne who specializes in complex restorative and dentalimplant cases. Whereas some dental professionals stick by conventional methods when treating patients, Dr. Vito continually seeks out new technology capable of delivering tangible, reproducible benefits to the patient.
"Technology is rising to meet the needs of professionals who are looking to exceed the performance of conventional therapy," says Dr. Vito, who has two board certifications in implant dentistry, as well as specialty training in periodontics and prosthodontics. "We have embraced the technology wave."
We spoke with Dr. Vito about how new technology has helped his practice resolve complications, lead to more predictable outcomes for patients and, in the end, make treatment much more palatable for even the most discerning patient.
Technology seems to have changed everything in recent years. Tell me about one of the most compelling technological advancements you've seen in the world of dentistry.
We've seen a lot of interesting advances, some of which we have already adopted in this practice. One is a dental laser manufactured by Fot ona that has two different hand pieces: a Er:YAG laser, which is used to treat hard tissue and implants; and an Nd:YAG laser, which is more for soft tissue. This single piece of equipment has the potential to change everything from implantology and endodontics to periodontics and soft-tissue surgery. The nice thing about it is that it can make dental treatment more predictable, less time consuming and, postoperatively, less painful compared with conventional therapy.
How do you expect the laser to change your approach to treatment?
One of the primary reasons I purchased it was to seek out a more efficient way to disinfect and repair a failing dental implant, which is traditionally very difficult to do. Dental implant complications are becoming more common these days and resolving them takes some ingenuity. In instances involving what we call "ailing and failing" dental implants, patients are seeking predictable procedures to repair these issues. Patients can't bear the thought of spending another $30,000 to $40,000 to do these cases over again. With the laser, we are able to offer them more conservative opt ions short of removing the implant, rebuilding the bone and starting all over again. Plus, the laser that's used to disinfect the implant is also used to sanitize the surrounding bone and encourages the bone to heal faster and better because you don't have the irritation or inflammation to deal with that you would if you took a traditional surgical approach.
I think it will also have benefits in maintaining patient aesthetics around the dental implants as well. In the past, the only way to treat these issues was with surgical intervention. In those cases, the patient typically experiences gum recession around the dental implant. You have a situation where you have controlled the disease or at least stemmed the tide of the disease, but the patient is left with an aesthetic compromise. With the laser, we can maintain the blood supply, so we can maintain the height of the tissue so there should be no compromise, aesthetically speaking.
What do you foresee as the long-term benefits of using this laser in your practice?
We've really just begun to incorporate it into the practice in the past few months, so we won't have viable evidence for about six months. That being said, I do believe the laser will allow us to offer more effective, efficient general treatment across all aspects, including patients who have the early stages of periodontal disease.
Every day we're finding something new to use the laser on. Because I essentially have two lasers in one machine, I'm able to treat all soft tissue and hard tissue, so the versatility is kind of endless. The mouth is the most hostile environment on the human body, so when you're doing any procedures in the mouth, it raises some questions, like: "Is the area disinfected well enough? Can I deliver reproducible results? Can I minimize the patient's discomfort?" This laser has the affirmative answer to all those questions.
The only drawback to the laser is the expense of it. You can spend anywhere from $80,000 to more than $120,000, but I feel it is an investment that will pay for itself over time. For a practice like mine, where I see a lot of patients with unique or problematic situations, anything that can add more efficiency and predictability is going to pay dividends in the long run. After all, there's no point in making this sort of investment if the results do not exceed what we are already doing.
Besides the laser, what other technologies at your practice have paid dividends?
The X-NAV is a 3-D navigation system for dental implants that has made placing dental implants more predictable. The X-NAV allows me to utilize my CT data from cone beam imaging to plan exactly where I want my implants in terms of position, angle and depth. The technology allows me to virtually place the implants in patients, so I have the confidence to know they're going exactly where I want them. As I'm drilling, the system shows me how straight I am, how deep I am and how close I am to vital anatomy, like the mandibular nerve. It's as close to truly putting in an implant in 3-D as you can possibly get.
I understand you've also adopted technology that utilizes the innate healing power of the human body to improve patient outcomes.
It's called platelet-rich fibrin (PRF), and it represents the next generation in healing technology. PRF utilizes components of the patient's own blood to activate and accelerate the healing process. What we do is draw blood and run it through a centrifuge at a specific rate of speed, which allows us to harvest what we call a "blood plug." This plug looks like a yellow gelatinous mass, which is the PRF. The PRF is a concentrate of the body's natural healing capabilities, so we're super-charging and accelerating the healing process.
The PRF is dense enough to stitch, and it has the texture of fine leather, so it's durable and you can shape it over hard or soft tissue that needs to heal.
Not many offices utilize all three of these technological advances. If you want to provide reproducible results that have longevity, you need to invest in the appropriate tools. These technologies produce predictable outcomes based on science, not just on the fact that "This is cool." These kinds of tools make the surgery I'm doing here go more smoothly and efficiently, plus the patient's postoperative discomfort is minimized and you can get predictable aesthetic outcomes. That's the Holy Grail.
JAMES A. VITO, D.M.D.
523 E. Lancaster Ave.
Wayne, Pa.
(610) 971-2590
JamesVito.com
Photography by Jeff Anderson
Published (and copyrighted) in Suburban Life Magazine, April 2018.
.
.
.