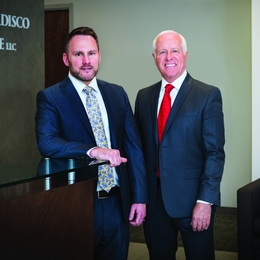 Heart and Grit
The attorneys of Cordisco & Saile LLC work tirelessly and passionately to find justice for people trying to recover from life-changing injuries.
When an individual suffers a life-changing injury, they may face an uphill battle in their attempts to recover—physically, emotionally and financially. In some cases, they find themselves not only in crippling pain but also feeling as if they are being ignored, mistreated or otherwise prevented from attaining the justice they deserve.
That's where the Bucks County attorneys of Cordisco & Saile LLC come in. Led by John F. Cordisco and Michael L. Saile Jr., the legal team of Trevose-based Cordisco & Saile is uniquely prepared to fight for those who have been injured due to the negligence of others. In addition to working tirelessly on their clients' behalf, the attorneys also take steps to rectify the dangerous situations that caused their clients' injuries.
"Our motto is 'People Come First,'" says Saile. "We are so committed to that motto that we have it posted in bold letters on the wall in the reception area of our office. Every morning when we arrive at the office and see those words, we are reminded that we represent people and that we are doing this work to help them no matter how much effort it is going to take."
A Voice for the Voiceless
Giving a voice to those who don't have one has guided Cordisco since well before he and Saile founded their firm. At the age of 22, Cordisco became the youngest member ever elected to the Bristol Borough School Board. Two years later, at the age of 24, the Bristol native ran for a seat in the Pennsylvania House of Representatives, a post he held for six years, from 1981 to 1986. During his tenure, he served on the House Judiciary Committee and Labor Relations Committee, and he also served as chairman of the House Committee on Veterans' Health Care.
A mentor saw something in Cordisco that suggested he put his skills to use elsewhere by going to law school. Cordisco agreed, reluctantly at first, but went to night classes while serving in the legislature during the day. He finished his career in public office at age 30, eager to take on a new challenge.
"I enjoyed my time in the legislature, mainly because I enjoyed taking on people's problems," says Cordisco. "Early on I saw that if you're passionate and respectful, people will listen to you, b ut you also have to know what you're doing. I've found that my two careers—constituent service and client service—have sort of mirrored each other. To be successful in either field, you have to have a genuine passion for people and their situations, and that's still what motivates me to this day."
Cordisco and his fellow attorneys at the practice—including Saile and Kevin M. Bradway, assisted by a team of paralegals and allied professionals—have taken on cases in virtually every area of personal injury, ranging from motorvehicle accidents and slip-and-falls to medical malpractice and nursing-home neglect. The firm's primary office is in Bucks County, although its attorneys have represented injured parties in both Pennsylvania and New Jersey. Each client's situation is unique in its own right, yet the attorneys approach each case with the same devotion and understanding.
"What we do has an emotional component, and it has to if we're going to represent our clients the way they need to be represented," Cordisco adds. "If you're sitting across from a father who has lost his son, or a husband whose wife has experienced a traumatic injury, or a young man who lost a limb in a motor-vehicle accident, you have to experience that with them. Lawyers are storytellers, and if you don't know your client, and if you don't experience the pain they're feeling, you can't tell their story. The more you know about them, the greater responsibility you feel to help them, and you tend to have a better outcome as a result."
Putting Lives Back Together
Similarly, Saile has long been driven by a desire to help "the little guy," beginning with an experience he had as a child. When his family moved from Northeast Philadelphia to Churchville, he was "a shy kid, and not particularly big." As is the case with many newcomers, Saile recalls being bullied when he started attending his new school in the suburbs. He quickly learned how to stick up for himself, how to avoid certain situations and, when needed, how to fight back.
"First I started lifting weights, and then I found wrestling, which helped me a great deal in high school," he says. "Now I'm fighting against bullies again, but on a much different level. When someone gets injured, the insurance companies do their best to eliminate the claim and save as much money as possible. We're an advocate for the small guy, so it's a David-versusGoliath kind of fight. Our job is to get the party who caused the harm to pay what's fair to our client. It's about doing the right thing, and sometimes that means getting the laws changed to make society safer."
Although confidentiality prevents the attorneys from sharing specifics, the firm's work in and out of the courtroom has led to a groundswell of positive change—both in the lives of its clients and in society as a whole.
Just a few examples of the changes Cordisco & Saile attorneys have brought to light: a judgment against a pharma comp any that included a provision preventing the company from marketing a certain antidepressant to consumers under the age of 21 because of its potential to cause harm; a judgment in a case involving a man who was killed while riding his motorcycle through a dangerous intersection, urging PennDOT to improve the visibility of a stop sign and make the intersection safer; and a case involving a client who was harmed by an overly aggressive bouncer at a Philadelphia bar, ultimately leading to the Bouncer Safety Law—authored with help from Saile— that requires every bouncer to be trained and registered by the City of Philadelphia; the law also requires bar owners to perform indepth background checks on new hires.
"The folks here at this firm all have a passion for doing what we need to do to help our clients somehow put their lives back together," says Cordisco. "At the end of the day, you can't eliminate a person's pain, which can be frustrating, because that's all they really want. Sometimes the best thing you can do is ease their situation by solving some of the problems associated with their injury. And that's why we never stop fighting for our clients."
Cordisco & Saile LLC
900 Northbrook Drive, Suite 120
Trevose, Pa.
(215) 874-6502
CordiscoSaile.com
Photography by Jody Robinson
Published (and copyrighted) in Suburban Life Magazine, April 2018.
.
.
.