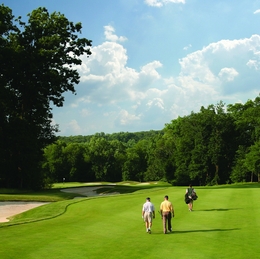 Lookaway Golf Club
A 20-year celebration of a special lifestyle in the heart of Bucks County.
Lookaway Golf Club is proudly celebrating its 20th year in Buckingham, as the only Bucks County golf course on Golf Digest's "Best in State" list. The Commonwealth houses more than 800 golf courses, and the Philadelphia region boasts a rich history of iconic golf clubs, making this rating significant. At this milestone, the club reflects on its success in balancing the rich tradition of their 18th century roots with the needs of today's modern members.
In the mid-1990s, golf course construction was booming—and an avid golfer could belong to more than one private club in order to have their preferred amenities, social and golf experiences. A small group of avid golfers got together and discussed the criteria that would make their ideal golf club. They knew there were more like-minded golfers who would prefer a club with a lifestyle that provided a socially intimate environment that emphasized pure golf. Their goal was to provide golfers of all levels the "spirit of the game," be able to play often, with no tee times, no long waits and the option to walk the course with a caddie.
As the number of founders grew to 25, they were searching for the perfect piece of land along with a renowned golf course architect. They chose an outstanding tract of land in Bucks County that had once been a dairy farm, with rolling hills, streams and centuries-old trees. The land is traced to the early 18th century when William Penn created the first deed in Buckingham Township. Their golf course architect was the acclaimed Rees Jones.
It turned out to be the perfect choice where Jones could design a golf course that would stand the test of time, one that a golfer could enjoy as if each hole was their own separate space.
"The fact that this layout has improved every year since it opened is testimony to the fact that it was really meant to be a golf course," said Jones.
Today, Jones refers to Lookaway as a perfect members' course. In addition to the pure golf experience, he says, "There is a great camaraderie; people seem to bond at that club."
The 18th century buildings on the property were renovated, keeping the warm and inviting Bucks County charm that the founders envisioned. The clubhouse today is like a second home, where welcoming intimate spaces were created for club partners, family members or golf and business associates. It is not a club that takes outside events and outings, therefore maintaining intimacy and its impeccable service as a priority. While Lookaway Golf Club founders and members are proud of the outstanding golf course and historical environment, they are e specially proud of establishing a club that is sensitive to today's modern lifestyle. At Lookaway, since there are no tee times, members have the flexibility to just come out and play 18 holes, nine holes or even just a few holes in the afternoon and evenings. The practice facilities have expanded in recent years to include a short-game facility, in addition to the driving range and putting green close to the clubhouse.
The priority of providing impeccable service for its members includes being aware of their preferred healthy lifestyles.
"The weekly menu reflects the healthier food choices that mirror those trends, such as fresh ingredients and vegetables grown locally and literally going from farm to table," says General Manager John Pitocchelli. "The club also maintains their own garden that includes 22 varieties of heirloom tomatoes. All soups, sauces, bakery items and most desserts are made from scratch in our kitchen with members' dietary needs in mind.
"Our Halfway House features homemade energy bars that boost energy for the back nine while paying attention to gluten-free, low-sugar and low-sodium requirements," he continues. "This service model extends throughout the property. Our bar manager makes a point of knowing the choices of its members and having a very extensive craft beer, wine and alcoholic beverage selection on hand to meet their needs." The "build it and they will come" mantra of the many golf courses built in the late '90s did not apply to Lookaway Golf Club. The founders are also astute businesspeople. Over the past 20 years, they have maintained a strong financial position for the club. According to Harry Ferguson, a founder and the president of the board, "We have continued to make significant capital improvements while building solid cash reserves, without assessments. An example is our $3.2 million investment in the golf course and club over the past four years."
Lookaway Golf Club is defined by its seclusion, tranquility and dedication to attentive service. Those who have already made Lookaway their golfing home experience this special lifestyle every time they arrive at their club.
Lookaway Golf Club
For information and a video tour of the Lookaway Golf Club experience, visit LookawayGC.com.
Published (and copyrighted) in Suburban Life Magazine, April 2018.
.
.
.