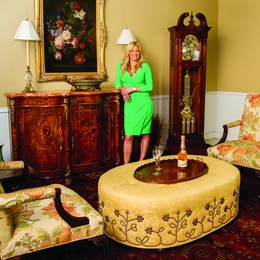 An Instant Classic
Stenella Antiques extends its reach into the heart of Lansdale with Stenella Interiors, a new home furnishings showroom.
In fashion, the saying goes, "everything old becomes new again." The same maxim holds true in the world of interior design. Antiques can always be a welcome addition to a home as these add flair and elegance to any space. But, even in a world of period pieces, one local antiques purveyor proves that there is still room for excitement and change.
"Basically, we're trying to cover the whole gamut of interior design," says Jim Stenella Jr., proprietor of Stenella Antiques in Perkasie, which has been helping people furnish their homes with objets d'art from the past and present for more than 40 years. "We are a full-service place to shop for all of your interior design needs, and we've recently expanded with a second showroom in Montgomery County, in the heart of Lansdale."
Whereas the Perkasie store features nearly 30,000 square feet of items, the new space in Lansdale measures approximately 24,000 square feet in a showroom-type setting. There, customers can see real-life design vignettes and room settings—including more than 150 sets of dining room tables and chairs—so they can view firsthand how certain rooms can be put together.
"There are not many places around anymore where you can view, inspect, walk through and get that showroom feel," Stenella says. "We've brought back that showroom feel."
An Ever-growing Repertoire
Besides the new showroom, Stenella Antiques has expanded its repertoire with a collection of lighting fixtures that includes names such I as Chapman Lamps, Wildwood Lamps, Maitland Smith, Waterford, Fine Art Lamps and Virginia Metalcrafters, among others. Stenella Antiques will also be working with a custom manufacturer to create items to order.
In the arena of accessories, Stenella Antiques offers rugs, new and antique oil paintings, high-quality decorative bronzes and much more. The inventory includes everything from small accent pieces (bookends and candlesticks, for example) to desktops, and from tabletops to large outdoor fountains. These offerings complement Stenella Antiques' existing and vast collection of lines that include notable names such as Henkel Harris, Biggs, Colonial Williamsburg, Hancock & Moore, Kittinger, Baker, Councill, Hickory Chair, Karges, Saybolt Cleland, Kindel, Widdicomb, Winterthur and Ralph Lauren.
Also, Stenella Antiques and Interiors proudly offer brand new items by Theodore Alexander. With its wide-ranging product lines from the Althorp Living History line to the Keno Bros. collection, Theodore Alexander has pieces for everyone. They also offer custom leather and upholstery service, unique styles and designs—from the timeless and traditional to transitional to modern.
Besides being known for such well-known brands, Stenella Antiques has gained a sterling reputation for its upholstery services. Such services are particularly advantageous to customers looking to bring a traditional-style piece into their home, yet make it their own. Stenella Antiques offers not just a variety of fabrics but leathers as well, so that the company can offer a full makeover to anything from a sofa to a dining room set.
As Stenella notes, lighting and fabrics are two of the easiest design facets to change that enable homeowners to "still have a classic look but with a modern, contemporary feel."
Much of what Stenella Antiques offers is newer but still traditional, yet Stenella notes that many of the store's most popular items are reproductions of centuries-old pieces. So how does the consumer ensure these items from the past will continue to be fashionable in the future? His answer: "These classic designs have been around for 200, 300 years, and that classic design is going to be around for the next 200, 300 years."
Such pieces reflect Stenella Antiques' overall drive to provide customers with enduring objects with which to furnish their homes.
"We're not on the trendy end, with items that are 'here today, gone tomorrow,'" he says. "Our [items] are timeless. They are heirloom pieces—pieces we hope people will pass down from generation to generation."
Digital Expansion
As Stenella Antiques' physical footprint and service lines grow, so does its presence in the digital world. Stenella Antiques' customers can now view the "latest and greatest" online, so that customers can shop with ease from anywhere in the country—or the world, for that matter.
Kasey Bradley, who serves as Stenella Antiques' in-house digital merchandising expert, explains that Stenella Antiques' wares are offered now through a number of online sources, including Etsy, Amazon and eBay. For example, Stenella Antiques' eBay website has more than 2,000 items listed, Bradley estimates, while Amazon more than 200 items listed and the Etsy site has more than 500 items listed. These sites, Bradley says, have proved invaluable in terms of allowing consumers to view the newest items Stenella Antiques has to offer.
"A lot of customers follow us because they know we get new things all the time," Bradley says. "They know our inventory is constantly changing, so it makes it pretty convenient for our customers. … Being online definitely keeps [business] super fresh." In addition to constantly updating online shopping resources, Stenella Antiques has a sampling of its collection viewable on its own site, StenellaAntiques.com. Customers can also view and browse through the mobile App for Android and IOS users.
Likewise, Jim Stenella welcomes customers visit the Stenella Antiques Facebook page, or sign up to be on the email list, to receive word about the newest items as they come into the store. Of course, he notes, customers are always welcome to stop into the Perkasie location Tuesdays through Fridays from 9 a.m. to 3 p.m., or Saturdays from 9 a.m. to 1 p.m., to see all that the store has to offer.
"We're all about fresh merchandise here," says Bradley. "Even though we sell older pieces, nothing stays around here long enough to become an antique."
Stenella Antiques
104 S. 2nd Street
Perkasie, Pa.
(215) 453-8490
StenellaAntiques.com
Stenella Interiors
800 W. 2nd Street
Lansdale, Pa.
(267) 222-8926
Photography by Allure West Studios
Published (and copyrighted) in Suburban Life Magazine, April 2018.
.
.
.