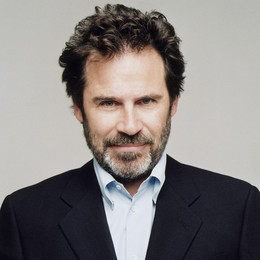 Punchlines and Gut Punches
In matters of U.S. politics, pro sports or the state of the world, comedian Dennis Miller rarely finds himself at a loss for words.
Dennis Miller has earned a place among history's greatest funnymen—Comedy Central put him at No. 21 on its all-time list of standup comedians—but he's much more than a mere teller of jokes. 
Miller made his debut as anchor of "Weekend Update" on Saturday Night Live in 1985, and his brand of satirical comedy would go on to endear him to millions of viewers. After leaving SNL six years later, he graduated to other high-profile posts in the public eye, including a long-running gig as host of a syndicated radio talk show, a stint on the NFL's Monday Night Football, and roles in films such as The Campaign, What Happens in Vegas and Joe Dirt. 
More recently, the Pittsburgh-born Miller has become a formidable voice in conservative circles; he has made guest appearances on Fox News programs, for example, and his byline has graced the pages of Breitbart. He also hosts The Dennis Miller Option, a podcast he uses as a platform to share his take on politics, culture and sports, among other topics that busy his mind.
The one constant throughout Miller's career, in all its many iterations: his gift for getting his audience to think and laugh. On May 17, he will return to the Greater Philadelphia Area—the Xcite Center at Parx Casino in Bensalem, to be precise—as part of a far-reaching standup comedy tour. 
"If I were to do a USA Today pie chart, the show would be two-thirds laughs and one-third events of the day," Miller says. The real reason he's coming to Philly, he says with a wink: to advise Eagles QB Carson Wentz "to go to the ground earlier."
We caught up with Miller recently. During the interview, he talked about the state of the world, the jokes he won't tell anymore, and the odds of him venturing into politics.
Do you approach the stage any differently now, knowing how polarized the country has become? 
Ninety-nine point nine percent no, but there are certain jokes I would not do now, because it's just not worth it. There are some people who are so looking to be aggrieved, and you can't afford to let that shut down a show. I'm trying to do comedy, so for tactical reasons you can't risk it. I wouldn't go to a college campus or some other place where I'm going to tell a joke or say something that's going to make someone want to go outside, pick up a bike rack and throw it through a store window or light someone's car on fire. At the end of the day, I'm out there for the purpose of giving people a nice evening. You don't want to spoil anyone's night.
With your podcast, The Dennis Miller Option, what kinds of conversations are you hoping to start? 
When I first started doing the podcast, it was about sports, but I was getting texts from people who were saying, "I like listening, but I'm not a sports fan." So there was an evolution, and now we're talking about politics, culture and the events of the world, too.  
Speaking of sports, you're a Pittsburgh native who now lives on the West Coast. Do you still follow the Pittsburgh teams, or do you more closely follow the Kings, the Lakers and the other L.A. teams? 
Hockey is my sport, and it's a no-lose situation for me, because look at how well the California teams have played over the years. The Penguins are a hard-drive team, and I know they just sent your Flyers home for the summer.  
Besides sports and world events, what else interests you?
Old movies … [which includes] anything pre-1960, unless you're talking about bad sci-fi about giant ants. I like films from the '50s back to the '30s; that 25-year period is my bailiwick. I like them because they seem pre-ironic to me, from a less polarized time.
You addressed this polarization on the podcast, specifically in regard to today's political climate. Where do we go from here? 
I ask myself the same question. I'm 64, and I've never seen it like this.  … Who would have thought we'd get to this point? George Orwell, maybe. I find these to be odd times.  
Can you see a world in which you would run for political office? 
Nah. I'm happy, and I have a lot I want to do. I'm trying to walk the stadium steps every day and listen to all 80 novels from P.G. Wodehouse, the British humorist; I'm only 19 in. I've never been to Germany, so I want to do that. I want to see Freud's apartment in Vienna.  
When you're in the Philadelphia area for the upcoming standup gig, is there anything specific you want to do while you're in town? 
I think I might hit a garage sale on [Bill] Cosby sweaters. I want to pick up the brown, blue and red one.