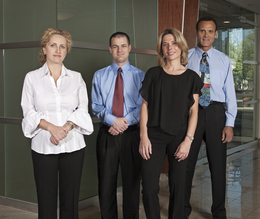 A Team Approach
New specialists at Ardent Smile offer diverse expertise
To pursue something 'ardently' is to do it with great passion and enthusiasm. This is how the staff at Ardent Smile approaches patient care. "We are always aiming to please our patients and achieve the best in dental care," says Dr. Inna Vinnikov.
Ardent Smile's state-of-the-art office is located in the Cross Keys Building at 4259 West Swamp Road in Doylestown. They provide most all forms of general dentistry and try to offer their patients as many forms of treatment as possible in that office because, as Dr. Vinnikov observes, "Patients get comfortable with coming to one place and don't like being referred out, so we do as much, if not all, of their work in one place."
To ensure patients' comfort, Ardent Smile's office is warm and inviting. The comfortable, spacious exam rooms offers plenty of windows and natural light. Soothing music and cable television calm uneasy patients, while nitrous oxide is available for the truly fearful.
The staff at Ardent Smile has many tools in the office to assist in diagnosis and treatment. Their use of digital X-rays and intra-oral cameras offer the staff the opportunity to not only provide a thorough examination, but to share the findings immediately with their patients by projecting images onto the screen where they can be reviewed together. These two forms of technology assist the dentist with the diagnosis of problems not visible to the naked eye and help the patient visualize the concern and understand the importance of treatment.
Ardent Smile offers an oral-cancer screening machine to allow for quick and painless assessment of suspicious lesions and a laser that performs a less invasive form of gum surgery.
Ardent Smile believes that informing patients allows them to make appropriate decisions regarding their treatment.
"We do not push our patients into any treatment plan; instead we educate them and let them proceed at their own pace," Dr. Vinnikov says.
She says the staff spends ample time with each patient to answer all of their questions and can often have a full treatment plan ready before they leave the office. "I feel that it is my job as a health care provider to educate patients, offer them all the possible options and have the patient make the best decision to suit their dental, as well as financial concerns."
Ardent Smile understands that, especially in today's economy, very few patients can afford out of pocket dental care so they work with many insurance plans. Regardless of payment arrangements, Dr. Vinnikov says the staff of Ardent Smile never compromises its work.
Dr. Vinnikov says, "We work as a team, from our front desk staff to our dental labs, we try to work in harmony."
Lately Ardent Smile has added a few members to that team. Dr. Michael Cestone is an orthodontist who received his DMD from the University of Pennsylvania and his degree in orthodontics from Vanderbilt University. In addition to continued training, he is actively involved in the community, having participated in designing several programs to educate children about the importance of dental health and nutrition.
Dr. Ingrida Dapkute is also a graduate of the University of Pennsylvania, having received both her DMD and Master of Oral Biology there. Dr. Dapkute spent a year at National Institutes of Health where she conducted research in oral cancer. Her accomplishments include among others the prestigious U. Penn Dean's Scholarship, the Quintessence Award for Research Achievement, the American Association of Endodontics Award and the Dentsply Student Clinician Award.
"I care deeply about my patients and hope to be able to contribute to the beauty of many smiles through maintenance of oral health and cosmetic and functional improvements," Dr. Dapkute says.
During her spare time Dr. Dapkute enjoys running—she completed New York Marathon and several half marathons in Philadelphia. Her cultural pursuits include classical music, impressionist paintings and sculpture.
Dr. Georges Bandelac is a Board Certified Periodontist and specializes in Periodontology-Implant Dentistry and Prosthodontics. He believes that "a smile is a decision."
Dr. Bandelac has trained and worked in France and the United States. He received his DDS from University of Detroit Mercy and his degree in Periodontics-Implant and Master of Oral Biology from University of Pennsylvania. Dr. Bandelac serves as Associate Clinical Professor in the Departments of Prosthodontics and Implant Dentistry at his alma mater, the University of Detroit Mercy. Dr. Bandelac has published articles and has given lectures nationally and internationally. He says that he is "committed to improving the quality of care."
"We are a growing practice," says Dr. Vinnikov. "We're always striving to achieve the best in patient care."
As the staff of Ardent Smile has grown, so too has its expertise in a variety of specialties and the forms of technology it uses. Their commitment, passion and enthusiasm to provide patients with the very best care though, has remained as strong as ever.
Ardent Smile
4259 W. Swamp Road, Suite 104, Doylestown
215-230-4550
ArdentSmile.com
Sharon A. Shaw is a freelance writer from Doylestown.