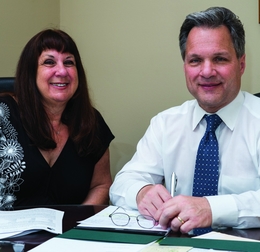 Always by Your Side
In matters of workplace disputes and personal injury, The Fegley Law Firm combines 30 years of legal experience with the personal attention that clients deserve.
Many of us take for granted the right to put in an honest day's work in a safe environment. Those who have suffered through sexual harassment, however—inappropriate remarks, unwanted advances or even something more serious—know all too well that not everyone is fortunate enough to have that luxury.
The #MeToo Movement has helped raise awareness of sexual harassment in the workplace and the pain that many people have had to endure. But Scott Fegley, a Yardley-based attorney with more than 30 years of experience, including 16 in his own practice, believes there is still a long way to go.
"What I have seen in the news is not a surprise to me," he says. "Some recent high-profile cases, with people like Harvey Weinstein and Matt Lauer falling from grace, have made headlines. But serious sexual harassment has been occurring to mostly female employees for quite a long time.
"You just don't hear about cases involving hotel workers or secretaries or administrative assistants," he continues. "I've seen it particularly prevalent in small to mid-sized companies, where the male owner thinks because he owns the company, he can do whatever he wants."
Fegley, who founded The Fegley Law Firm in 2002, is licensed in Pennsylvania and New Jersey and focuses a large part of his practice on employment law, representing plaintiffs in matters such as sexual harassment, discrimination and wrongful termination. It is his mission to assist clients who are often overlooked, who might not fully understand all of their rights and who are afraid of losing their jobs.
"Ultimately, when I feel an employee has been wronged and is suffering, I like to be able to do what I can to make sure it is stopped," he says. "An employee should be able to go to work every day and do his or her job without the anxiety over how they're going to be treated and what's going to be said or done to them just because of their gender, or sexual orientation for that matter."
Fegley can also be a valuable resource for employers, especially smaller companies, in implementing or revising workplace policies in regard to harassment and discrimination.
The firm's other major practice area is personal injury, representing plaintiffs in cases including automobile accidents, defective products, falls, dog bites and even gunshot injuries.
Fegley started his career working on the defense side of personal injury for large firms in Philadelphia and Princeton, N.J. He believes his time working with insurance company claims representatives and his knowledge of the claims process enables him to be more effective in developing a client's case and obtaining a higher settlement. He encourages anyone who has been in an automobile accident to seek representation immediately and to take photographs at the scene right away with their smartphones.
"In fact, I have a free cellphone app that anyone can download from either the Google or iPhone stores that enables them to take photos and automatically email them right to me," he says. "Just search for The Fegley Law Firm. Gathering the evidence at the scene right after the accident occurs is critically important."
The Fegley Law Firm blends the use of technology with the old-fashioned values of personal attention and communication. Fegley is always accessible to his clients and makes it a point to promptly return all phone calls. He has successfully resolved cases large and small, including sexual harassment cases against large companies and even state governments, automobile collisions involving serious injuries and deaths, and defective products including airbag malfunction.
In the end, no matter the nature of the case, Scott Fegley's priority is the person he represents.
"Building relationships with my clients is as important as the result," he says. "I want them to understand their case and the legal process so it is not intimidating. I listen as well as counsel, and I want them to know I am always available to speak with them. I know they are going through a difficult time, and I want to be the one they can lean on."
The Fegley Law Firm
301 Oxford Valley Road, Suite 402A
Yardley, Pa.
(215) 493-8287
FegleyLaw.com
Photography by Jody Robinson
Published (and copyrighted) in Suburban Life Magazine, May 2018.
.
.
.