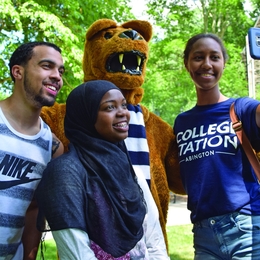 Penn State Abington: The Future of Higher Ed
Students of this four-year liberal arts university discover an "affordable, accessible and high-impact education" in a culture that values community and diversity.
Pennsylvania State University's tree-lined campus in Abington has undergone quite a transformation over the past decade. Some of the changes have been quiet, behind the scenes, while others have been highly visible, as subtle as a lion's roar.
Formerly known as Penn State Ogontz, the 45-acre Montgomery County campus was once regarded as a waiting room, of sorts, a transitional school where students came to earn college credits before moving on to the main campus at State College or some other institution of postsecondary education. Now, as Penn State Abington, the dynamic campus is beginning to earn its reputation as a four-year destination, where students from across the Greater Philadelphia Area—and from points around the globe—come to collaborate, experiment and engage with the world, both in and out of the classroom.
At the heart of Penn State Abington is an "affordable, accessible and high-impact education" designed to place students on a path to lifelong learning and achievement, according to Chancellor Damian J. Fernandez, Ph.D.
"One of the ways I look at Penn State Abington is as a place at the edge," he says. "We're at the edge of where the city meets the suburbs. We're at the edge in terms of educating students from a wide variety of homes and origins and socioeconomic statuses, including our international and out-of-state students, which are increasing every year. And we're at the edge of Penn State, one of the furthest campuses from the main campus.
"We like to be at the edge," he continues. "We've created this vibrant and exciting place of encounter, where in our difference we can find our commonality. We are a microcosm of the United States, and that is an exciting environment in which to educate students."
The Evolution Continues
Penn State Abington has grown not only in terms of its physicality but also in the breadth of its academic programs. The university offers 19 baccalaureate degree programs, along with a wide range of extracurricular clubs, undergraduate research opportunities and NCAA Division III athletics.
Nearly half of the university's 4,000 undergraduate students complete all four years at Abington—a number likely to grow now that Penn State Abington is officially a residential campus. As of August 2017, as many as 400 students per year stay at the Lions Gate residence hall, located adjacent to campus.
The university has also expanded to serve students beyond the undergraduate level. In fall of 2018, the school will begin offering an MBA program through the Penn State Great Valley School of Graduate Professional Studies, where students can earn their MBA right at Abington. The MBA classes meet one night a week on the Abington campus, from 6 p.m. to 9 p.m., either face to face or by videoconferencing, with additional coursework to be completed online.
"There is great excitement about this program," Fernandez says. "Penn State Abington has been and will continue to a be a four-year liberal arts school at the undergraduate level, but we are increasingly moving to serve all members of the community. The MBA program is a low-residence hybrid, so it is ideal for working adults who want to complete the degree on a part-time basis.
"We like to think of Penn State Abington as a sort of boutique campus for everyone—elite without being elitist," he continues. "I think we are serving the new America in ways that are transformative. Students can come here and conduct physics experiments, do their own independent research in robotics or go to an embedded trip to study in Japan."
Fernandez sees each classroom as a place where students can "make connections across fields, across programs and across disciplines, both in and out of the classroom." These "connections" include opportunities for students to engage directly with individuals who may not have views that align with their own. Penn State Abington recently hosted a full day of civil-discourse workshops to help students develop skills such as deep listening, setting boundaries and responding to other people's beliefs in a respective manner.
Penn State Abington's efforts to build community extend far beyond the campus borders. In Fernandez's words, the university strives to be "a college of service to the community, of the community and embedded within the community." This includes an emphasis on developing partnerships with locally based private institutions.
Three years ago, for example, the university linked arms with Abington Art Center to create LaunchBox. This tech-based idea incubator combines the vision of entrepreneurs with the inventiveness of artists to generate new ideas and spur economic growth in the region. One recent project that arose from LaunchBox involves a revolutionary brick-shaped water bottle that has dual uses in humanitarian crises such as earthquakes or hurricanes. The discarded bottles can be interconnected and used as building blocks to construct temporary shelter.
Such fruits represent just the tip of the iceberg, according to Fernandez. He says the university intends to broaden its focus by offering "advisory services," bringing students and faculty together to dream up ways to help small businesses in the Abington area.
Where the Action Is
What's next for Penn State Abington? The sky's the limit, according to Fernandez.
"We are surrounded by this beautiful setting, with 40-some acres of impressive canopy, and we are growing outside our perimeter," he says. "We are building a new $50 million academic building, and we expect to make it very flexible, with experiential kinds of spaces in a building that is sensitive to the environment around it. This is a major milestone for us. We also hope to offer five new degree programs in the next three years, and we will be adding full-time staff to facilitate those programs."
Penn State Abington's evolution continues to attract an increasingly diverse student population from points near and far. Likewise, the university is drawing in more high-caliber academic talent—and Fernandez is a fine example.
The Cuban-born Princeton University alumni had a decorated academic career prior to becoming chancellor of Penn State Abington in July 2016: head of the Ethical Culture Fieldston School, a progressive private school in New York; provost and executive vice president for academic affairs at Purchase College in Purchase, N.Y.; and vice provost of Florida International University's campus in Biscayne Bay, Fla.
"I came to Penn State Abington because I believe this place represents the future of higher education today," he says. "Our campus is at the cutting edge of the national conversation around access and affordability in education. I wanted to be where the action is, and this is where the action is."
Penn State Abington
1600 Woodland Road
Abington, Pa.
(215) 881-7300
Abington.PSU.edu
By the Numbers
Located just 15 miles from Center City Philadelphia, Penn State Abington educates a diverse student body. The university's central location, affordability and robust academic programs combine to draw students from the city and suburbs alike, as well as from India, China and other points from around the globe.
* 53 percent of Penn State Abington students are female.
* 50 percent of the university's 4,000 full- and part-time students identify as minorities.
* More than 40 percent represent the first generation of their families to pursue a bachelor's degree.
* 38 percent of students are eligible for the Federal Pell Grant Program, and 69 percent receive financial aid.
* 25 percent of students are adult learners.
* 11 percent of the student population comes from out of state (17 states and 29 countries).
Photography courtesy of Pennsylvania State University
Published (and copyrighted) in Suburban Life Magazine, May 2018.
.
.
.