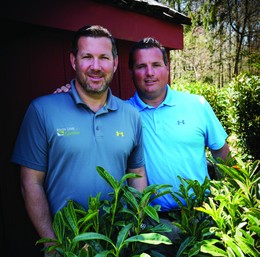 Paradise Found
Long known for its lush landscapes and spectacular hardscapes, Main Line Gardens can transform any homeowner's outdoor space into a private sanctuary.
Jody Camp, president of Main Line Gardens, may have the world's best office. He spends his days in the fresh air, his face warmed by the sun, his hands busy with tree roots and flower stems, spreading mulch and hauling stone. When he's not at his company's sprawling garden center in Malvern, he's at a job site, doing his part to transform a homeowner's property into a custom outdoor oasis.
"I love the 'before and after,'" he says. "I love how we can take a tired outdoor space and give it some new life or make it fully rejuvenated. It's sort of like flipping a house, only we're flipping the landscaping and turning it into something that's special to the person who's going to be seeing it every day."
As a design-build firm, Main Line Gardens offers the full gamut of landscaping and hardscaping services. Whether it's custom pottings, plantings and landscape overhauls or the construction of a stone patio, retaining wall and other distinctive hardscape, Main Line Gardens has the expertise and imagination to completely reshape homeowners' outdoor spaces. The family-owned company also offers ongoing service in the form of regular pruning, fertilizing and bed maintenance to keep clients' properties healthy and appealing throughout the year.
Regardless of a client's specific needs, Main Line Gardens begins every job with an interview, of sorts, where one of the company's skilled designers gets to know the homeowner and the property, and then comes up with a plan to bring out its full potential.
"A lot of people have a little bit of an idea of what they want, so it's then up to us—the landscape designers—to take the ball and run with it," says Camp, who started the business at the age of 19, with nothing but a lawnmower and a pickup truck. "There may be some plants or trees that a homeowner wants, but maybe those plants or trees are not the best for this particular region or even their particular property. We'll then say, 'OK, that's great for Virginia, but it won't do well here, so let's see what our other options are.'
"It all depends on what the homeowner wants to achieve," he continues. "If they want to, say, obscure the view of their neighbor's house to make their own property more secluded, or just enhance certain features of their property, we'll make suggestions for how they can reach that goal and explain what it will take to get there. These are the kinds of things we're doing for homeowners every day; it's a passion that everyone who works here shares."
One Size Fits One
Hardly a one-size-fits-all operation, Main Line Gardens has an option to suit any homeowner's landscaping and hardscaping needs.
For those who want to hand off the project completely and let Main Line Gardens work its magic from cradle to grave, Camp and his team are happy to oblige. In these instances, Main Line Gardens' on-site design studio can create a digital representation of what the homeowner's finished product might look like in dramatic detail. The design software essentially enables the designer to "delete" the existing landscape, add in the new elements and then show the homeowner how the landscape will evolve over time, as the plantings age with regular maintenance.
"Some people refrain from investing in their outdoor spaces because they think it's going to take a long time and somehow disrupt their daily lives," Camp says. "We can come in and make a huge change in a day or two. I also like to remind people to plan ahead. Spring is a very busy time for landscapers, because it's when we're doing a lot of plantings and mulching. If someone is interested in a big hardscape job, it might be better suited for July or August, which is when a lot of people travel for summer vacation anyway. Depending on scheduling, we should be able to complete a job almost without the homeowner even noticing we were there."
At the same time, Main Line Gardens also enjoys working with do-it-yourselfers. The firm welcomes the DIY crowd to visit its Malvern garden center, where educated staffers will outfit homeowners with the necessary supplies—everything from mulch and fertilizer to statuary and outdoor furniture. For these customers, Camp offers this helpful advice: "Bring in your iPad with pictures of the property so we know what you're working with. Also, take a few measurements of the property so you know how much material you might need, and know which way the sun is facing so we can ensure the property is going to be as close to as you imagined it."
There's another option that's somewhere in the middle. Say a homeowner comes to the garden center and selects a number of trees and shrubs, but they lack the interest or wherewithal to plant them. In this scenario, Main Line Gardens would send the client home with marker flags to designate where the trees or shrubs should be planted. Main Line Gardens' landscapers would pay a visit to the homeowner's location at a later time and place the plantings according to the homeowner's wishes.
"One of the best parts about having the garden center is the flexibility it enables us to have," Camp says. "We can walk through the nursery with customers and show them everything we have, from shrubs to perennials and everything in between. There are a lot of landscaping companies in this area, but only a few of them have a nursery. It's a great asset, and it gives us a huge advantage."
Kevin Camp, Jody's brother and co-owner of Main Line Gardens, equates the garden center to a "one-stop shop," of sorts. It's a place where homeowners discover all of their options and find ways to maximize their enjoyment of their outdoor spaces.
"Having the garden center makes us easy to find, and it's a place where people can connect with experts who can help them," he says. "You can always stop in and talk to somebody about a question you have or an idea you want to flesh out. If you have an issue with bugs that are affecting your shrubs or with deer that are eating some of your plants, we have the stuff you need to treat the problem. If you're in need of topsoil or stone to complete a project, we have it here. Whatever it is as it relates to a project for the outside of your home, you'll find it here.
"If you have an idea for a new project, bring to us and we'll help you get there," he continues. "You don't need to have the idea fully fleshed out; all you need is the rough draft. We'll take care of the rest."
Main Line Gardens
376 Paoli Pike
Malvern, Pa.
(610) 644-2300
MainLineGardens.com
Photography by Jody Robinson
Published (and copyrighted) in Suburban Life Magazine, May 2018.
.
.
.