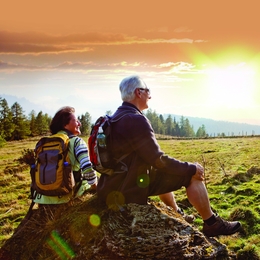 Just a Number
At the suburbs' finest continuing care and independent living communities, seniors discover new talents and rekindle old interests to hone the mind, body and spirit.
Eastern bluebirds were once decimated by factors such as invasive bird species, habitat loss and the insidious effects of the pesticide DDT. But the birds are thriving again in Southeastern Pennsylvania, and they find a particularly welcoming home in Newtown Square, on the bucolic campus of White Horse Village.
There, devoted residents of the continuing care retirement community with an interest in carpentry create nesting boxes for displaced bluebirds. The residents then place the boxes at points along the 98-acre campus, thereby connecting the statewide bluebird trail from Tyler Arboretum through Ridley Creek State Park.
White Horse Village's resident woodworkers have also donated the handcrafted bird sanctuaries to neighboring communities, as well as the state park. What's more, for the past several years the woodworkers have donated nesting boxes—not only for blue- birds, but also for kestrels and other small birds—to the Willistown Conservation Trust's Bird Conservation Committee.
"This is what happens when people move here," says Dottie Mallon, vice president of marketing and public relations for White Horse Village. "They come here and share their talents with everyone else."
Ramping Up
Throughout the Greater Philadelphia Area, adults of a certain age move into continuing care and independent living retirement communities not to slow down but to ramp up—to discover new talents, rekindle old interests and meet new people. Much like those eastern bluebirds, they come in search of seek a sanctuary, of sorts, where they can enrich their lives, in mind, in body and in spirit.
"I have one resident who says, 'All I have to do here is breathe," says Kathy Arty, sales consultant for the Attleboro Community in Langhorne. "Our residents enjoy two meals a day—a continental breakfast and an evening meal—they don't have to worry about cleaning or housekeeping, and their social calendar is full of events; it could be our daily exercise classes, or a trip to Frenchtown [N.J.] for shopping and lunch.
"One of the things we see with seniors who live alone is isolation, which breeds depression," she continues. "But when they come to a place like ours, they have socialization, they keep their minds active, and they keep their bodies moving. There are so many things to look forward to, they're not being challenged by the factors that might cause those feelings of isolation."
For many older adults, socialization includes animal companionship. Small pets are welcome at communities such as Attleboro, and A rty says residents are often seen walking their dogs—35 pounds and under—on the 13-acre campus.
At Presby's Inspired Life's Spring Mill campus in Lafayette Hill, Linda Suarez takes a holistic approach to helping residents stay social and continue their growth—spiritually, emotionally, physically and intellect ually.
"We want to get to know our residents: what they did before coming here; who they cared for; what kinds of hobbies they had; and what their goals are for the coming years, because they still have a lot of things they want to do," says Suarez, director of recreational therapy for the Spring Mill campus. "Once we have an idea of who they are and what their interests are, then we build a plan with them." "We want this to be a place where they enjoy," adds Carisa Livingston, administrator of Presby's Spring Mill campus. "Over the years, while people are working and raising a family, they often have to push their own interests or passions to the wayside, but when they come here, we see people bloom. It's an environment of true retirement living, not a nursing home. They come here and understand that the burden of maintaining a home has been lifted, so they can get back to what they really enjoy—whether that's art or learning a language, or even just learning how to cook something differently."
Suarez considers it her responsibility not just as to understand the things that will enrich a resident's life, but also to get directly involved as a facilitator.
"Part of that is helping them fight through any barriers, like transportation," she says. "If a resident doesn't drive, we give them the resources they'll need t o use public transportation, or maybe provide the education in certain areas; we might help them learn how to use Uber if that's something they might want to learn."
Branching Out
At White Horse Village in Newtown Square, the return of kinder weather means a return to enjoying fresh air, blue skies and open trails, according to Mallon. Residents often walk beneath the well-tended canopy and learn about the 1,200 trees on campus, thanks to the efforts of residents with an arboreal interest, as each tree bears a metal tag that includes its common name and its proper Latin name.
"The people who move here like the outdoors, so they're very in tune with nature," she says. "They walk the grounds, the gardens and the trails throughout the campus, and they're also big into outdoor games. Out of 400 residents, 70 percent are involved, including spectators. We have shuffleboard, bocce, which is the most popular, a nine-hole putting green, croquet, horseshoes, and we'll be starting pickleball."
Mallon could go on and on about White Horse Village's award-winning Harvester's Garden, which has won a blue ribbon in the "Combination Garden, Community" category from the Pennsylvania Horticultural Society for the past two years. The garden features flowers and vegetables that have been planted and tend- ed by residents, with the fruits of their labor then being sold at a weekly farmers market nearby. In addition, chefs from the White Horse Village kitchen use the garden to grow their own herbs.
Seniors come to these kinds of destinations to continue living rich, full lives, but also for the safety and security, of knowing they're in good hands no matter what happens. If a resident's health takes a turn, for example, whether it's for long-term memory care or to recover from a fall that requires short-term rehabilitation, the region's finest continuing care communities strive to make every resource available.
"It's up to us to see what changes in a resident's life," says Livingston. "Even the loss of driving can be a huge loss of independence, so it's our job to make sure our residents stay engaged … so they can go out and live their lives to the fullest."
NEXT STEPS
The Greater Philadelphia Area is home to a number of excellent continuing care and independent living communities for active seniors, including those listed below. Each is devoted to helping its residents lead rich, full lives for the duration of their retirement years.
The Attleboro Community, Langhorne, AttleboroCommunity.com
Friends Home and Village, Newtown | FHVpa.org
Pickering Manor, Newtown | PickeringManor.org
Presby's Inspired Life, Multiple area locations, PresbysInspiredLife.org
Waverly Heights, Gladwyne, WaverlyHeightsLtd.org
White Horse Village, Newtown Square, WhiteHorseVillage.org
Published (and copyrighted) in Suburban Life Magazine, May 2018.
.
.
.