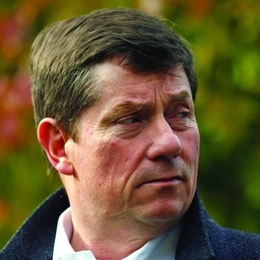 Strong Words
Bucks County author Chris Bauer goes for the throat with his forthcoming thriller, Jane's Baby.
Don't expect subtlety from an author like Chris Bauer. His novels dive headfirst into polarizing social issues, ranging from gun control to gender identity. In fact, his latest novel jumps into the middle of one of America's most divisive topics: reproductive rights.

Jane's Baby, new from Intrigue Publishing, offers an imaginative answer to a question lingering from the 1973 Supreme Court decision, Roe v. Wade: What happened to the unborn baby at the heart of the controversial case?
Bauer's quick-moving prose introduces readers to a cast of strong, richly drawn characters, including: a Native-American woman recently sworn in as a Supreme Court justice; an antagonist who believes it's her divine duty to prevent the justice from serving on the court; and, standing between the two, a good-hearted bounty hunter from Philadelphia. Jane's Baby is Bauer's second published novel, following 2009's Scars on the Face of God: The Devil's Bible.
We visited with Bauer at his Bucks County home to discuss the new book, his evolution as a storyteller, and why one of his characters carries a rabbit's foot. (It's not for good luck.)
How did you come up with the story in Jane's Baby?
I ran across something that piqued my interest regarding the privacy issues surrounding Roe v. Wade, which is such a lightning rod for folks on both sides. I just happened to be reading about the case and ended up doing the math. There's a plaintiff in that case, Jane Roe—her real name was Norma McCorvey, a Texan of Native-American descent who passed away in 2017—and she wanted to terminate the pregnancy. The Supreme Court didn't render a decision until three years after the case was opened. Most people tend to think: Well, the case was won, so therefore Jane Roe would have terminated the pregnancy. No, she had the baby. The baby became a product of a closed adoption, which at the time was just starting to get phased out in Texas. So I thought: Let's write a story about what happened to the baby.

Why delve into such a controversial topic?
Writers have to have an extraordinary idea to get noticed nowadays, by agents and by publishers. A coming-of-age story, a standard murder mystery—the powers that be are not going to feel comfortable publishing a story like that unless the person is a literary genius. I knew this was a controversial topic, and it clearly had an edge to it because of the "what if" circumstance. I also ended up going for characters that were not common as well. The main protagonist, Judge Drury, has Tourette's—verbal tics and physical tics—though it's not severe. … He needs fur to keep himself sane when he gets excited, which is why he needs to have his dogs around. He also carries a rabbit's foot to keep him calm.
Why did you want to wrap this novel around Judge Drury?
It's not just one novel; it's a series. The first book, Dirty Pool, has not yet been published, and I'm working on the third book now, which has to do with gun rights in America. Judge is a former enlisted Marine. He loves animals, and he works with military working dogs. He's also a bounty hunter. He's a little narcissistic, and he knows it. In some respects, he's your typical hero, in that he's got a bigger frame and can handle himself, both physically and intellectually, but he's not young; he's in his 50s. He's a heart-of-gold type of hero, but he doesn't suffer fools easily.
I relate to the whole help-the-underdog part about Judge. I grew up in Northeast Philadelphia, and in my childhood I probably saw 10 of my best friends every day, but you didn't always get along with each other, which led to arguments, which sometimes led to physical confrontations. That was the mentality of growing up in what I would call a tougher neighborhood. Judge has a lot of that in him, too. He and his sidekick, Owen, actually start out as enemies. They get into a fight at a Dallas-Eagles football game, but the two of them end up becoming friends as a result.
You have a business background. How did you go from working in an office to becoming a full-time writer?
I became a finance guy because it paid the bills, which was necessary because my wife and I married young and started a family young. At one point I was working for a company that went under and was acquired by a company out west. I was offered a job to go out to Oregon, but I didn't want to go to Oregon. It left people like me feeling disenfranchised, and I ended up being unemployed for seven months. So you could say my first novel was inspired by that experience. The story had to do with a corporate takeover, and one of the characters was based on a friend of mine I had growing up. I loved the story, but that first novel is sitting in a drawer, likely never to be published.
Later on I had a very long commute—an hour and a half from Bucks County to my office in Bridgewater, N.J.—and I would always be formulating my stories while I was driving, managing the two-lane back roads along the farm fields in Pennsylvania and New Jersey. On those long rides, your mind can drift, and it allowed me to work things out in my stories.
How has your writing evolved?
When I wrote Scars on the Face of God: The Devil's Bible, I had just gotten done reading a nonfiction book called A Civil Action, about a leukemia cluster in Massachusetts. It was a true story about how the dumping of chemicals had ruined the water supply, and over many, many years, all these people were getting leukemia. It made me think of my time in Northeast Philadelphia. In a four- or five-block area of where I grew up in Mayfair, there were a bunch of people who had all these unexplainable issues, including one kid in a wheelchair, who very much inspired my main character in Scars on the Face of God. In my mind, I was thinking that was a cluster.
At the same time I ended up watching the movie The Devil's Advocate, and there's a point toward the end of the movie where Al Pacino, who plays the devil, wants Keanu Reeves's character to join him and rewrite history. When I heard that line, I was thinking: What if the devil wrote a bible? Lo and behold, I ran across this 13th century manuscript called Codex Gigas, which is also known as "The Devil's Bible." Apparently it was attributed to a monk who had to write all these different scriptures as penance, and he rewrote them all in one night, supposedly because he invoked the devil to come help him. So the book I was writing turned into a horror novel.
I wrote another horror novel after that, but I don't know if I'm going to go back to writing horror. I want to finish the Judge Drury series, and I have another series I want to do after that. I would characterize them both as thrillers, maybe with some horror elements throughout. Some things you just can't grow out of.

Editor's note: Bauer will be signing copies of his book at three upcoming events: May 26, at the Barnes & Noble in Montgomeryville, starting at 1 p.m.; June 14, at the Octoraro Hotel and Tavern in Oxford (Chester County), from 6:30 p.m. to 9 p.m.; and July 21, at the Lahaska Bookshop in Peddler's Village, starting at 1 p.m., with fellow local authors John Schoffstall and Don Swaim.
Photograph by Jillian Bauer-Reese
Published (and copyrighted) in Suburban Life Magazine, May 2018.