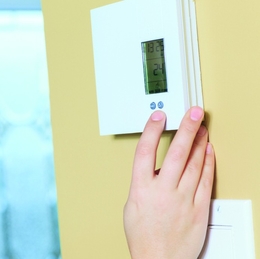 Your Comfort is Their Business
With summer just around the corner, C&C Heating and Air Conditioning keeps customers cool by keeping their comfort equipment running at peak performance.
Although it seems like winter took its good old time to make its departure, summer is right around the corner. On those blisteringly hot and humid days ahead, when the mercury in the thermometer climbs perilously close to the 100-degree mark, homeowners will treasure the privilege of stepping out of the heat and into a cool, climate-controlled house.
At the same time, HVAC systems that have not been regularly maintained are prone to failure in times of high stress, when the system is needed most. Should an HVAC system fail in the so-called "dog days" of July or August, a homeowner may find themselves with no reprieve from the heat, scrambling to find an available HVAC technician to come out and solve their problem. Getting the problem resolved will likely come with a considerable price tag, because thousands of other homeowners in the region will be struggling with the exact same scenario.
Souderton-based C&C Heating and Air Conditioning can ensure that homeowners never find themselves in such a sticky situation. C&C, which serves residential and commercial customers throughout Bucks and Montgomery counties, excels at making customers' HVAC systems run as smoothly and efficiently as possible. Whether the company's certified technicians are performing routine maintenance or on-call emergency service, they always adhere to the principles established by C&C's founders: honesty, respect and fairness.
"We have been serving this community for over 46 years now," says Catherine Cordero, who co-founded C&C with her husband, Will, in 1972. "We are proud sponsors of various community organizations, including Habitat for Humanity. We are licensed and insured for our customers' peace of mind, and when you call our office, you will hear a human voice. With everything we do, we under-promise and over-deliver in providing services and products to our customers."
C&C prides itself on having the most conscientious and experienced technicians in the marketplace. Each member of the professional team has been trained to install, replace and maintain a wide range of home-comfort equipment—gas hot-air furnaces, heat pumps and air-conditioning systems, as well as humidifiers, thermostat controls and much more—from featured brands including York, Honeywell and Aprilaire.
"We encourage our customers to have their equipment maintained regularly," says Tom Chiavaroli, a member of C&C's sales department. "Calling early in the spring and fall season puts you first in the maintenance schedule. It can get rather busy when that first heat wave or winter chill hits, and by then it might be too late. Dramatic changes in the weather can stress a weak and dirty system, and when that happens, the system can be shut down for hours or even days."
This is one reason why C&C offers a service agreement plan for preferred customers. The service agreement includes two seasonal inspections to ensure that a homeowner's system is operating at peak efficiency well before the system will be called on to perform in times of high demand. In addition, these customers are guaranteed a timely response in the event that they ever find themselves in need of service unexpectedly, putting them ahead of those who choose not to have regular maintenance done on their system. They also benefit from reduced pricing on labor and repairs, 365 days a year.
"Dirt is the No. 1 cause of comfort-equipment failures, which is why it's so important to have a trained technician or professional inspect and clean your system," says Chiavaroli. "This is the time when the professional can make tweaks and optimize the system's performance. He can take the time to determine any short-term or long-term issues that can cause a shutdown."
Spring is the best time of year to explore replacement options or new HVAC alternatives for an in-home comfort system, according to Cordero. She says C&C currently offers a number of seasonal promotions, including aggressive manufacturer rebates and financing alternatives, such as delayed-interest programs of up to five years.
"We also encourage people to visit our website, CC-HVAC.com," she adds. "We even have a Homesense page that provides customers with money-saving and indoor-comfort ideas for their home, ranging from thermostat controls to houseplants that can help to clean the air inside their home. Our business is other people's comfort, and we're here to help."
For more information from C&C Heating and Air Conditioning, call (215) 799-0515 or (800) 564-3382, or visit CC-HVAC.com.
Published (and copyrighted) in Suburban Life Magazine, May 2018.
.
.
.