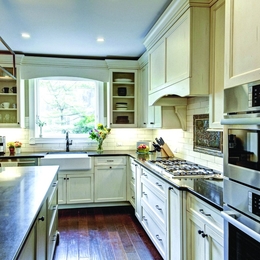 Home Is Where the Harth Is
Harth Builders aims to improve functionality and increase enjoyment of home spaces.
"We wanted to open up the space downstairs so we could improve the utility and the traffic flow. The challenge was going to be how to update and modernize the first floor—making it warm and comfortable—while still maintaining the integrity of the house. Working with a design-build firm like Harth Builders was critical. We were completely satisfied with the way everything went; it's like a whole different house now.
—The owner of a 115-year-old Victorian in Fort Washington, renovated by Harth Builders
Maximum Enjoyment
Harth Builders' "First Floor Flow™" approach to home renovation strives to help clients maximize their enjoyment of their entire living space. In many cases, homeowners find themselves using the renovated space much differently afterward, spending more time doing things they enjoy—cooking in a new kitchen, for example, or entertaining friends and family.
Improved Functionality
The approach is based on a functional floorplan that caters to a homeowner's individual lifestyle. After the First Floor Flow renovation, rooms will flow together seamlessly—both in terms of style (hardwood floors, appliances and light sources) and functionality.
Expanded Storage
Harth Builders' approach may reduce clutter by adding more counter and storage space to existing rooms. Also, depending on the project and the client's needs, some plans may call for the creation of entirely new spaces, such as a study, a powder room or a mudroom.
To learn more about Harth Builders and "First Floor Flow," call (215) 654-0364 or visit HarthBuilders.com.
Published (and copyrighted) in Suburban Life Magazine, May 2018.
.
.
.