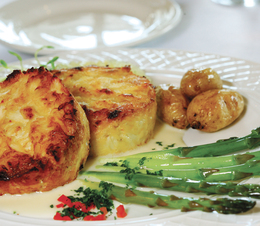 A Taste of Elegance
Limerick's Copperfield Inn gives guests an experience to remember
Cyndi Giancaterino and Sherri Sautner were introduced to one another the day their respective husbands, Vincent and Frank, signed a lease on their first restaurant. Although the two women had no prior experience running a restaurant, they certainly knew how to be customers. This perspective was just as important, according to Cyndi, because "our philosophy is focused on the customer's point of view."
Cyndi, Vincent, Sherri and Frank, who are now the owners of two successful restaurants, together have opened the Copperfield Inn at lakeside on Ridge Pike in Limerick.
Local customers often share fond memories from more than 50 years of celebrations held at the restaurant when it was known as The Lakeside, according to Cyndi. When the new owners re-opened the restaurant, they decided to honor the rich history of this well-known institution by renaming it the Copperfield Inn at lakeside. The restaurant is warm and inviting, with exposed beams and a Mission-style décor, as well as a bar, several gas-burning fireplaces and two semi-private rooms for small functions of eight to 10 guests. The eclectic menu features innovative American regional varietal fare, an array of daily specials, a carefully selected wine list and Sunday brunch.
Chef Marc Raffa, previously of the Philadelphia Cricket Club, has more than 25 years in the restaurant and private-club industries, with extensive background in both high-volume a la carte dining and customized catered affairs. He believes in using the freshest ingredients possible, while supporting local suppliers. His crab cakes, especially, have gotten rave reviews—moist, tender, abundantly flavorful, packed with jumbo lump crabmeat and never breaded or fried. "[The crab cakes] are a testament to keeping food simple and relying on the best ingredients," says Raffa.
The restaurant owners' goal is to offer an intimate, family-type atmosphere and make their customers feel as if the Copperfield Inn is "their place," much like Cheers. Chef Raffa adds, "We want our guests to make the Copperfield Inn their dining destination, whether it's family night or date night."
The events facility can host meetings, birthdays, christenings, anniversaries, luncheons and weddings. It offers an elegant pre-function room for hosting the cocktail hour and a ballroom that can accommodate up to 250 guests with a veranda overlooking the private lake. Brides can even choose to hold their outdoor ceremony at the Copperfield Inn where the lakeside gazebo offers a picture-perfect setting. Cyndi's own daughter was recently married, and planning the event gave her insight into what a bride wants and needs to make her wedding day special.
General Manager Ray Sowden, who came to the Copperfield Inn with 25 years of industry experience, most recently at the Normandy Farm Hotel and Conference Center, underscores the Copperfield Inn's philosophy of "your wedding, your way" by adding this: "We want our staff to understand the needs of the clients and anticipate what they will need and be ready for any possible scenario."
To simplify the planning process, the Copperfield Inn offers three distinct packages: Silver Lining, Golden Pond and Copperfield. These provide the bride with a bottom line to start from that can then be personalized to include any detail she desires. Each package includes a personal-event planner and customized menu planning with a private tasting for the bride, groom and four guests, as well as individual floor plans, a choice of linens, votive candles, white-glove service, a four-hour open bar, champagne toast, coffee service and a personalized wedding cake.
The Copperfield Inn hosts only one event at a time in order to allow every bride to feel like the day belongs to her; the facility even offers a private bridal suite and personal assistants to attend to each bride and groom. Arrangements can be made to provide a luncheon for the bridal party or guests. The Golden Pond and Copperfield packages include additional hors d'oeuvres, stations and decor, plus alcohol, entrée and dessert upgrades.
The event menu offers dozens of creative hot and cold hors d'oeuvres to choose from, including enhanced stations such as crostini, seafood, antipasto or a chef-attended station where the specialty lump crab cakes are sautéed to order. Entrées include beef, lamb, pork, chicken, fish and vegetarian selections, with a variety of accompaniments designed to accommodate any taste or dietary requirement; "Duet" entrées offer surf-and-turf combinations, and "Sweet Endings" enhancements include a dessert table, sundae bar and Belgium-waffle station.
With every aspect accounted for, Cyndi says, "Let us plan the details so you can plan your life."
Whether it is a casual dinner for two or an elegant affair for 200, the staff of the Copperfield Inn at lakeside strives to ensure that all of their guests has each detail done just the way they want it. Like Cyndi and Sherri, the customers of the Copperfield Inn may start out as strangers but will leave as friends, knowing they have been warmly welcomed and invited to return.
Copperfield Inn at lakeside, 594 W. Ridge Pike, Limerick
Kelly Boyce, event planner: 484-938-7082 ext. 16
CopperfieldInn.net
Sharon A. Shaw is a freelance writer in Doylestown.