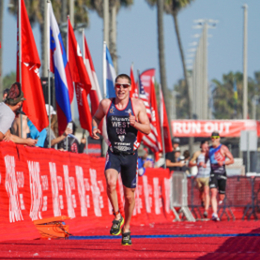 Escape Artist
Amid his travels to points around the world, Bucks County's Jason West prepares to defend his title at this year's Escape Philadelphia Tri.
"It didn't go very well."
That's how Bucks County native Jason West remembers his performance in his first sprint triathlon, which he completed with his father "somewhere in Pennsylvania" about eight years ago. Then just 16, he learned that his body wasn't quite ready for the demands of endurance sports.
The Quakertown High School and Penn State graduate has come a long way since then. In fact, competing in triathlons around the world has become West's full-time job. He lives in Boulder, Colo., where he follows a rigorous training schedule, pushing his body to the limit so he can excel as a swimmer, a cyclist and a runner.
West's efforts have paid handsome dividends. Last June, he took first place in the Escape Philadelphia Triathlon, in a modified "dry tri"; the swim was cancelled due to a particularly swift current in the Schuylkill. He bested second-place finisher Ben Kanute—a competitor at the 2016 Summer Olympics in Rio de Janiero, Brazil—by 20 seconds.
With two other first-place finishes under his belt in just the past two months, West will be chasing another win when he's back in town on June 24 to compete in the 2018 Escape Philadelphia Tri. Besides defending his title, the 24-year-old West has a more ambitious goal in mind: a spot on the podium at the 2020 Summer Olympics in Tokyo, Japan.
We spoke with him between races, after a tough day of training at his home in Boulder.
On the highly competitive nature of the sport …
"The first two years were absolutely brutal. I was working 40 hours a week, on top of training, so I had no time for anything but work and training. I was putting every penny into racing. It's professional sports, so if you're not one of the best in the world, you have to go and get a different job."
On his training schedule …
"Fridays are hard days. I'll wake up and do a hard speed swim—an hour, an hour and a half. Then I'll run for 20 to 30 minutes. Then I'll ride [a bike] for 90 minutes. Then I'll run again. Then I'll go to the gym and lift. It's about four and a half hours of training."
On his diet …
"When I'm training hard, it's almost impossible to eat too much—5,000 to 6,000 calories per day. Sometimes I'll put a tablespoon of butter in my coffee, just for the calories, because it's difficult to keep up with how much you're burning off considering how hard you have to train."
On winning last year's Escape Philadelphia Tri …
"It was one of my breakout performances. I'm traveling to races around the world now, so it's rare that my parents get to see me race much anymore. They live in South Carolina now, but they were able to see me in Philly last year; it was amazing they were able to be there. Being the defending champ is kind of new for me. No pressure, but I'll take that energy and use it as some extra motivation."
On what he does with his free time …
"I like to read—Dan Brown, Thomas Harris. I like to relax with a cup of coffee. I'm pretty good at binging on Netflix. I like to cook. Really, it's anything that doesn't have to do with sports where I can just check out and think about something else."
Editor's note: See Jason West and thousands of his fellow triathletes compete in the 2018 Escape Philadelphia Triathlon on June 24, held in Fairmount Park. Visit
EscapeSeriesTri.com
for more information.
Published (and copyrighted) in Suburban Life Magazine, June 2018.
For more info on Suburban Life Magazine, click here.
.
.