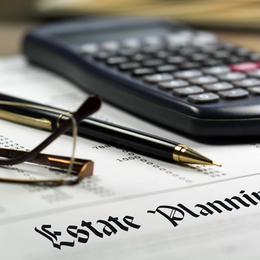 So You Want to Live Forever …
Making estate planning a priority early in life can provide peace of mind and ensure the preservation of one's legacy long after he or she has moved on from this world.
Living life is a full-time job, with a vast number of priorities vying for our time and attention—meeting work deadlines, having dinner with friends and family, getting children to weekend soccer games. The list goes on and on. As a result, many people get so caught up in living for the moment that they fail to plan for the future. As a result, preparing for an upcoming vacation takes precedence over, say, meeting with a financial advisor to devise a watertight retirement plan.
"I'll get around to it eventually," we say.
The same penchant for procrastination often applies to preparing for the inevitable—or, better put, what happens to our respective estates after we shuffle off this mortal coil. Just ask Michael G. DeFino, an attorney with DeFino Law Associates in Newtown Square, who represents clients in legal matters pertaining to elder law and estate planning, among others.
"People tend to put it off," he says. "Most of us see ourselves as eternal and don't want to think about dying. Often people will come in for estate planning because someone has died or is in a bad way, health wise. At that late point, your options may be reduced. That's why I advise people to plan early. I like to tell people to think of estate planning not as something they need for old age but as something they need in the event of an accident or something unexpected, so their wishes will be honored and their family and friends can be provided for."
In some cases, estate planning becomes a priority only when an individual reaches retirement age or attains a certain level of income. But DeFino says just about every adult can benefit from addressing the three essential elements of an estate plan much earlier in life—say, when one gets married and starts a family:
* A will, which outlines the particulars of how one's assets will be distributed, who will be the executor of one's estate, who will serve as the guardian of one's young children, etc., in the event of an individual's death.
* A durable power of attorney, which designates an agent in the event that the person becomes incapacitated or is in a state of health where he or she can no longer manage his or her affairs.
* An advance healthcare directive (living will), which delineates the medical procedures an individual does or does not want performed to sustain the individual's life, as well as who has the right to make medical decisions for an individual if he or she can no longer make them for himself or herself.
Once an estate plan is formalized, the document should be reviewed regularly, especially after significant life changes, such as a death, a divorce, a remarriage or the birth of another child. In addition, DeFino suggests updating essential documents in the event that a designated executor or agent of one's estate becomes incapacitated or otherwise unable to perform his or her duties.
For individuals who avoid preparing for the inevitable because of a misplaced fear or superstition—the belief that the simple act of preparing for what happens in the event of our demise will somehow trigger said demise—DeFino relates this story: Years ago, his own uncle "agonized" over the idea of mapping out his estate plan, but after DeFino and his uncle sat down to sign the paperwork, the uncle felt nothing but relief.
"It's about peace of mind," he says. "When you talk to an attorney to create an orderly estate plan, you account for all of your estate—everything you own when you die—so it forces you to gather all of your information together. In that scenario, a few issues you haven't thought about inevitably come up. The process is fairly painless, and people tend to walk away from the table feeling better about their future and their family's future."
Published (and copyrighted) in Suburban Life Magazine, June 2018.
.
.
.