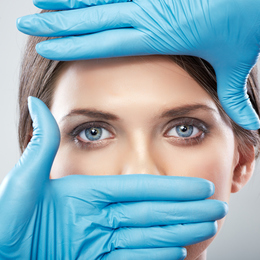 The Change Makers
When it comes to perfecting the human form from head to toe, these cosmetic physicians move with artistry and precision.
Perfection. It's what Americans strive for, day in and day out. We're taught to always look and feel our best, and to show the finest version of ourselves to the rest of the world. Of course, things don't always go as planned. Stress and lifestyle habits, even the simple passing of time, conspire to get in the way of our plans. And sometimes … well, sometimes we all just need a little help to get just a little closer to perfection.
In an online poll that spanned several months, we asked readers to share their thoughts regarding the medical professionals they turn to when they need some TLC in terms of looking and feeling their very best. The cosmetic physicians listed on the following pages include those who specialize in plastic surgery and aesthetic medicine, meaning noninvasive or minimally invasive procedures, as well as those who specialize in dermatology, among other related areas.
Also, while the American Dental Association does not recognize "cosmetic dentistry" as a formal area of specialty, we list a number of dental health professionals—oral and maxillofacial surgeons, orthodontists, prosthodontists, etc.—responsible for designing winning smiles that stand the test of time.
2018 Top Cosmetic Physicians
Physician Transformations
The Institute for Laser and Aesthetic Medicine
Doylestown and King of Prussia
Lower Gwynedd and Malvern
Gambhir Cosmetic Medicine
Exton and King of Prussia
DERMATOLOGY
Dr. Victoria A. Cirillo-Hyland
Bryn Mawr Skin & Cancer Institute
Cirillo Cosmetic Dermatology Spa
Cirillo Center for Plastic Surgery
Bryn Mawr and Newtown Square
Bucks County Plastic Surgery and Dermatology
Buckingham, Newtown and King of Prussia
Montgomery Dermatology LLC
The Philadelphia Institute of Dermatology
Dermatology Specialists of Warrington
Dermatology & Mohs Surgery
Doylestown, Quakertown and Sellersville
Wilson Dermatology and Skin Care
Dermatology Associates of Plymouth Meeting P.C.
OCULOPLASTIC SURGERY
Bryn Mawr Facial Aesthetics Center
ORAL AND MAXILLOFACIAL SURGERY
Russel S. Bleiler, D.M.D.
Oral and Maxillofacial Surgery Centers
Oral Surgery Associates of Chester County
Kennett Square and West Chester
Innovative Implant and Oral Surgery
PLASTIC AND RECONSTRUCTIVE SURGERY
Children's Hospital of Philadelphia
Eugenie Brunner, M.D., FACS, Cosmetic Facial Plastic Surgery & Skin Rejuvenation Laser Center
Claytor Noone Plastic Surgery
Philadelphia and Villanova
Davis Cosmetic Plastic Surgery
Philadelphia and Cherry Hill, N.J.
Dr. Julio Clavijo-Alvarez
The Body Arts & Science Center
Bala Cynwyd
(610) 664-5500
Penn Plastic Surgery Bryn Mawr
Kole Plastic Surgery Center
Princeton Rejuvenation Institute LLC/Reliant Surgical Center LLC
Aesthetic Facial Plastic Surgery Center Inc.
Bucks County Plastic Surgery and Dermatology
Buckingham, King of Prussia and Newtown
Surgical Specialists P.C.
Subbio Plastic Surgery & Medical Spa
Capital Health/Plastic Surgery Associates of New Jersey
SMILE DESIGN
DiGiallorenzo DMD & Associates
Artistic Expressions Dentistry
AESTHETIC VASCULAR SURGERY
Main Line Vascular Institute
Published (and copyrighted) in
Suburban Life Magazine
, June 2018.
.