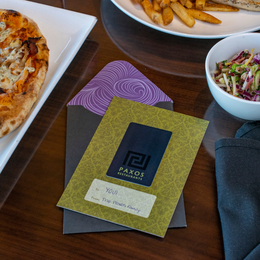 Firing on All Cylinders
Known for its menu of American classics, refined décor and dynamic atmosphere, Firepoint Grill in Newtown Square offers distinctive dining options to suit every palate.
Want to earn a Bonus Gift Card? Firepoint Grill's Annual Holiday Gift Card Promotion is underway! Purchase $200–$999 in Firepoint Grill/Paxos Restaurants gift cards and receive an additional gift card worth 10% of your original purchase. Purchase $1,000 or more in gift cards, and receive an additional gift card worth 20% of your original purchase. Learn more here.
As Americans, we have complex tastes regarding how and where we dine out. On some days we want to relax on an outdoor patio, enjoying the simple pleasures of a flame-grilled burger and a glass of freshly poured Yards beer. On others we prefer to take a seat in a stylish dining room, indulging in the likes of prime rib and a shared bottle of Cabernet Sauvignon from California's Napa Valley.
At Firepoint Grill in Newtown Square, guests have ready access to both options—and then some.
"We pride ourselves on providing whatever kind of experience the guest wants," says Firepoint Grill General Manager Joseph Zumpano. "If you're looking for a place to kick back and have a great steak and a martini with co-workers at the end of the workday, this is your place. If you want a three-hour dining experience that includes a nice bottle of wine, you can have that here. And if you're looking for craft seasonal cocktails on an open patio, we can check off that box, too."
In other words, Firepoint Grill is nothing if not versatile.
The restaurant has also become known for its happy hour menus, which were launched earlier this year. On Monday through Friday, from 4:30 p.m. to 6:30 p.m., guests can partake in $5 local craft beers, $6 wines by the glass and $7 craft cocktails, plus $9 "Happy Bites." Likewise, the extended Sunday brunch happy hour—10:30 a.m. to 3 p.m.—includes $5 Mimosas, $6 Bloody Marys and $7 cocktails, as perfect compliments to brunch favorites such as blueberry buttermilk pancakes, bananas foster french toast and a host of inventive egg dishes.
"I could keep going," says Zumpano, a chef by trade who cut his culinary teeth in the vibrant restaurant scene of Washington, D.C. "For me, my favorite part of the restaurant is the bar; it's one of the best in the area, and the energy really centers on it because it's right in the middle of the restaurant. I also like greeting guests at the host stand, and checking in with them as they're leaving to make sure they had a great experience."

Something for Everyone
Since opening its doors in late 2016, Firepoint Grill has earned its reputation as one of Delaware County's most distinctive restaurants. This should come as no surprise considering the fact that it belongs to a family of exceptional dining destinations under the umbrella of Paxos Restaurants, founded by the restaurateur George Paxos. Besides Firepoint Grill, the Paxos culinary empire includes four Lehigh Valley restaurants: Blue Grillhouse in Bethlehem, plus the trio of Melt, Top Cut and Torre in Center Valley, north of Quakertown just off Route 309.
Each restaurant in the Paxos family has its own personality, and its own imitable menu crafted by Corporate Chef Christopher Heath. At Firepoint Grill, for example, the menu of upscale eclectic American cuisine ranges from burgers and pizza to steaks and pasta.
"The whole Firepoint concept is built around our use of wood as a means of cooking," says Heath, who joined Paxos Restaurants in 2006, with the opening of Melt. "I use only oak and cherry wood, and you can smell this incredible aroma as soon as pull into the parking lot. We do a lot of different proteins on our wonderful grill, and we use the rotisserie for our chicken and prime rib. It's a unique flavor you're not going to find anywhere else."
Some patrons come specifically for daily featured items, such as tacos on Tuesdays, chicken and waffles on Wednesdays, or cioppino on Fridays. Asking Heath to choose his favorite dish on the menu is like asking a parent to choose a favorite child, though he describes the slow-cooked prime rib as "the best you'll ever have." (The prime rib, which is cooked over the course of 12 hours, is available only on Fridays, Saturdays and Sundays.) He's also partial to a combination plate, featuring half a rotisserie chicken and wood-smoked baby back ribs.
"We are very product driven," Heath adds. "We have strong relationships with an amazing boutique butcher in Chicago, Meats by Linz, and a Philadelphia-based company, Samuels and Son Seafood, so we have the freshest fish every day. We also have our own produce company, Primo Produce, so anything produce-related is right at my fingertips."
Likewise, the equipment used to prepare some of Firepoint's signature dishes has an equally impressive pedigree. Paxos Restaurants had the grill and rotisserie custom built by craftsmen in the small town of Mesquite, Texas, while the wood-fired pizza oven was tailor made by artisans in Ceranesi, Italy.
"It's a lot of firepower in this kitchen," Heath adds. "Our guests can see right into the kitchen, so all that activity really sets the tone from the moment you walk into the restaurant."
No matter what guests choose to order while at Firepoint Grill, the restaurant offers multiple options as to where to enjoy it, each one polished and warm. In the spacious and artful dining room, guests will take notice of the high ceilings, rich woods and elemental design highlights. Likewise, the magnificent bar located in the center of the restaurant offers a bird's eye view of the open kitchen. From Zumpano's perspective, the centrally located bar serves as the beating heart of Firepoint Grill—sophisticated, comfortable and bustling with activity.
Of course, Firepoint Grill also offers one of the region's most impressive outdoor dining areas. Open from spring through late autumn, the covered patio includes a full bar, seating for nearly 130 (plus lounge seating) and multiple big-screen TVs. The outdoor space has ceiling fans for hot summer days, as well as overhead heaters and a glass-enclosed fireplace for cool nights, so guests will be comfortable whether they're visiting in late July or early October.
"Firepoint is known for the food, the lively atmosphere and the ambiance, but we also place a big emphasis on service," Heath adds. "We want to make sure we're firing on all cylinders with every aspect of the experience. With the patio now open, we've had some truly incredible days here—especially after the tough winter we've had. The whole place is just alive with energy, and we think it's the kind of experience people will come back for."
Firepoint Grill
3739 West Chester Pike
Newtown Square
(484) 428-3093
Photograph by Jody Robinson
Originally published (and copyrighted) in Suburban Life Magazine, June 2018.