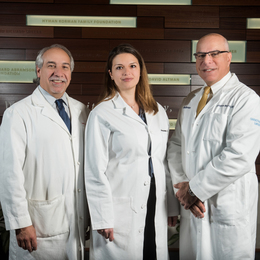 Close to Your Heart
For suburban patients in need of cardiothoracic surgery, from the routine to the complex, Einstein Medical Center Montgomery brings world-class care close to home.
Alexandra Tuluca, M.D., FACS, knew from a young age she wanted to touch people's lives through surgery. Some of her most vivid childhood memories include walking with her grandfather—a general surgeon—as other people came up to him to say, simply, "Thank you for saving my life."
"He helped a lot of people, and it made me realize I wanted to do that, too," she recalls. "Then, in my second year of general surgery residency, I scrubbed in on a heart transplant, and it was one of the most amazing things I've ever seen. It was then I knew I wanted to be in heart surgery."
Now, as the associate chief of cardiac surgery at Einstein Medical Center Montgomery in East Norriton, Dr. Tuluca enjoys the same satisfaction her grandfather experienced all those years ago. There, she and her fellow board-certified cardiothoracic surgeons offer the full gamut of cardiac surgical services, from the routine to the complex—everything from coronary artery bypass to minimally invasive transcatheter aortic valve replacement, also known as TAVR.
For many patients, the revolutionary cardiac treatment they receive at Einstein Medical Center Montgomery is life-changing, if not life-saving.
With TAVR, for example, patients who cannot or prefer not to have open-heart surgery can have their aortic valves replaced safely, quickly and effectively. During the TAVR procedure, a surgeon inserts a biological heart valve into the patient's aorta through the leg or the chest using a catheter and a balloon. The replacement valve, once activated, then functions like a normal, healthy valve. Because the procedure is performed using a small incision, and because it is usually performed under sedation rather than general anesthesia, patients tend to have a quicker recovery time and experience less postoperative pain and discomfort, according to Dr. Tuluca.
Einstein Montgomery aims to offer surgical options designed to be less invasive, both in terms of the surgery itself and in terms of the disruption to the patient's life.
"For a routine TAVR, the patient tends to go home in two days," Dr. Tuluca says. "For traditional, uncomplicated open-heart surgery, the patient can usually go home in four days. The public's opinion of heart surgery is a hospital stay of two weeks, but our average patient goes home very quickly. Also, in most cases, if we're doing minimally invasive surgery—meaning not just TAVR but also minimally invasive sternal-sparing aortic valve replacement—the patient can return to their quality of life faster."
In fact, she says some patients notice a significant difference in their symptoms as soon as they wake up from surgery.
"At the 30-day postoperative checkup, it's amazing what our patients can do," she adds. "They literally return to the lives they had years ago, doing things they thought they would never do again. It could be something as simple as breathing more easily, climbing a flight of stairs or going to the grocery store, but that can have a huge impact on a person's life."
The Right Team
"Heart surgery is a much different animal compared to other types of surgery," says Louis Samuels, M.D., FACS, the director of heart surgery for Einstein Healthcare Network. As such, it requires a comprehensive perioperative team in order to do it well.
"It's not just the surgeons," says Dr. Samuels, who also serves as professor of surgery at Thomas Jefferson University School of Medicine. "From the physician assistants and nurse practitioners, to the perfusionists who run the heart-lung machine and the dedicated anesthesia team, to the nursing staff and the office staff, we have quite a bit of talent here. We're bringing to the community all the bells and whistles provided by the more famous programs around the world."
Dr. Samuels says cardiac patients come to Einstein Montgomery "for everything but heart transplants," adding that the collaboration with Jefferson's Heart Transplant program enables Einstein Montgomery patients to be evaluated for this therapy, if necessary. This hospital has all the resources of Einstein Healthcare Network—and, thanks to the relationship between Einstein and Jefferson Health, all the resources of Jefferson's Division of Cardiothoracic Surgery—at its disposal. What that means to the patient: fully customized surgical care, tailored to his or her individual needs.
"While some of our surgeons are skillful at aortic work, others are more skillful at valve work or transplant work," Dr. Samuels adds. "We try to match the needs of the patient with the talent of the surgeon. One of the advantages of being in a large group of surgeons like ours is that there isn't anything we haven't experienced. … We're talking about people who have completed tens of thousands of surgeries, and that kind of experience translates into excellence in patient outcomes."
From Diagnosis to Departure
At its core, Einstein Medical Center Montgomery represents a prime example of the shift in American health care: Patients who used to have to travel into the city to receive the world's best treatment can now receive the same exceptional care much closer to home.
"The old-school thinking was that only the ivory towers could do high-end cardiac care," adds Rohinton J. Morris, M.D., FACS, chief of cardiothoracic surgery for Jefferson Health. "But if you run a quality program, and if you pay attention to the results, we've found that we can export that expertise elsewhere. Einstein Montgomery is a perfect example of that. Ninety percent of patients should be able to be taken care of there, and we have all the resources nearby should they have more complex needs.
"More and more," he continues, "patients want convenience of care, meaning close to home, and we're able to offer that care from diagnosis to departure, without sacrificing quality."
Since opening its doors in 2012, Einstein Montgomery has become a pillar of the surrounding community. For Dr. Tuluca, being such an integral part of a team of cardiothoracic surgical specialists is the realization of a childhood dream.
"Not long ago I was out buying shoes for my 10-month-old son, and when I went to the register, the man behind the counter recognized me," she says. "After he saw the name on my credit card, he informed me that I had done surgery on his wife. I've been here at Einstein Montgomery for four years now, so I'm seeing more and more patients who tell me I operated on their neighbor or their brother-in-law or someone else they know.
"That feeling of belonging to a community, and of knowing I made a difference in the lives of the people who live here, I'd say that's what I love most about doing what I do every day."
Einstein Medical Center Montgomery
559 W. Germantown Pike
East Norriton, Pa.
(484) 622-1000
Einstein.edu/Montgomery
Photograph by Jeff Anderson
Published (and copyrighted) in Suburban Life Magazine, June 2018.
.
.
.