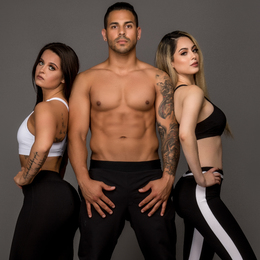 Empowered
The board-certified physicians of the Body Arts & Science Center in Bala Cynwyd provide cosmetic enhancement to build patients' confidence and enhance their quality of life.
"Though we travel the world over to find the beautiful, we must carry it with us, or we find it not."
Those words come from the mind of Ralph Waldo Emerson, the poet and scholar who sagaciously observed that beauty remains elusive to those who seek it simply for the sake of vanity. Only when a person carries strength of character in the heart does radiant beauty truly shine forth.
The clients of the Body Arts & Science Center in Bala Cynwyd embody this distinct spirit. In fact, the practice insists upon it.
The Body Arts & Science Center's surgical team—board-certified plastic and cosmetic surgeons Carmen N. DiMario, D.O.; Julio Clavijo-Alvarez, M.D.; and Robert Skalicky, D.O.—ensures, first and foremost, that each patient appreciates his or her own existing beauty. Only then will the team assist the patient in the transition from "work of art" to "masterpiece."
Take Porscha Weeks, for example. Weeks, a lovely and vivacious 30-year-old beauty icon in the Greater Philadelphia Area, is known locally for providing beauty treatments all her own. As a skilled stylist, Weeks knows a thing or two about looking good. Even so, one doesn't build an empire as successful as hers on looks alone. When Weeks sought to smooth and perfect her look, she turned to the Body Arts & Science Center for help.
"They really care about your outcome," says Weeks, who notes that the aftercare provided by the center was particularly exemplary. Trust, she says, made all the difference.
A Supportive Team
Similarly, trust was a defining characteristic in the relationship between the Body Arts & Science Center and Natalie Matteo. Matteo, 23, discovered her grace by applying tenacity of spirit to the trials she experienced in her own life.
Matteo is now a fit and active young woman with a passion for healthy living, but this was not always the case. She once suffered from an eating disorder, her perception of herself clouded, and wrestle with feelings of worthlessness and despair. For a time, these inner demons took control of her life.
"I just wanted to be perfect so badly," she says. "Once I had decided I was hideous, I started purging."
For three grueling years, Matteo forced herself to vomit and abused various substances such as laxatives to purge food from her body.
"I didn't think I was going to make it," she says. "I didn't want to make it. I didn't want to live."
A person who has suffered knows that when lost in a personal valley of shadow, the light of hope can sometimes be elusive. Now, having overcome her demons, Matteo wants others who are wrestling with similar feelings of helplessness and hopelessness to know that they are not alone.
"I've been through a lot in my young 23 years of living, but I really feel like I'm a changed person," Matteo says. "I was in the darkest, lowest place. I never thought I would be here but being here I can say: You can be healed. There's always an opportunity. You'll get through this. This is temporary. You can get through this."
Matteo, who was bullied as a young person, advises those suffering the hurt to remain strong, to get help and to look upward. "If I could give myself or somebody else advice going through what I was going through, it would be this: Face the demon, but don't face the demon alone."
Beautiful, Empowered and Healthy
By providing nurturing care and guidance, the professionals of the Body Arts & Science Center supported Matteo throughout her augmentative process, bolstering her confidence and contributing to the overall success of the process. To Janet Vega, CEO of the Body Arts & Science Center, Matteo says: "You touched my heart."
"A lot of people go get surgery to enhance and look better—for me, it was more than that," Matteo adds. "It was a life-changing experience. … I feel empowered, and I feel beautiful."
Vega believes in her heart that each patient to walk through her doors is already beautiful.
"For us cosmetic surgery is meant to enhance the client's already existing beauty while focusing on health and safety," she says. "This is where art and medicine become one. We strongly believe in never allowing a client to think or feel they absolutely need a cosmetic procedure. It's a personal choice. No practice should ever pressure a patient into a procedure."
Like horticulturalists tending to delicate orchids, Vega's team strives to cultivate each patient's natural beauty. The Body Arts & Science Center will not take a broken person and attempt to patch them whole with cosmetic procedures; rather, the practice strives to offer their expertise to smooth and hone a patient's appearance, and to provide that patient with a body that will afford them greater confidence.
"The very essence of plastic and cosmetic surgery is personal individualized care," Vega says. "Patients are not numbers; they are individuals who should be treated with patience and lots of care."
The Body Arts & Science Center
15 N. Presidential Blvd., Suite 200
Bala Cynwyd, Pa.
(610) 664-5500
BodyArtsCosmetics.com
Photograph by Ricky Codio Photography

Published (and copyrighted) in Suburban Life Magazine, June 2018.
.
.
.