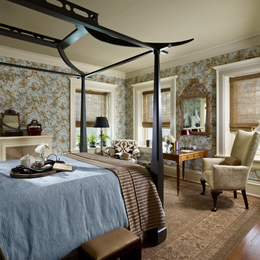 Designing for Happiness
Sharon R. Houck, founder of Sharon R. Houck Interiors Inc., takes a deeply personal approach to breathing life into a client's home.
For Sharon R. Houck, the art of transforming a home—from ordinary to extraordinary—begins not just with what she sees but also with what she hears.
"It's always all about the client," says Houck, who founded her Chester County-based design firm, Sharon R. Houck Interiors Inc., in 1994. "It's about listening to what they want, learning about their lifestyle, and what makes them happy. We create from there."
This elegant and effective approach stands as a major reason Houck has been an in-demand interior designer for more than 25 years. Whether a client intends to transform a dated living room or embark on a full-scale, whole-home redesign, Houck begins by gathering information about the client's vision, down to the smallest detail.
Maybe the client is interested in an Old World look for the bedroom. Or maybe they wish to update an antiquated kitchen to a modern design with clean, crisp lines, a simple colour palette and the use of elemental materials such as glass and metal. Or perhaps they've decided on mid-century modern for the living room, a throwback to the design style of the 1950s and 1960s, blending functional and fashionable. No matter the request, she's happy to oblige.
Sharon R. Houck Interiors Inc. offers the gull gamut of design services from concept to completion, to fit every budget and design challenge. From full-scale home design and outdoor space planning, to lighting plans and custom furniture/cabinetry, and everything in between, the firm always ensures the client's complete satisfaction with the end result.
"When someone says they want a classic Old World look, then I know where I'll go for that look," the designer says. "But I'm finding more and more people feel that less is better. They want their home to be comfortable and timeless."
Whatever the client's preference, the designer fuses their ideas with her own, and then presents her vision to the client. Often, after seeing her vision brought to life, a client's initial desire to transform only one room—a bedroom, the living room, the kitchen—expands into a full-home redesign. Regardless of the project's size, the process is seamless. She visits the home, listens to the client's ideas and answers their questions. After taking photos of the space to be transformed, she creates a floor plan, selecting different elements for the room based on a multitude of factors.
"I'm really creating the room from the beginning," she says. "Will I use an Oriental rug? Or will I paint the floor? Or will we use wall-to-wall carpeting or hardwood floors? Then I create a presentation board, and present it to the client. I'll have photos of items I've selected for the space and fabric samples and tile samples. From that presentation board, there might be aspects the client would like to change, and we often do."
If a client has an idea that in the designer's mind doesn't quite work with the space in question, she will present them with design principles to give them a better understanding of what may work best.
"It's a way of giving them the best outcome," the designer adds. "But I need to be diplomatic; I'm never going to pontificate and force a design on them."
While Houck is formally educated as a designer—she holds a Bachelor of Fine Arts degree from the Moore College of Art & Design in Philadelphia—she possesses an innate sense of style that was evident at a young age. As a child, she decorated her own bedroom with her younger sister, Debbie, who later became a floral designer. Debbie died in 2007 at the age of 52, and Houck paid tribute to her sister the best way she knew how.
"There's a show house in Chadds Ford featured on my website; it's my sister's house that I designed three years after she died," Sharon recalls. "If you look at that photo of the room, every aspect of it is about our childhood. One example is that we'd always say we'd go to Italy. So, in a closet in that room I designed, I had a stack of old vintage suitcases which remind me of how we used to talk about traveling."
Style. Attention to detail. Sensitivity. Comfort. Functionality. Houck balances all of these qualities when turning a client's vision into reality.
"I see my responsibility as making each client's home a safe haven, a happy place," she says. "When they tell me how much they like what we've done, nothing makes me happier."
Sharon R. Houck Interiors Inc.
(610) 380-8950
SharonRHouckInteriorsInc.com
Published (and copyrighted) in Suburban Life Magazine, June 2018.
.
.
.