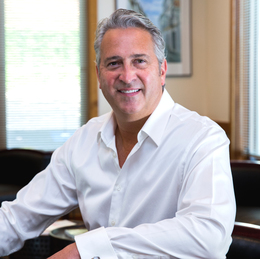 Face Value
For anyone seeking a whiter, straighter smile or even more complex cosmetic needs, Dr. Peter Flaherty of Main Line Smile takes a holistic approach to facial rejuvenation.
A healthy smile and a beautiful face go hand in hand. For proof, just watch someone flash a wide, dazzling grin and see how it triggers a chain reaction across the face. The lips appear youthful. The cheeks rise invitingly. The pearly whites draw admiring eyes.
The reverse can also be true. Facial skin damaged by the likes of too much sun exposure or cigarette smoke, or just the natural effects of aging, can detract from an otherwise perfect smile.
"The teeth play an integral part in the structure of the face," says Peter Flaherty, D.M.D., founder of Main Line Smile, in Devon. "From an overall aesthetics perspective, it's important to understand how the face and the smile interact."
Dr. Flaherty certainly does. As a graduate of Temple University's Kornberg School of Dentistry and a member of the Academy of General Dentistry and the American Academy of Cosmetic Dentistry, Dr. Flaherty has been bringing beauty and balance to patients' facial aesthetics since 1993. He has earned his reputation as one of the Main Line's leaders in cosmetic dentistry, specializing in services such as dental implants, porcelain veneers and orthodontics (including Invisalign), as well as tooth whitening, deep bleaching and nonsurgical periodontics. Of course, he also offers the gamut of general dentistry services such as routine cleanings and fillings.
While cosmetic dentistry serves as the foundation of Dr. Flaherty's practice, he takes a holistic approach to rejuvenating patients' smiles, meaning the craftsmanship doesn't always end at the patient's teeth and gums. Dr. Flaherty can offer certain restorative procedures that might affect the overall appearance and functionality of a patient's face.
Specifically, Dr. Flaherty can help patients who are dealing with issues resulting from the loss of teeth and their underlying support of facial structures. Edentulism, or the loss of one or more teeth, is one of the leading causes of aging of the face. Dr. Flaherty often prescribes dental implants to not only replace the missing teeth but also preserve the bone of the jaw.
"Nothing ages a face faster than the loss of teeth," Dr. Flaherty says. "With dental implants, we're able to restore the underlying support structures and help the individual recapture their youthful appearance."
Standing Apart
Whether a patient requires whiter, straighter teeth or has more complex needs, Dr. Flaherty takes a personalized approach to helping each individual who takes a seat in one of his dental chairs. The process begins with a free consultation to discuss each individual's needs, and extends throughout the experience until the moment they leave. He thinks this kind of consistency sets his practice apart from his peers.
"Our patients give us such nice reviews on our website," Dr. Flaherty says. "They make mention of our staff and how well they were taken care of. And many of the patients I treated as kids are now married and bringing their own kids in."
At Main Line Smile's state-of-the-art office, patients benefit from the most modern technology available, such as micro-cameras for diagnosis, digital images to forecast anticipated dental outcomes and a 3-D scanner for making dental impressions. For patients with a dental phobia or sensitivity to the whir of dental instruments, Dr. Flaherty ensures a relaxing experience by offering simple comforts such as Bose noise-canceling headphones.
Dr. Flaherty has experienced many rewards throughout his 25 years serving patients in the Greater Philadelphia Area. He says one stands out more than any other: the look on a patient's face after he has beautified their smile and, in turn, enhanced their overall facial aesthetics.
"That's one of the nicest things about being in the dental field: seeing that reaction right away from a patient," he says. "The sense of their satisfaction, the immediacy of it—for me, there's nothing quite like it."
Main Line Smile
12 Arlington Road, Suite 102
Devon
(610) 687-5360
MainLineSmile.com
Published (and copyrighted) in Suburban Life Magazine, June 2018.
.
.
.