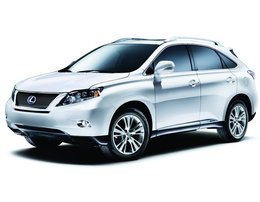 Driving Perfection
Lawrence Lexus offers an array of high-tech, Earth-conscious cars
By strolling the lot at Lawrence Lexus, you'll find the most futuristic vehicles available today, according to David Dougherty, general sales manager of Lawrenceville's Lawrence Lexus. "Our cars might not be able to fly," he says, "but the vehicles we offer have features like something out of The Jetsons."
Lexus' most technologically advanced offerings are its five hybrid vehicles: an SUV, the RX450l; and four sedans, including the HS250h, GS450h and the flagship LX600hl. A fifth hybrid, the CT200h, is a small crossover sedan debuting this fall.
Dougherty believes the RX450h is a best seller because it provides all of the amenities and comfort of a luxury SUV with the fuel efficiency of a sedan (29 mpg combined city/highway). The HS250h, he suggests, is the most popular sedan because it combines luxurious features with state-of-the-art Lexus technology and offers 35 mpg combined city/highway—that's 59 percent better than the next closest competitor in its class.
Advanced technologies include radar cruise control (this maintains a set distance between the driver and vehicle ahead), lane keep assist (if the driver drifts out of a lane, it will gently put the vehicle back in the lane) and driver attention monitor (an audible tone will sound if it senses the driver is not facing forward and is approaching something in front).
The CT200h will appeal to a new demographic, offering unequaled luxury and the driving excitement of a sports car at very affordable price points. "We're seeing a shift in luxury cars," Dougherty says. "Instead of horsepower and a large body, drivers want a car that is fun to drive, environmentally friendly and offers new technologies such as a navigation system and back-up cameras."
Yet Lexus' hybrids are by no means underpowered. The RX450h has a 20-horsepower advantage over the gas-powered-only RX350, and the 340-horsepower GS450h goes from 0 to 60 mph in only 5.2 seconds.
Lexus' hybrids don't just offer amazing fuel efficiency and tomorrow's technologies. The HS250h, for instance, has the lowest carbon footprint of any luxury vehicle and is more than 80 percent recyclable. Instead of petroleum-based products, many of the interior features are crafted from the fibers of the kenaf plant, and so-called Eco­Plastics are derived from plant oils. These are just two of the items that allow the HS250h to reduce harmful carbon-dioxide emissions by 33 percent over the course of its lifecycle. The few plastics in the vehicle are crafted from a new proprietary TSOP material designed to be endlessly recyclable.
Hybrid components are designed for the lifetime of the vehicle with no recharging or battery replacement necessary. To reduce owners' concerns about this emerging technology, Lexus offers a best-in-class eight-year, 100,000-mile warranty on its hybrid components.
"With Lexus hybrids you'll make no sacrifices and will get everything you want out of a luxury car while giving back to the environment," says Dougherty, who adds that Lexus was the pioneer of the hybrid industry, while most vehicle manufacturers today offer only one hybrid choice.
Although hybrids currently account for just 15 percent of vehicles sold, that number will continue to increase as the technology becomes more advanced and customers become more acclimated to it.
In addition to its array of hybrids and cutting-edge features, Lexus offers some of the highest-rated vehicles in the industry as far as safety, mechanical components and customer satisfaction, according to Consumer Reports, JD Powers and other esteemed third parties.
Standard high-end features in all Lexus vehicles include perforated semi-aniline leather seats, a Bluetooth hands-free phone system and air-conditioned front seats.
In addition to a phenomenal lineup, Lawrence Lexus goes above and beyond in customer service. In fact, the Lexus dealer has won the Elite of Lexus Award 13 times, almost as many years as it has been offered. This is a special award given to dealers who excel in sales, service and overall owner support.
Elite of Lexus dealers are chosen based on customer feedback from surveys that rate owner satisfaction, sales and service as extremely exceptional and the dealership's ability to exceed rigorous Lexus operational and certification standards.
"We invite you to stop by our dealership and experience this exceptional service firsthand," Dougherty says.
All Lawrence Lexus customers are treated like royalty. The dealership, which was established 21 years ago, offers valet pickup and delivery, complimentary car wash, a free loaner, lifetime towing, a service department open six days a week and a customer lounge complete with snacks, a big-screen TV and computers with Internet access.
Don't delay in test driving Lexus' technology-advanced vehicles of the future … today.
Lawrence Lexus
2630 Brunswick Pike, Business Route 1 North, Lawrenceville, N.J.
609-375-1000
LawrenceLexus.com
Karen Reuben is a Royersford-based freelance writer.