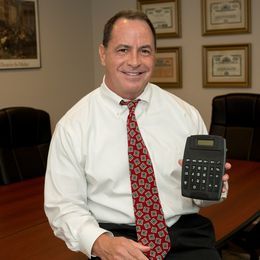 Adding Up
How can third-grade math and a dollar-store calculator help people have a worry-free retirement? Joseph P. Sarappo of Retirement Planning Specialists explains.
Since 2011, approximately 10,000 Americans per day have been celebrating their 65th birthday, and Pew Research suggests the trend will continue through 2030. The good news is that more Americans are living longer than ever. The bad news: As America continues to gray, more people are finding themselves on the verge of a "retirement crisis," according to Joseph P. Sarappo of Retirement Planning Specialists, an independent registered investment advisory firm in Willow Grove.
This looming crisis stems from a lack of preparedness, Sarappo says, with people choosing to "live for the moment" rather than formalize a plan to finance their retirement years. As a result, more and more Americans will not have enough money to sustain their lifestyle as they age.
"We've seen a lot of advances in health care that are adding years to people's lives, but how are you going to afford those years?" he says. "Now more than ever, the onus is on the shoulders of the individual. People have to remember that planning for retirement isn't based solely on how much they have saved and how old they are; it's more of a function of how much money you can have come to you every month without you having to go out and get it."
In other words, if you don't want to worry about running out of money, don't use your own money; use your money's money.
Sarappo doesn't need a complicated spreadsheet or a brightly colored bar graph to illustrate his point. In fact, he can show prospective clients how to have a comfortable retirement using simple math on a calculator he bought at a dollar store.
Say someone has $500,000 saved and needs income of $30,000 per year, or $2,500 per month. By investing in a portfolio that generates at least $2,500 per month, the individual will not spend a dime of his or her own money. Of course, most people want to do more with their money than just break even.
"The goal is to grow your money for your heirs or whatever else you want to do with it, but the primary goal is to not run the risk of spending any of your own money until you've hit 80," he says. "If you start nibbling away at it when you're 80, that's fine; as much as the Egyptians tried, you can't take anything with you."
Sarappo uses "an income-stacking exercise," using the same dollar-store calculator and third-grade math.
"Some people will have all three legs of the stool—a pension, Social Security and the income they make from their own money," he says. "The goal is to get to a point where you can say, 'At X age I will have $4,800 a month' or whatever the number is where you can say, 'If the number gets to that point, I'm in good shape.'"
The concept is simple but not easy. Sarappo says there's an art to helping clients achieve their retirement goals. That's where he and his team of fellow advisors come in—Christopher Sacco and James Cuorato, as well as "advisor in training" Kyle Jennings. Each advisor works to form a long-term relationship with a client and gain a thorough understanding of the individual's life goals and retirement objectives before devising a retirement strategy. As part of the process, the advisors carefully consider the "what-ifs," such as changes in interest rates and how inflation may affect annual living expenses.
Clients see a lot of value in his commonsense approach, according to Sarappo, especially because they have the opportunity to measure progress on a monthly basis. With an advisor's help, he says clients will stay on course to achieve their retirement goals, regardless of world events or which political party controls the White House.
"I like to use this example: Say you took your nest egg and bought a rental property in cash so you could live off the income from the property," he says. "The property value may fluctuate from one day to the next, but those fluctuations will have no impact on your rental income. The same concept applies to investing; the only thing that's going to affect income is interest rates, and with interest rates continuing to climb, it looks like smooth sailing ahead."
Sarappo says it's never too soon to start planning for a comfortable retirement. In fact, getting started early may help to alleviate stress.
"A big part of the value we provide comes down to making retirement as worry free as possible—helping people not only get to retirement but stay there securely," he says. "Once people see what's possible, they're ready to make some sacrifices and start to plan. Then it becomes crucial to seek out an objective advisor who is committed to your long-term success, someone who will guide you through the obstacles and be there with you to celebrate at the finish line."
Retirement Planning Specialists Inc.
1000 Easton Road
Willow Grove
(215) 657-8600
www.retire-yes.com
Investing involves risk and there is no guarantee that investments will perform as expected or increase in value. Past results are no guarantee of future results and no representation is made that a client will or is likely to achieve positive returns, avoid losses, or experience returns similar to those shown or experienced in the past. Please call my office directly at 215-657-8600 for all buy/sell orders. Investment advisory services offered through Retirement Planning Specialists, Inc., an SEC-registered investment advisor. Securities offered through APW Capital, Inc., Member FINRA/SIPC. 100 Enterprise Drive, Suite 504, Rockaway, NJ 07866 (800)637-3211. APW Capital, Inc., & Retirement Specialists Inc. are not affiliated.
Photograph by Jody Robinson

Published (and copyrighted) in Suburban Life Magazine, June 2018.
.
.
.