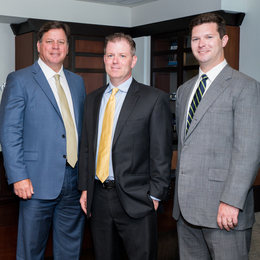 Invested in Your Future
When it comes to mapping out a financial future for each client, the team behind Sterling Investment Advisors Ltd. goes above and beyond.
Planning your financial future can be, for lack of a better word, stressful.
From figuring out how to plan for your children's college education to funding your retirement, while being able to navigate any emergencies in between, you need to trust your advisors to not only guide you in the right direction but also identify and understand goals.
Look no further than Sterling Investment Advisors, Ltd. in Berwyn, whose clients work side by side with individuals such as Paul McClatchy and Bray Hansel.
"What makes us distinct is that we can customize portfolios to meet varying, unique needs," says Hansel, associate planner with Sterling Investment Advisors. "We recently partnered with the MIT AgeLab to present the results of their research to our clients and associates. We are on the precipice of explosive changes facing the Baby Boomer generation and have incorporated into our financial planning the idea that clients are expected to live much longer in retirement than generations prior. Our independence provides us with an unlimited arsenal of investment options to mitigate the risk of outliving your savings."
The experience is unique to each client, according to McClatchy, vice president of financial planning for Sterling Investment Advisors. This includes how often clients wish to meet. "With every client we want interact with them frequently," he says. "When clients are approaching a big goal, retirement or starting a company for example, we can leverage our technology and flexibility until they are fully satisfied with the strategy going forward."
The individualized attention and focus is what drew McClatchy to the firm in the first place. Both he and Hansel have extensive backgrounds in the financial service industry, having honed their skills at The Vanguard Group prior to joining Sterling Investment Advisors.
"The great thing about Sterling is that we are client focused; we help people achieve their dreams and ensure their wishes are fulfilled," McClatchy says. "Our firm has worked with clients for over 30 years solving complex financial decisions. Some recent examples include: helping clients buy a beach home after demonstrating how it successfully worked in their long term financial plan; restructuring insurance and building a portfolio for clients selling their business to meet their income needs; and reorganizing a client's parents' accounts, power of attorney documents and wills to allow for a smooth transition."
For Hansel, his prior background focused him on providing clients with low-cost, high-quality investment products. He says his past experience taught him how to serve and think on his feet.
"Paul and I were both attracted to the idea of true independence at Sterling, where we can be open-minded to the entire investment universe, rather than limited to a singular fund family," he adds. "That idea, paired with cutting-edge financial technology, is what brought Sterling to the forefront of the independent advice revolution."
Hansel refers to their financial technology as a "cyborg advisor," which combines powerful software with a personal human touch.
"The world of advice and financial planning is competitive and constantly evolving," he says. "We have a wealth-management system that enables us to continually adapt to offer clients an unparalleled service."
McClatchy suggests the tools at his disposal help him dissect his clients' money habits and identify solutions that can help down the path of reaching their long-term investment goals with realistic assumptions and candid discussions.
"We analyze spending and saving behavior with our clients to help them make adjustments, where needed. We try to be a sounding board and stress reliever for our clients while keeping them focused on their ultimate goals."
Additionally, Hansel and McClatchy go above and beyond, doing whatever they can to assist clients and their families outside of the financial planning process.
"We had one client whose parent was aging," McClatchy says. "On top of our traditional financial planning and cash flow management work, we were able to identify retirement communities attractive to the parent, which also allowed her to stay close to her children. We always try to add a little bit more to the experience."
It's that extra effort, combined with Hansel and McClatchy's familiarity with the Philadelphia suburbs—both were born and raised in the area—that truly set Sterling Investment Advisors apart from the rest.
"I'm filled with Pennsylvania pride," Hansel says. "Certainly I'm biased, but I feel honored to serve the families of the Greater Philadelphia Area."
Sterling Investment Advisors, Ltd.
1055 Westlakes Drive, Suite 155
Berwyn
(610) 560-0400
Sterling-Advisors.com
Photograph by Jody Robinson
Published (and copyrighted) in Suburban Life Magazine, June 2018.
.
.
.