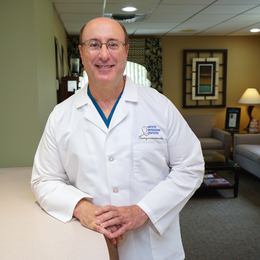 Building the Perfect Smile
At Artistic Expressions Dentistry, Dr. Bruce Wilderman blends art and science to create healthy, beautiful smiles that stand the test of time.
In almost 40 years of practice as a cosmetic dentist, Bruce Wilderman, D.D.S., has given equal billing to style and substance. Building a beautiful smile, he believes, requires thoughtful collaboration and a ceaseless desire to perfect every last detail. In his mind, a dentist must not only have an artistic eye but also rely on proven science to inform every decision he makes.
"You have to understand the principles of smile design and where the teeth belong in order to function properly," says Dr. Wilderman, of Artistic Expressions Dentistry in Doylestown. "You also have to understand the mechanics of speech. A lot of times I'm correcting something where the patient says, 'I have difficulty making certain sounds' or 'My jaws get tired when I eat.' Form and function go together. I tell patients, 'We're going to fix the function and, in the process, you're going to have a beautiful smile.'"
In order for his work to stand the test of time, Dr. Wilderman says he must approach it by thinking like a scientist as well as an artist.
"My background is in chemistry and physics before going to dental school at Temple University's Kornberg School of Dentistry," he says. "I'm always thinking physics. How is this going to hold up? What could cause this to fail?"
So Dr. Wilderman is perplexed when he hears stories from patients who suggest they have had less-than-spectacular care in the hands of prior dental professionals.
"There has to be communication between the dentist and lab, and between the dentist and the patient," he says. "You have to know what the end result is going to look like before the dentist puts the teeth in the patient's mouth and hands them a mirror and says, 'See, look at your great new smile!' You never want the patient saying something like, 'It's not what I thought it was going to look like.'"
Such an experience is foreign to the folks at Artistic Expressions. Dr. Wilderman works backward from the desired result, meeting with each patient a minimum of four times to provide them with the perfect smile. After a patient discusses their hopes and concerns, Dr. Wilderman crafts an individualized treatment plan.
"We'll sit down and talk for an hour, hour and a half," he says. "We'll take some photos. I'll show you cases of what we've done before and cases just like this. We'll come up with a plan together to meet your needs."
He then pairs this information with data gleaned from the patient's dental records and X-rays to create a computerized, 3-D representation of the expected result. A wax model is then fit to the patient's mouth to measure aesthetics and functionality.
When Dr. Wilderman and the patient agree that everything looks and feels great, he provides specifications to a ceramist at an off-site lab to create the porcelain veneers, dental crowns or dental implants. On the third meeting, he provides beautiful temporary teeth that serve as a template for what the patient will ultimately receive. For the fourth meeting, he places the permanent teeth to make sure the patient is happy with the finished product.
Forget about hoping the patient's smile looks and feels right. It is right.
In some cases, thoroughness also means going the extra mile. "Natural teeth have variations of shade in them and translucence," Dr. Wilderman says. "If you don't take that into account, the teeth will look Chiclets."
And while some dentists are tempted to over-treat patients, Dr. Wilderman believes "less is more," doing the minimum amount of dentistry necessary to give the patient the results they seek. In one recent example, an 18-year-old woman came in for a visit to treat a darkened front tooth. The patient insisted on a crown and three veneers on her four front teeth. Dr. Wilderman convinced the patient and her mother to simply bleach the problematic tooth. Everyone walked away satisfied with the end result.
Every day, Dr. Wilderman finds joy in his work. Each patient leaves with a beautiful smile, ready to greet the world.
"We love what we do here," he says. "We always do our best to make sure everyone leaves this office happier than when they came in."
Artistic Expressions Dentistry
400 Swamp Road
Doylestown
(215) 340-1199
MasterpieceSmile.com

Photograph by Jody Robinson

Published (and copyrighted) in Suburban Life Magazine, June 2018.

For more info on Suburban Life Magazine, click here.
To subscribe to Suburban Life Magazine, click here.
To advertise in Suburban Life Magazine, click here.