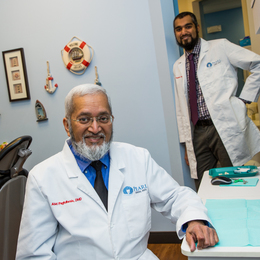 It All Starts with a Smile
At Pearl Dental Arts, patients invest in their smiles as a way to improve their overall quality of life.
Researchers at University of Missouri-Kansas City report that not only does a smiling face make a person look younger, but it also makes a person seem "courteous, likable, and competent," according to a story in Psychology Today.
The dentists of Pearl Dental Arts—Abid F. Paghdiwala, D.M.D., and his son Murtaza Paghdiwala, D.M.D.—believe a smile can accomplish all this and more.
"In our culture, we're very conscious of our teeth, our smile, and on top of that teeth can also cause us pain," says Dr. Murtaza. "We have a wide spectrum of ways to be able to help people on a very personal level."
Pearl Dental Arts, which has locations in Newtown and Levittown, has been serving patients in Bucks County and beyond since 1981. The practice offers an array of services, ranging from general dentistry to implant placement utilizing the latest computer-guidance equipment to cosmetic enhancement such as Invisalign, teeth whitening and veneer placement.
The technology at the fingertips of the dentists at Pearl Dental Arts has made great strides over the years. Invisalign, a treatment program wherein patients wear a series of fitted trays for periods of time in order to gently shift teeth into positions offering better comfort and aesthetics, is one example. The benefits of this technology, among others, include dramatically reduced treatment time.
"Traditionally, [a practitioner] would do each aligner for two weeks, and now it's just seven days per aligner," says Dr. Murtaza. "That's almost half the treatment time required to get the patient's smile back to where they want it."
Another piece of ultramodern technology at the disposal of Pearl Dental Arts practitioners relates to veneers. In the past, patients often had to allot time for multiple office visits to achieve their best smile, but Cerinate one-hour porcelain veneers now offer brighter smiles in just 60 minutes.
"Very often people will come in with changes that are very simple, like they have spacing between the teeth and they don't want to go for braces," Dr. Abid says. "For them, we have prefabricated veneers that come in an assortment of sizes and shapes and we can adapt them to the closest fitting set that will take care of the patients' cosmetic problems. We can bond these Cerinate one-hour porcelain veneers and somebody who needs cosmetic corrections done in a hurry can get them instantly in one office visit."
Composite fillings have made dramatic improvements as well. Compared with the dark, metal fillings of last century, Pearl Dental Arts now offers fillings that mimic a patient's natural tooth color.
The chemical interactions that bond white composite fillings to teeth have "caught up to the silver-colored fillings," Dr. Murtaza notes. "We are able to create a chemical bond between the filling material and the tooth so on the molecular level the two are linking together."
Of course, the artistry of a skilled professional is needed to ensure a patient's best overall look.
"We might use three or four different shades to do one filling to make it look natural because teeth are actually very translucent and have multiple different levels and multiple different hues," Dr. Murtaza explains. "A lot of the time patients can't even tell the difference, but we are trained and attuned to individual differences."
In line with this goal of providing each patient with his or her brightest, whitest smile, Pearl Dental Arts also offers cosmetic whitening options, both in office and at home.
The in-office treatment, Dr. Abid explains, features a whitening gel in conjunction with a special light to "expedite the process and create a better effect. For people who cannot tolerate the in-office procedure, we'll very often give them the take-home treatment either by itself or in conjunction with the in-office treatment. For in-home treatment, we usually we prepare custom-made trays."
Patients can use these during the day or at night. To ensure patient comfort, often the doctors will have patients utilize desensitizing toothpaste or another agent for approximately two weeks before treatment.
People Helping People
Drs. Abid and Murtaza agree that improving patient aesthetics and comfort in ways such as this, as well as through treatment, makes their careers wonderfully fulfilling.
"It's not about the mouth; it's about the patient—the entire person and having them thank you on the way out," Dr. Murtaza explains. "In a cosmetic case, when you hand a patient a mirror and they're so pleased—that is what makes me want to do this every single day."
Dr. Abid adds: "We are not just working on the teeth. To us, we are working on the whole person. Their oral health has an important bearing on their overall health, both physically as well as psychologically. Very often we have patients who go through so much education, spend years and years on graduating from college and then when they come to us they will be at the outset of their career but don't have a smile that is presentable when they start looking for a job.
"We wish people would invest in their smiles because that's what someone notices when go out into the real world," he continues. "The better your smile, that improves your success rate in whatever you're trying to achieve. So, we are not actually just working on the teeth. We are almost influencing a patient's whole life."
Pearl Dental Arts
PearlDentalArts.com
660 Newtown Yardley Road
Newtown
(215) 504-4070
4409 New Falls Road
Levittown
(215) 874-6791
Photograph by Jody Robinson
Published (and copyrighted) in Suburban Life Magazine, June 2018.
.
.
.