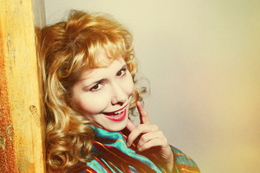 The Long and Winding Road
Always on tour or otherwise on the move, the unpredictable Nellie McKay—singer-songwriter, actor, and animal activist, among other things—keeps finding new paths to reinvention.
Forgive Nellie McKay if she doesn't "like" your glowing tweet about her new album or respond directly to online requests asking her to play this song or that at an upcoming performance. There's a good reason why.
"I don't look at the Internet," says McKay, the England-born and Pennsylvania-raised singer-songwriter. "I want to live."
Ever the anachronism, McKay has been tough to categorize—and to predict—since she first appeared on the national stage in 2004. Back then, she was a plucky and prodigious teenager with a sophisticated aura, an unusual sartorial style, and a record deal from Columbia. Her stunning debut album, Get Away From Me, showcased her remarkable musical talent and songwriting versatility, blending everything from the bombast of Broadway to the fierceness of hip-hop. Shortly thereafter, she found her name on just about every coveted list cobbled together by the arbiters of culture and good taste—best of this, artist-to-watch that.
The accolades have kept piling up in the years since. In May she released her seventh album, Sister Orchid, an 11-track menagerie of American jazz standards—"The Nearness of You" and "In a Sentimental Mood," among them—reimagined with a deliciously somber tone.
McKay, now 36, has distinguished herself in more ways than her wide-ranging albums. She had roles in P.S. I Love You, the 2007 feature film starring Hilary Swank and Gerard Butler, and the Broadway hit The Threepenny Opera. In addition, she has applied her distinctive voice to several musical biographies about famous, infamous, or otherwise noteworthy women. Two examples: Barbara Graham, a death-row inmate at San Quentin State Prison; and the late comedian Joan Rivers.
Like her music, McKay herself could be described as wandering, itinerant, nomadic. In fact, she's more likely to be out on the road as she is to be at home. Of the places she's lived, though, she has particularly fond memories of New York, where she wrote her first album—"I think being there really helped," she says—and the Pocono Mountains, where she grew up.
McKay will return to the Greater Philadelphia Area on Aug. 4, when she will take the stage at the Sellersville Theater in Bucks County. We caught up with her by phone—she was on tour, of course, this time in California—and she shared her perspective on everything from capitalism to veganism, as well as the joys of Pocono winters and life on the road with her dog, Bessie.
On her new album of reimagined standards, Sister Orchid …
"I just like the songs; they're magical—they're works of art on the page. You just try to do it with love. … I always wanted to be a saloon singer, which is what Sinatra always wanted to be called. A lot of people in music now are very 'straight'; it's good for them personally. But I'm good with music that takes some turns."
On being influenced by other performers …
"Sometimes if you watch something or read something, it can get dangerous; it can change your whole character. I remember we were doing shows where we were performing the songs of Marlene Dietrich, and then I was doing a show where I had written a song specifically in her style, so I started becoming like her; it was all very grand and self-referential. I was amusing myself, but I wasn't amusing anyone else around me."
On life in the public eye …
"It's healthy to be among other people. It's nice to see people anywhere, and it's especially nice to experience them in a Dollar Tree or on the road at gas stations and truck stops. It certainly doesn't have to be at a show. Most people are so decent and friendly and open minded and warm hearted … so yeah, I like people."
On her vegan lifestyle …
"I went vegetarian when I was eight. I might have had one or two burgers at school after that, because I really love the cafeteria food, but then I was off and I've never looked back. Getting away from the dairy was in 2004, and we were on tour—I believe it was Barenaked Ladies and Alanis Morissette—and we were stopped at a truck stop next to a cattle-wrangling pen or a livestock market, I think, and I remember thinking: I've got to go vegan. And this was before going to France, which was a dumb time to go vegan.
"Sometimes it's easy and sometimes it's a real struggle because food is emotional. I'm not too hard on people who have trouble, because I sure do. We're surrounded by temptation. Some people can forge through it intellectually; not me."
On capitalism …
"I have trouble being a vegan, but it's easier on the West Coast. I still think money has to do with it. Because of the corporate coup d'état we live under, the corporations and military-industrial complex has taken over the level of the power in this country, so animals' lives are subsidized, and [adherence to a non-animal-based diet] is not incentivized. So you see a difference in price and accessibility, and that's so big. I'm so glad it does seem slowly to be spreading; you find vegan and vegetarian things at Aldi and Walmart now, and even that is a measure of progress. But if you really want it to be ubiquitous and for people to get off the animal products, you have to change the political system because you have two capitalist parties, and it's all about money."
On acting …
"It's so wonderful to become someone else. I so prefer the performances that are character shows. [I've done musical biographies about] Barbara Graham, the third woman executed at San Quentin, and that's a death row musical revue; Rachel Carson, who wrote Silent Spring and other books, a pioneer of the environmental movement, and that's a lighthearted look at pesticide poisoning; Billy Tipton, who was born a woman and dressed as a man for five decades, somebody who had multiple wives—how did he do that?; and lately Joan Rivers, who was born Joan Molinsky. She's the only one I don't have a line for. I love being other people, but I'm not sure other people do. I think they kind of like it when you're your own grimy self, which is confusing."
On her free time away from the stage or the studio …
"I like to paint; it's nice because you don't need a venue, and you don't need money, really. I paint everything, but I like to paint my dog. She's just so beautiful—she's black and white, but in the sun the black looks brown. She somewhat likes the road. I've got some nice pictures of her in Kansas. … We've been together about nine years. I hope she's just 10; she's a rescue."
On her ties to the Philadelphia area …
"I have family there, so it's very nice to return. My dad used to run a funeral business there in Philly. I've lived in the Poconos, but as they say it should perhaps be the Pocono Hills, not the [Pocono] Mountains. I've met a lot of wonderful jazz musicians at the Delaware Water Gap with the Celebration of the Arts jazz festival down there each year, and I was lucky enough to be a part of that. I got to meet [the late jazz legends] Phil Woods and Bob Dorough.
"I've had some wonderful teachers in the Pocono Mountains. It's a place that lives in my heart. It was a great place to grow up, except the winters, which keep getting worse. I think that as your bones get older, the winters get longer. … I'm on the road more than I am home, but I'm in Pennsylvania a fair bit, because it's better for my dog."
Photography by Shervin Lainez