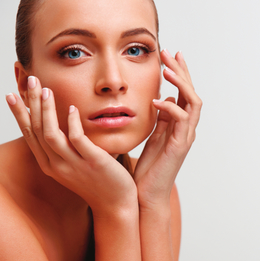 Refreshed, Rejuvenated, Remade
Is it time for a makeover? Here's how you can look and feel as good as possible at any age.
Danielle Mellor has no complaints. The 45-year-old mother of two leads an exciting life, including a successful career as a business consultant, for which she has the opportunity to travel and see new places. She keeps in shape, thanks in large part to her 4:45 a.m. trips to the gym. And she takes the time to enjoy the things in life that make her happy, be it sitting down to a great meal, poring over a painting from Salvador Dali or dancing along to the latest pop song from Justin Timberlake.
A few years ago, however, Mellor was wrestling with one aspect of her life that disrupted her daily routine and, overall, left her feeling slightly less than whole: her eyebrows.
"When I was younger, everyone was shaving or waxing their eyebrows—it was just the trend at the time," says Mellor, who lives in South Philadelphia. "I did the same, and mine never grew back. It was always a confidence issue with me."
Even so, looking less than perfect simply wasn't an option for Mellor. This meant she had to reserve an extra 30 minutes per day to pencil on her eyebrows, even sneaking into the bathroom early in the morning so her boyfriend wouldn't catch her "without my face," she says.
One day, while watching television, Mellor happened upon what she thought might be a solution. A popular talk show was interviewing a woman named Rose Marie Beauchemin-Verzella, a Philadelphia native who owns the Beau Institute for Permanent and Corrective Cosmetics in Mount Laurel, N.J. She was touting the benefits of permanent makeup and microblading, a tattooing technique that uses hairline strokes to fill in thinning brows.
Mellor learned that Beauchemin-Verzella's institute offers an array of permanent-makeup services, as well as services specifically for survivors of breast cancer, including areola tattooing and permanent eyebrows to defy hair loss resulting from chemotherapy. Mellor had the eyebrow procedure done, and she couldn't be happier.
Regardless of a woman's situation, Beauchemin-Verzella says a makeover of any sort can be "life changing."
"Getting new eyebrows might seem like a minor concern, but consider how that affects your daily routine," she explains. "Without her eyebrows penciled in, a woman won't answer the door. She won't go out to get the mail. And forget swimming, because she won't risk coming out of the pool or ocean faceless. It's something she has to think about every second of every day."
Mellor can relate.
"The biggest changes in my life have been confidence and the time it saves me," she says. "I would absolutely do it again, if I had to. Each hair gets tattooed right onto your face. It looks like real hair. It feels real."
In fact, she says she's been so happy with it that she's now considering permanent eyeliner.
A Fix for Every Concern
All adults likely have something about their appearance they wrestle with: laugh lines or other wrinkles; varicose veins; gray or thinning hair; breast size; those stubborn 10 pounds that refuse to go away despite diet and exercise—the list goes on and on. But the battle is not theirs alone to fight.
The Greater Philadelphia Area hosts a number of medical professionals, salons and spas, among other service providers, offering just about every possible option to help men and women look and feel their best. Maybe it's as simple as a new hairstyle, a detoxifying massage or a healthier smile. Or perhaps a more dramatic intervention is in order. No matter the need, locally based providers such as the following 15 specialists have a solution.
* Thinking of a full-body makeover? Make a beeline for Bucks County Plastic Surgery and Dermatology, which has locations in Newtown, Buckingham and King of Prussia. Whether you're considering a breast augmentation, a mini-facelift or laser-assisted lipocontouring, or a less invasive rejuvenation procedure such as laser skin resurfacing or cosmetic injectables, the medical staff here can offer a pathway to realizing your best self. BucksPSD.com
* For anyone struggling with their weight, Medi-Weightloss in Berwyn offers a physician-supervised approach it says has been clinically proven to help individuals achieve their weight-loss goals and maintain a healthy weight going forward. Medi-Weightloss begins the process with medical testing and in-depth consultations that guide the medical staff in creating an individualized plan designed to help each patient succeed. MediWeightloss.com
* A new 'do can mean a new you—so pay a visit to the gifted hair stylists at Jude Plum Co. in Bryn Mawr. Jude Plum also offers a full menu of spa treatments to help you soothe and relax, though it may be best known for its most distinctive area of specialty: creating beautiful, natural-looking wigs for women who may be losing their hair following chemotherapy, so they can look and feel "like themselves" during treatment. JudePlumSalon.com
* Just as in everything else in life, the human body is in a constant state of change. The team of surgeons at Penn Cosmetic Surgery offers a full portfolio of body-contouring services—liposuction, tummy tucks, breast lifts, and arm or thigh lifts, among many others—to help women attain the look they desire, no matter the natural changes that result from pregnancy, shifts in their weight or the simple process of aging. PennMedicine.org/Cosmetics
* Take in a facial or a full-body massage at Le Rêve Rittenhouse Day Spa in Philadelphia, and then recharge in a space called the Himalayan Salt Organic Energy Lounge. This serene, breathtakingly designed room features Himalayan salt blocks from Pakistan that create a soothing atmosphere in which clients can feel the stress melting away. Owner Sophia Brodsky says the salt's negatively charged ions may enhance mood and energy—even improve respiratory health. LeReveRittenhouseSpa.com
* Need an expertly crafted eyebrow? Even for women who shaved, over-plucked or otherwise lost their eyebrows, the Beau Institute for Permanent Cosmetics in Mount Laurel, N.J., has a solution. The institute uses an exclusive process known as "CPR" (short for Control Point Remedy) so clients can have perfectly shaped eyebrows around the clock. In addition, the institute offers a number of other beauty services, including permanent makeup (eyeliner and lip color), scar camouflage and areola tattooing for survivors of breast cancer. BeauInstitute.com
* Everyone wants to look as young and as natural as they possibly can, though sometimes we need a little help—a little "lift," so to speak—in order to do so. For those who would rather go without surgery, Claytor Noone Plastic Surgery in Bryn Mawr offers Silhouette InstaLift—the so-called "lunchtime lift"—that uses specialized sutures to raise the tissue of the mid-face and add volume. The minimally invasive procedure requires minimal downtime, so patients can make a quick return to normal life. CNPlasticSurgery.com
* Starting to see signs of aging around the eyes? John J.W. Lee, M.D., FACS, of the Bryn Mawr Facial Aesthetics Center, is known as one of the region's premier specialists in the area of brow surgeries and blepharoplasty, another word for the surgical repair and reconstruction of the eyelids. Through these and other related cosmetic procedures, patients may find themselves looking younger and more refreshed. DrJohnLeeSurgery.com
* The surgical team of Princeton Rejuvenation Institute LLC, which is based across the river in East Windsor, N.J., uses a blend of artistry and surgical skills to sculpt, shape and otherwise beautify the human form. The team offers a full menu of cosmetic and surgical options—facial rejuvenation, rhinoplasty, facelift and abdominoplasty, as well as a variety of breast-specific procedures (augmentation, reduction and reconstruction following mastectomy or lumpectomy). PriMedSpa.com
* Few things draw more eyes than a fantastic smile. That's why people turn to board-certified implantologists such as James A. Vito, D.M.D., who is based in Wayne. Dental implants have come a long way in the past 20 years, as the technology—not to mention professionals' expertise—has improved greatly. As a result, patients who at one time may have not been good candidates for dental implants can now have gorgeous smiles that stand the test of time, in some cases as quickly as one day. JamesVito.com
* Varicose veins arise from pregnancy, obesity or even just spending an inordinate amount of time on one's feet. These dark purple or blue veins in the legs and feet can cause pain and discomfort, but for most they're primarily an aesthetic concern. For those who wish to make varicose veins a thing of the past, schedule an appointment with the medical team at the Main Line Vascular Institute in King of Prussia. PAVascularInstitute.com
* Maybe it's been a few years since you've had your braces removed and you've noticed a bit of a shift in your smile. A skilled orthodontist such as Benjamin A. Cassalia, D.M.D., M.S.D., in Chalfont can straighten you out, so to speak, whether through traditional orthodontics, aligner therapy or an innovative therapy known as Wirelign. DrCassalia.com
* They say the eyes are the first thing to go, but Sanjay Kamat, D.O., of Bucks Eye Specialists in Yardley might say, "Not so fast." The Yardley-based ophthalmology practice offers a number of procedures to help individuals get their vision back to 20/20—or as close to it as possible. Also, if you're looking for that perfect pair of stylish new eyeglasses or multifocal contact lenses, Dr. Kamat and his team are happy to oblige. BucksEyeSpecialists.com
* Underarm sweat is a fact of life. Or is it? A new procedure called miraDry targets and permanently eliminates underarm sweat and odor by eliminating the glands that produce them. Locally based medical spas such as Strella Aesthetics, which has offices in Lower Gwynedd and Malvern, can help those who are looking for a permanent solution to this quality-of-life issue. StrellaPA.com
* Sometimes how we feel about ourselves is determined less by what we see in the mirror as it is by how we interact with the world around us. If you've noticed that your hearing isn't nearly as good as it used to be and it's starting to affect your life, it might be time to pay a visit to the professional audiologists of Main Line Audiology, which has locations throughout the area. Even if hearing aids are the best prescription to your hearing problems, rest assured that today's hearing aids are much more powerful and less conspicuous than those of yesteryear. MainLineAudiology.com