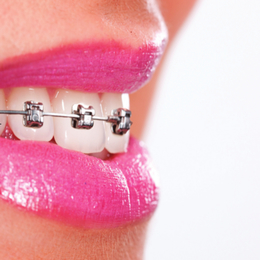 Straight Ahead
Looking for a healthy, balanced and more beautiful smile only a skilled orthodontist can provide? You are in luck.
Not so long ago, kids would recoil at the sound of a single dreaded word: braces.
For many, the idea of sitting in a dentist's chair and having brackets affixed to their teeth—usually for what seemed like an indeterminate amount of time—seemed like a strange form of punishment. "You'll thank us afterward," parents would say, not that many kids believed it.
Then, something shifted. The technology improved. The options grew. The treatment times sped up. And the stigma of old-school orthodontics faded away. These days, many kids actually look forward to receiving orthodontic treatment in pursuit of a better, straighter, healthier smile. In fact, the turnaround has come full circle: Individuals of all ages, including adults over the age of 65, have embraced orthodontics, everything from traditional bracket-and-wire braces and removable customized trays a la Invisalign to other, even more inventive options.
The American Dental Association describes orthodontics as a dental specialty that includes "the diagnosis, prevention, interception and correction of malocclusion, as well as neuromuscular and skeletal abnormalities of the developing or mature orofacial structures." In other words: a specialty devoted to perfecting a patient's smile, one carefully orchestrated move at a time.
The Greater Philadelphia Area offers an abundance of dental professionals, including those who specialize in orthodontics, so the phrase embarrassment of riches certainly applies. So how do you choose the "right" orthodontist for you? We are here to help—or, more specifically, our readers are.
We ran a months-long contest on SuburbanLifeMagazine.com, inviting readers to share their votes regarding the individuals they rely on to perfect their smiles. They delivered. Following you'll find their orthodontists of choice, along with a select number of editor's picks based on individuals we've featured in past issues—meaning, orthodontists who are known for having an excellent reputation.
We present our 2018 Top Orthodontists.
2018 Top Orthodontists
Dr. Benjamin K. Azizi
Advanced Orthodontic Care of Ambler
Ambler and Glenside
(215) 646-9515
AziziOrthodonticsAmbler.com
Dr. Ryan Becker
Becker Orthodontics
Plymouth Meeting and Phoenixville
(484) 928-0299
(484) 679-5187
BeckerOrthoPA.com

Dr. Benjamin A. Cassalia
Dr. Amanda Franks
Benjamin A. Cassalia, D.M.D.
Chalfont and Ottsville
(215) 822-6320
DrCassalia.com
Wirelign.com
Dr. Daniel Cassarella
DCO Orthodontic Specialists
Worcester
(610) 615-3166
DCO-Ortho.com
Dr. Steven M. Cohen
Steven M. Cohen, D.M.D., M.S.D.
Philadelphia
(215) 271-8870
PhillyBraces.com
Dr. Alexandra DeGeorge
Smile Culture Dental
Fairless Hills and Feasterville
(215) 946-3655
SmileCulture.com
Dr. Steve A. DelliGatti
Dr. Michael Milewski
DelliGatti & Milewski Orthodontics
Ambler
(215) 283-2440
DMOrthoGroup.com
Dr. Tanja J. de Marsche
Dr. William Roberts
Roberts & de Marsche Orthodontics
Philadelphia
(215) 655-1845
RobertsAndDeMarsche.com
Dr. Marianna Evans
Infinity Dental Specialists
Newtown Square and Glen Mills
(484) 420-4643
InfinityDentalSpecialists.com
Dr. Catherine Foote
Foote Orthodontics
Bryn Mawr and Wayne
(610) 525-6142
FooteOrthodontics.com
Dr. Cathleen George
Cathleen George, D.M.D., P.C.
Richboro
(215) 355-5995
TeethStraight.com
Dr. Frederick Jay Hill
Dr. Debbie Parnes
Parnes and Hill Phamily Orthodontics
Paoli and Wayne
(610) 644-1222
PhamilyOrthodontics.com
Dr. LynAnn Mastaj
Mastaj Orthodontics
Bryn Mawr
(610) 525-2277
LynAnnMastaj.com
Dr. Anna Morrison
Heine & Associates Family Dentistry
Newtown
(215) 968-4545
HeineFamilyDental.com
Dr. Tejjy M. Thomas
Center City Orthodontics
Philadelphia
(215) 800-1495
CenterCityOrtho.com
Dr. Orhan Tuncay
Rittenhouse Orthodontics
Philadelphia
(215) 772-0775
RittenhouseOrthodontics.com
Dr. Todd M. Welsh
Bucks County Orthodontics
Doylestown
(215) 348-9521
BucksCountyOrthodontics.com
Pediatric Orthodontics
Dr. Joshua A. Bresler
Dr. Jason M. Bresler
Dr. Rachel L. Bresler
Doc Bresler's Cavity Busters
Multiple area locations
CavityBusters.com
Dr. Randolph E. Schader
Newtown Dentistry for Kids/Newtown Orthodontics
Newtown
(215) 504-5437
504Kids.com
Dr. Patti L. Werther
Ardmore Pediatric Dental Associates
Ardmore
(610) 896-8300
Childrens-Dentistry.com