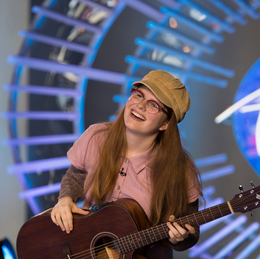 Idolized
After her meteoric rise on American Idol, Langhorne's Catie Turner reaches for the stars.
Nearly a year ago, high school senior Catie Turner embarked on a wild ride in the public eye that has led to a thrilling new future.
From the moment the 18-year-old Turner—a Langhorne native—sang to a national audience on American Idol, it was clear that she was going places. With her positivity, high energy and knee-high boots in a rainbow of colors, she became the bubbly, nerdy and charming "girl next door."
The recent graduate of Neshaminy High School has been singing, playing the guitar and writing songs for most of her life, amassing a proud local following along the way. So, while most of her peers have been gearing up for freshman year of college, Turner has been rehearsing and preparing for high-profile television trade shows, specialty concerts in Los Angeles and the opportunity of a lifetime: the summer tour known as American Idol Live.
Turner's American Idol journey began in August 2017, when she and her mother, Cathy, headed to Disney Springs in Orlando, Fla., for her first audition. A few months later, in October 2017, she had a "celebrity audition" with Idol judges Katy Perry, Lionel Richie and Luke Bryan—and they were instantly smitten.
Beginning with the first show on March 11, they each predicted a major music career for the energetic teen.
Turner ended up being one of the last contestants standing in the 16th season of American Idol—its first on ABC. She made it to the so-called Top 7, out of more than 200,000 contestants, and even got to sing a duet with Perry—Part of Me, Perry's 2012 hit—during the season finale. Her social media pages have fans from as far afield as Fiji and Bangladesh.
As one of the Top 7, Turner was selected for the 40-city American Idol Live tour, which starts in Redding, Calif., on July 11. A local stop will bring the show's seven finalists to the Tower Theater in Upper Darby on Aug. 14. We caught up with Turner in advance of the tour's kickoff.
Are you pinching yourself at this moment?
How could I not pinch myself?
What has been the biggest thrill so far?
There are so many: singing with Katy Perry, making it to the Top 7, making new lifelong friends, the upcoming summer tour, going to Disneyland, then singing Once Upon A Dream [from Disney's Sleeping Beauty] on American Idol, and so much more. What is there not to be over the moon about?
How have you changed since your American Idol experience began?
I'm more comfortable in my own skin. At the time the initial episodes were filmed in January during Hollywood week, you can see how nervous, inexperienced and naïve I was. So when I look back I was so doe-eyed. I am still a teenager and I sometimes do silly things, so it's also a little scary. It's also a little odd to know that people are watching my every step now.
Your entire life has changed in the past year. How do you stay grounded?
My mom has always taught me how to say thank you for all of the things I have gained from this experience. She reminds me that this is all an amazing experience, and that I have to work for everything that I get. So, yes, my mom keeps me down to earth, and makes sure I never have a diva moment, and that I always have what she calls "an attitude of gratitude." … I still get yelled at by my parents. They still make me do chores. So, nobody in my family thinks that I'm a star. To them, I have to remember that the world is watching and that I can't be lazy.
Did you have things planned out before this show came into your life?
Yes. Before American Idol, I could easily pinpoint what was going to happen. I was going to go get a college degree, probably go to Temple University, study music and performing. I would live in the city and after that get a job. But now I don't know where I will be in a year or two. It's kind of weird, but also very exciting.
While you have been in Hollywood, what have you missed most about Philadelphia?
First of all, my family. But after that, soft pretzels, taking the train into Center City and walking around Penn's Landing. I love being at the Philadelphia Art Museum, just being in Philly and exploring new places. Nothing can match that atmosphere for me.
What is your advice to someone pursuing a career that requires dedication and perseverance?
Be yourself, and don't change yourself for the industry so that you can be more marketable. I am staying true to myself and, apparently, it's working for me. Work hard and get used to backlash, because you could be the most perfect person in the world, and you would still have people who find issues with that. So, believe in yourself, know your talents, and always follow your heart.
If someone told you a year ago that you'd make it to American Idol's Top 7 and that the world's going to fall in love with you, what would you have said?
I probably wouldn't have believed you. I would have been, like, "Yeah, all right," and just kept playing computer games and drinking lemonade.
Photograph courtesy of ABC