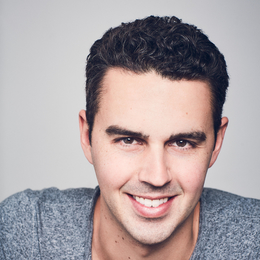 The Messenger
Pat Cunnane, the author of West Winging It, takes a lighthearted, solemn and inspiring look back on his years in the Obama White House.
Pat Cunnane grew up in a politically engaged household in Montgomery County—first Glenside, then Jenkintown. Politics became part of his life almost by osmosis, though he never considered it a viable career path. So imagine his surprise when he found himself with an office in the White House, just a dozen yards away from the Leader of the Free World.
Cunnane's trajectory changed while studying at the University of Miami, where he landed an internship working in the administration of President Barack Obama. Over the next six and a half years, he rose to the rank of senior writer and deputy director of messaging for the Obama White House. After his tenure in D.C., he made a beeline for Los Angeles, where he worked as a writer on the political drama Designated Survivor until its cancellation earlier this year. (Rumors suggest another network may resurrect the series.) Also, he recently finished a book tour to promote West Winging It, his behind-the-scenes memoir about his time at 1600 Pennsylvania Avenue.
We spoke with Cunnane just prior to a homecoming trip to Cape May, N.J., where he planned to celebrate the Fourth of July with his family, including his mother, State Rep. Madeleine Dean. He shared his thoughts on his book, his best and worst days in the West Wing, and what he misses most about Philly.
I imagine the most frequently asked question you receive is: "What's President Obama really like?"
If you don't like his politics but you got the chance to meet him, you would like him; he's a decent person to his core. For those who like his politics and view him the way I do—a once-in-a-lifetime figure—he lives up to the hype. He's as inspirational as you think he is, but he's also down to earth and can talk at length about pretty much any topic. I wasn't on his '08 campaign, so I got to know him the way the rest of the world did, as the most famous man in the world, from 1,000 miles away. Then I was thrown into an office 35 feet from the Oval Office.
Probably the second-most question I get asked is: "Which political TV show about the White House is the most accurate?" I would say the most accurate is Veep; they nailed the minutiae of the place, though they probably took it a bit further. That's why I wanted to write the book. I envisioned it as a workplace comedy, with reminders that you're in a very special place, so you'd better not waste it. The Obama White House was sort of like Veep with aspects of The West Wing—the craziness and the minutiae but also moments of inspiration sprinkled throughout.
The White House you describe in the book seems pretty tame, pretty light—sometimes even boring. That seems like quite a difference compared to what we see on the news in 2018.
It's like working at Dunder Mifflin in Scranton [from The Office]. The president's dog comes in and your job is to keep the dog out of the garbage for fear that it might eat chocolate and get sick. We had so many lighthearted moments, so it's interesting watching the news these days. The White House is a crazy place no matter what, so when you increase the craziness with self-inflicted crises, it's hard to grasp.
Did you experience any anxious moments while you were there?
All too often, we were responding to mass shootings—too many to count. I'll never forget Newtown, [Conn.] that shooting at Sandy Hook. It was right after the 2012 election, right around the holiday season; that's one season where you never forget where you're working. That morning, when we started seeing news reports coming in, all the joy of the White House and the holiday season was just sucked away. Then, being up there in Newtown, in the auditorium, where the president eulogized those kids and asked the country to take action—it's one of those moments you just can't forget.
Did you always aspire to be in politics to some degree?
My grandparents and parents always loved politics, and were very into it, but I never thought about it as a career at all. As a senior in college, my roommate knew how much I liked President Obama and said, "You should apply for a White House internship." So I applied. I was rejected, and then I reapplied right away, but I put a little more time and effort into it, and I was fortunate to get it. I ended up being there for six and a half years. I left D.C. the day before Donald Trump was inaugurated, and I've been in L.A. ever since, working in TV.
How does L.A. compare to your hometown?
I love it here, but I love Philly. I love Philly sports. I love Philly food. And I really miss the shore; the beach here doesn't match summer down the shore back home. There's nothing like Cape May in the summer.