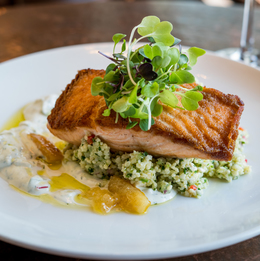 'A Really Special Place'
At Bowman's Tavern, customers and employees discover a unique atmosphere that keeps them coming back for more.
It says a lot about a restaurant when patrons keep coming back, becoming "regulars." But it says just as much—maybe more—when the restaurant staff includes a number of long-tenured employees. Truly, in an industry known for having high turnover, a restaurant that makes a strong impression on customers and employees alike must be pretty special.
Welcome to Bowman's Tavern in New Hope, which staff members describe as a place that "feels a lot like family." Customers feel the same way about Bowman's, according to Larry Linderman, a bartender at the restaurant. As soon as he sees certain cars pull up, he starts making the drivers their favorite drinks. He wants the drinks ready when they walk in.
"The staff here knows our regular customers by name, what they prefer to eat, and what they prefer to drink," says Linderman, who has been ranked one of the best bartenders in Bucks County two years in a row by Bucks Happening. "In that way, it's a lot like Cheers. It's a place where people like to keep coming back because they're treated like family."
Personalized Service
This all comes in a day and age where the service industry is moving away from personalized service. Banks, airports, even fast food restaurants are all embracing automation. Americans are less frequently in touch with people than ever before, even though that kind of face-to-face connection is exactly what they crave.
At Bowman's, Linderman says it's a common practice for patrons to come in and request their favorite server. Just like the bartending staff knows customers' favorite drinks, the wait staff remembers their customers' favorite foods. And they get to know customers on a more personal level, too.
Amanda Cranney has worked at many different restaurants over the past two decades, but she says none have been like Bowman's. A five-year veteran of the Bowman's family, Cranney says she has found a home at Bowman's, which she characterizes as "a community and a family."
"This community culture also expands out to our customers," she says. "We have many regular customers who are very much a part of the Bowman's family. We know about their families and they know about ours. We share photos of our children and stories about our vacations. We celebrate births, graduations and birthdays together. We mourn losses together. And we weather storms together."
Cranney says that when someone is in need—a staff member or a customer—everyone rallies around them to help. One way that Bowman's does this on a more organized level has been through the creation of a "Mondays Matter" program in which the restaurant chooses a cause at the beginning of the month and gives 10 percent of sales from each Monday of the month to that cause.
Linderman says that it all started when a friend of his—a fellow bartender—had his house burn down. Linderman approached James Seward, the owner of Bowman's, about helping out. From there, Mondays Matter was born.
"It's important to know that we're not a typical restaurant that is quiet on Mondays," Linderman says. "We're packed. So, this is a big deal—it's a big donation. And our customers love it. They always want to know which charity is up next and they keep coming back to help support it. I think we have a pretty long backlog of charities that want to participate at this point. It's been so successful."
Linderman, who has been with Bowman's long enough to have worked for its third owner, says that Seward has "taken the restaurant to a new level."
"James is big on helping the community, and it really shows," Linderman says. "He's made Bowman's a really special place. I thought I knew the restaurant industry before he took over, but he's constantly bringing new ideas to the table and improving upon what we already do."
Distinctive Fare
Of course, even with as much as Bowman's does for the community, patrons would not continually come back if the food was not exceptional. Jessica Williams, a server with Bowman's for five years, says that the staff has an excellent knowledge of the menu—taking the time to learn exactly what is in each dish and how it is prepared. Each week the staff tastes the new specials and receives an informative lesson from the chef.
"We love helping our customers make the right decision on their meal choice because we want them to be happy," Williams says. "Personally, I feel a bit spoiled now, having gotten used to the food at Bowman's. I don't like to order salmon at any other restaurants because it is so perfectly prepared at Bowman's. It is my favorite item on the menu, whether ordered as the entrée or added to a salad."
While Linderman says that you can "throw a dart at the menu and be happy with what you get," he does have his personal favorites. He, too, prefers the salmon but adds that he also loves the scallops. Cranney's favorite dish is the shrimp and grits.
"While this is ubiquitous on restaurant menus—and, frankly, a dish I would often overlook—Bowman's take on it is unique," she adds. "The rock shrimp are cooked so they are crispy on the outside and then tossed in our house-made barbeque sauce so that they are reminiscent of a General Tso's chicken—crispy yet perfectly sauced. The smoked pepper grits offer more than just creaminess and are the perfect smoky bass note to the tangy shrimp. The dish is topped with a mix of green onion and cilantro, adding nice freshness."
To some, it may all sound too good to be true. A restaurant that boasts longtime staff, a family-like atmosphere and delicious fare may seem tough to find these days. Good news: Bowman's has exported this unique atmosphere to a second location in Upper Bucks County, known as Bowman's North.
The Bowman's staff invites customers to try either location for themselves, but they also offer the following caveat: "Be prepared to be wooed and wowed." Linderman says the staff loves to identify first-timers to ensure that their experience is as wonderful as that of the regulars.
"We love when people visit us for the first time," he adds. "We always want to be sure that they leave happy—because that's what makes us happy."
Bowman's Tavern
1600 River Road
New Hope, Pa.
(215) 862-2972
BowmansTavernRestaurant.com
Bowman's North

1274 Easton Road
Riegelsville, Pa.
(610) 510-3030
BowmansNorth.com
Photography by Jody Robinson