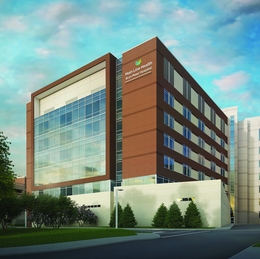 Focusing on the Future
With a focus on family, Bryn Mawr Hospital plans for the next generation.
For more than four generations, Bryn Mawr Hospital has been caring for families on the Main Line community—from 'Bryn Mawr babies' to grandparents. The hospital has earned the trust and respect of families in this region many times over, and is committed to maintaining that legacy of providing superb care for generations to come.
Now, Bryn Mawr Hospital is preparing for the next phase of its story with a campus modernization project, the largest ever for the hospital and the second largest in Main Line Health history.
The new patient pavilion, slated for completion in February 2019, is a seven-story, 253,000-square-foot Patient Pavilion that will include a new critical care unit, operating rooms and maternity and labor and delivery unit.
The all-new Patient Pavilion features a maternity unit rooted in consequential design. Which means the setting of each patient room and floor of the new building—from more privacy to more natural light—is not only thoroughly new, but thoroughly human.
New Suites offer Privacy and More Room for Partners
Bryn Mawr Hospital's new labor and delivery suites will be spacious, with large windows and private bathrooms. Plans for two of the rooms are slightly modified with a more home-like environment and laboring bathtubs. Bryn Mawr Hospital has a relationship with Lifecycle WomanCare (formerly known as The Birth Center) in Bryn Mawr, whose patients seek care in a home-like environment but when needed, Bryn Mawr Hospital assists in transitioning patients to the hospital.
The unit will also feature two new C- section operation rooms, recovery and staff support areas and a comfortable family waiting room that overlooks a new green roof garden and the two-story Atrium adjacent to the Warden Lobby.
On the second floor, the maternity unit will offer 25 large private rooms to accommodate antepartum and postpartum mothers and their families. Each room will include upgraded finishes, more natural sunlight, a sleeper sofa and more space for partners or visitors.
With new bassinets in every room, new mothers will also have the option to 'room in' with their newborn overnight to allow for more bonding time. When they are not in use, these bassinets will easily recede into the wall to offer more space for visitors. A large lounge on the unit will accommodate childcare classes and there will be a dedicated private room for patients, family members and employees to breastfeed or pump.
These new labor and delivery and maternity units will complement the Pediatric Emergency Department and the newly renovated Lori Beth Brodsky Pediatric Unit at Bryn Mawr Hospital where young patients are seen by Nemours pediatricians and Bryn Mawr Hospital pediatric nurses. The new maternity unit will be dedicated to the late Mrs. Dorrance Hamilton—a beloved philanthropist and champion of Bryn Mawr Hospital.
Level III Neonatal Intensive Care Unit benefits Bryn Mawr Hospital's Littlest Patients
From just hours-old to several months, the babies in Bryn Mawr Hospital's neonatal intensive care unit (NICU) may be its youngest and smallest patients, but the commitment to these families and the facilities that serve them are an equally vital part of the modernization project and future of Bryn Mawr Hospital.
The hospital's new NICU amenities were created with families in mind and emphasize an environment of healing. Clinicians will have more control over factors like lighting and noise—crucial for creating a healing and soothing environment for NICU babies. The unit will also include more frosted glass, half-walls and curtains to provide a more intimate, private space for each family.
In addition, the NICU will feature two overnight suites adjacent to the unit to accommodate prolonged family visits, as well as two private on-unit rooms where mothers can room-in with their babies, if necessary. Private lactation rooms and a family lounge will also be a part of the new NICU.
Therapies offer Integrative Maternity Experience
Welcoming a new baby is an exciting time and with a team of skilled, experienced nurses and physicians by your side, you can feel confident and well prepared for your new loved one. Bryn Mawr Hospital aims to provide a concierge-like experience for new parents as they prepare for their new baby.
Each family receives an experienced labor and delivery nurse who guides throughout the birthing process while mom and baby stay together throughout their time in the hospital. Known as "couplet care," families bond with babies and the nursing team as they become partners in the birth experience. Some families having their second or third child, will also be given the option of having the same nurse in their stay in the hospital.
Mothers can enjoy integrative therapies like aromatherapy during their stay at Bryn Mawr Hospital, and clinically trained staff members can give hand massages with essential oils on request. Members of the trained Reiki nursing team are also equipped to perform reiki, a Japanese healing technique that promotes stress reduction, relaxation and pain management using slow hand movements.
If massage isn't a good fit, there's also a wide selection of musical relaxation aids, including an onsite harpist that can visit the maternity unit and a roster of on-call musicians that can serenade parents and baby through the 'Musicians On Call' program. Music has been a part of Bryn Mawr Hospital's maternity program for decades—a soft lullaby is played throughout the hospital to announce each baby's birth.
Expectant parents even have options when it comes to C-sections. Bryn Mawr Hospital proudly offers a gentle Cesarean section as an option for mothers, when medically appropriate. The procedure—called a 'Gentle C'— uses a clear drape during the birth so that parents can see the birth of their child and hold them immediately afterwards. The technique allows mothers to enjoy a family-centered experience when bringing their little one into the world.
A Significant Impact
For more than 125 years, Bryn Mawr Hospital has been honored to care for women and families in our community, and we look forward to continuing to do so for generations going forward. The result of the hospital's modernization project enables our community to be cared for by physicians and caregiving teams for which the hospital is beloved, in a new and improved environment.
For more information, visit mainlinehealth.org/newmaternity.