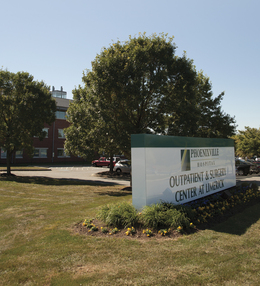 Phoenixville Hospital
Metropolitan healthcare with a hometown approach
Phoenixville Hospital is a true example of how a community hospital benefits from clinical partnerships with regional healthcare institutions. These partnerships include the University of Pennsylvania Health System, the Children's Hospital of Philadelphia, the Philadelphia Hand Center and the Moore Eye Institute.
A 153-bed acute care facility, this respected Chester County medical center serves about 8,200 inpatients annually. Also, the hospital spearheads more than 700 community outreach programs benefiting men, women and children in the region. Among the hospital's fine programs are a women's health pavilion with a full-service maternity ward and Level II NICU staffed by CHOP neonatologists, an award-winning comprehensive cardiovascular program including a full-time electro-physiologist and congestive-heart-failure specialist, and a fully accredited cancer center that is part of the Penn Cancer Network.
Phoenixville Hospital has served its community for more than 100 years, and its commitment to improving the lives of families is one of it highest priorities.
Serving patients from Chester County, Berks County, Montgomery County and beyond, the Cancer Center at Phoenixville Hospital offers a multidisciplinary approach to providing treatment protocols for most types of cancer and blood-related disorders. Phoenixville Hospital became a member of the Penn Cancer Network in 1991, and the hospital's outpatient Cancer Center opened in April 1992. The Cancer Center at Phoenixville Hospital provides the latest cancer treatments as well as access to an extensive base of sub-specialists for consultations and referrals, as necessary.
The Center is one of the few in the region to offer both radiation therapy and medical oncology in one location, making treatment and care much easier and more convenient for patients.
Services provided at the Center include state-of-the-art radiation therapy provided by full-time faculty from the Penn Medicine's Department of Radiation Oncology, including board-certified hematology/oncology physicians. Certified nurses administer chemotherapy, immunotherapy and blood-product replacement. In addition to inpatient and outpatient diagnostic and treatment services, nutritional, psychosocial and spiritual counseling are offered. When appropriate, hospice and home-care referrals are made. A medical ethicist is available for patient/family consultation as needed.
Residents of Western Montgomery County have convenient access to skilled medical care across a spectrum of specialties. The Phoenixville Hospital Outpatient and Surgery Center at Limerick, located just off Route 422, offers diagnostic imaging, outpatient surgery, pain management, wound care and other services. Physician offices at Limerick include primary care, pediatrics, OB/GYN, the Philadelphia Hand Center and other specialties. Just nine miles from the main hospital's campus, patients can take advantage of its many services and outpatient offerings.
Phoenixville Hospital's Limerick Outpatient and Surgery Center Campus opened its doors in 1999. The campus consists of two connected buildings: the Outpatient Offices/Diagnostic Center (Building A) and the Surgery Center (Building B). The campus is an integral part of Phoenixville Hospital, and many of the physicians who practice at the hospital also provide services there or in offices adjacent to the campus.
The Outpatient and Surgery Center at Limerick provides a variety of services. An outpatient surgery center is staffed with highly trained nursing and support personnel, anesthesiologists and CRNAs (the same group that provides hospital services at the main campus) and board-certified physicians all dedicated to providing excellent care in a supportive patient and family friendly environment.
Melissa Iglesias, D.O., an ophthalmologist with the distinguished Moore Eye Institute, is the medical director of the Surgery Center. Included in the surgical services provided there are general orthopedics; hand surgery; plastic surgery; ophthalmology including cataract, glaucoma, pediatric, occuloplastic and retina; gynecology; pain management; urology; general surgery; vascular surgery; podiatric surgery; ENT; and oral and maxillofacial surgery.
In addition, specialized services include Phoenixville Pain Management Institute at Limerick led by pain-management expert Dr. Laurence Fitzhenry, and the Phoenixville Wound Care Center. Dr. Dennis Monteiro, a wound-care specialist, addresses specific medical and/or surgical treatment for wounds and skin conditions. The Philadelphia Hand Center, which has celebrated more than 20 years of success, forged a partnership with Phoenixville Hospital last year, with services targeted to the diagnosis, treatment and rehabilitation of hand, wrist, arm, elbow and shoulder diseases and injuries. Dr. Sidney M. Jacoby and Dr. Leonid I. Katolik staff the Philadelphia Hand Center in Limerick.
One of the highlights of the campus in Limerick is the state-of-the art, ACR-accredited diagnostic imaging center that offers X-ray, digital mammography, CAT scan, MRI, dexascan and ultrasound. Several medical offices and suites, including adult and pediatric primary care, general and vascular surgery, podiatry, plastic surgery, urology and gastroenterology, are located in Limerick.
"Healthcare technology continues to rapidly evolve and change," says Mark E. Schwartz, director of business development, Phoenixville Hospital. "One of the challenges of most hospitals is to evaluate new technological advances, and determine where to best use financial resources to meet the service expectations of the patients, community and medical staff. Patients want access to the most advanced imaging, the newest minimally invasive surgical approaches, the best and latest medications and more."
Stephen M. Tullman, CEO, says Phoenixville Hospital and its Outpatient and Surgery Center at Limerick have strived to keep up with this increasing patient demand. He reports advances including acquiring the latest robotic surgical system to support the hospital's large Robotic Surgery Center (the hospital is the only one in Chester and Montgomery counties to have the da Vinci SI robot), with plans to build a state-of-the-art hybrid cardiac catherization lab to house the hospital's growing volume of cath procedures, which has increased approximately 30 percent each year for the past several years.
At the Limerick Campus, the facility offers advanced laparoscopic equipment and recently purchased new high-end ophthalmologic equipment for retina, glaucoma and cataract surgery.
"Phoenixville Hospital and our Outpatient and Surgery Center at Limerick have grown and expanded in many service areas over the past few years," says Tullman. "The leadership of the hospital, along with the medical staff, continues to strive to expand the scope of services so that people living in the service area can get most of the medical care they need in their own community. To that end, the hospital has successfully recruited many new physicians and started several new services and programs and continues in this effort. The goal continues to be to provide excellent and state-of-the-art quality care in a patient-friendly, community-oriented environment."
Phoenixville Hospital
140 Nutt Road, Phoenixville
610-983-1000
www.phoenixvillehospital.com
Phoenixville Hospital Outpatient & Surgery Center
420 Linfield-Trappe Road, Limerick
Diagnostic Imaging: 610-495-2370
Wound Treatment and Healing Center: 610-495-2190
Phoenixville Hospital Pain Management Institute at Limerick: 610-495-3838
Erica Lamberg is a freelance writer based in Montgomery County.