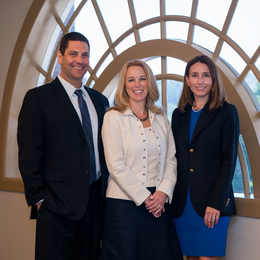 Preserve and Protect
Semanoff Ormsby Greenberg & Torchia, LLC's Trusts and Estates Group strives to ensure that each client's final wishes will be honored and their loved ones cared for as intended.
An all-too-common scenario: A young person works hard to get into an elite college. He or she earns a degree and lands a decent job, and then gets married and starts a family. Together, the couple works their way up the corporate ladder, maybe starts a business of their own, and invests wisely so their family will be able to live comfortably. Then, in a blink, one of the spouses dies unexpectedly. And because they failed to make their final wishes known through a carefully executed estate plan, everything they worked so hard to earn is now in jeopardy.
This is the type of situation Lisa A. Shearman helps her clients avoid on a daily basis. Shearman is a member of the Trusts and Estates Group of Semanoff Ormsby Greenberg & Torchia, LLC, a full-service law firm with offices in Huntingdon Valley and Chalfont. The group's goal: to help individuals and business owners prepare for a future after they have passed on, by ensuring that their assets can be transitioned seamlessly to their heirs, just as they intended.
"By taking the time to be proactive, you can make sure your family will have the documents they're going to need—a will, a durable power of attorney, a living will—to follow your wishes in the event that something like an accident or a health issue does arise," Shearman says. "Now is the time to determine what your wishes are and who you want making decisions for you, while you are competent and have the capability to make clear-headed decisions. Of course, the hope is that you won't need them for a long time."
Without the essential estate-planning documents in place, the division of a decedent's estate will be left up to the courts, often leaving families in turmoil, emotionally and financially. If an individual does not have a will, the state writes one on his or her behalf. Shearman has seen situations in which the lack of an estate plan leads to protracted family squabbles and tens of thousands of dollars in unnecessary legal fees—all of which could have been avoided by spending a little time, energy and money to put one's wishes down on paper with the help of a qualified attorney.
In the process of formulating an estate plan, an attorney can also help a client address other vital protections, such as life insurance or, if the individual owns a business, shareholder agreements. Once an estate plan is created, however, Shearman says it is not "final." She advises individuals to update their estate plan regularly to account for significant changes in their own lives or in the lives of their executors and beneficiaries. Other good reasons to review estate plans include changes in tax and other laws.
Semanoff Ormsby Greenberg & Torchia, LLC has one of the region's largest and most experienced teams of trusts and estates attorneys. In addition to Shearman, the firm's Trusts and Estates Group includes practice leader Brian R. Price and attorneys Mary Jo Baum, Michael B. Dubin, Robert L. Franklin, Howard N. Greenberg, John T. Ort, Jocelin A. Price, Frederick M. Savadove, Peter J. Smith and William J. Stein, each having his or her areas of strength. In addition, the firm calls upon a team of five estate and trust administration specialists to support the legal team and serve as a vital resource to clients.
"When it comes to the administration of an estate, we work closely with each of the attorneys and do much of the document preparation so the attorneys can be in more of decision-making-and-review mode so we can give the clients more economical service," says Julia D. Martin, who leads the team of administration specialists. "As soon as the estate is opened, we spend a lot of time with clients—helping the surviving spouse and children with all the paperwork, answering questions, guiding them through the process so everything remains on track. We do as much for our clients as they want us to do. Often the family is still grieving after the death of their loved one, so we're always sensitive to the fact that this isn't just a business."
As part of its mission, the firm's Trusts and Estates Group supports the Wills for Heroes Foundation, a nonprofit program that provides wills, powers of attorney and other essential legal documents to military veterans and first responders, all free of charge. Shearman, who has been participating in the program for more than 10 years, sees the program as "an opportunity to say thank you and to give some peace of mind to our nation's first responders."
Trusts and estates account for only one area of Semanoff Ormsby Greenberg & Torchia, LLC's expertise. The firm has more than 25 lawyers serving the needs of individuals and business owners, practicing in areas such as business/corporate, real estate, intellectual property, employment and commercial litigation, among others. With the expansion of the Trusts and Estates Group, the firm can assist individuals, families and business interests, striving to be both cost-effective and responsive in its quest to build lasting relationships with clients—locally, regionally and across the nation.
Semanoff Ormsby Greenberg & Torchia, LLC
(215) 887-0200 | sogtlaw.com
2617 Huntingdon Pike
Huntingdon Valley, Pa.
140 E. Butler Ave.
Chalfont, Pa.
Photography by Jody Robinson