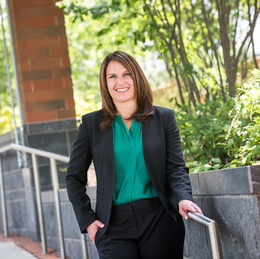 A Better Place
Whether she's guiding a client through a difficult divorce or devoting her time to improving the community, Obermayer family law attorney Hillary J. Moonay strives to make a difference.
Hillary J. Moonay keeps a full schedule, but there's always room for a little more if she thinks she can somehow make a difference. Her career as a family law attorney with Obermayer Rebmann Maxwell & Hippel LLP takes up a lot of her time and energy, both in and out of the courtroom, yet she's continually finding new ways to deepen the bond she shares with members of the Bucks County communities in which she lives and works.
Moonay's job is hardly of the 9 to 5 sort. Even so, she's always carving out time for people and causes that are close to her. One day she might be judging a high school mock trial competition, through her affiliation with the Bucks County Bar Association. The next she might be coaching her daughter's youth travel soccer team in Lower Makefield Township or participating in a board of directors meeting for Yardley Makefield Soccer, which fields soccer teams for players ages 3 through 19.
She's particularly proud of her affiliation with the YMS Special Stars, a volunteer soccer program for children and young adults who have been diagnosed on the autism spectrum, or with Asperger syndrome. YMS Special Stars is dedicated to engaging children on the spectrum in soccer skill building and games once weekly during the spring and fall. The program strives to keep children on the spectrum active and connected to the community, but it also encourages pre-teen and high school players to participate as mentors, thereby bringing people of different backgrounds, abilities and skill sets more closely together.
"The reward I get from participating in this program as a coach, as well as watching volunteers working with the stars is amazing," says Moonay, a partner in Obermayer's family law group in Doylestown. "I love living and working in the same community. It gives me connections to my neighbors and lets me more organically understand what their lives are like."
Likewise, this desire for connection and understanding has guided Moonay throughout her more than 23 years of practicing family law, handling primarily divorces and related matters. With every case she takes on, she experiences the client's highs and lows, including the sense of loss and heartache that come from watching a once-happy marriage come to an end.
"In family law, you're rarely meeting clients when they're at their best," says Moonay. "Divorce is difficult. Many clients can't believe this is happening to them, and some feel as though they're not going to make it through. That's where my background in psychology comes in. I can help them get through the process emotionally, as well as give them legal support. I help them come out on the other side stronger and independent and eager to pursue fulfilling lives. When they do, that's the most rewarding part for me."
A Record of Success
Among the most respected, qualified and sought-after family law attorneys in the region, Moonay practices exclusively in the area of family law. She's adept at handling all phases of the negotiation and litigation of domestic relations cases, including divorce, child custody, child support, alimony/spousal support, equitable distribution, prenuptial and postnuptial agreements, among other related issues. She has been recognized among The Best Lawyers in America from 2014 to 2018, and has been honored as a top attorney by several respected publications, including Suburban Life.
After studying psychology and criminal justice at the University of Maryland, from which she graduated cum laude, Moonay earned her Juris Doctor from the University of Michigan Law School. She believes her background in psychology and criminal justice can be extremely helpful when it comes to assisting clients through turbulent times. "In fact, those two things are what got me interested in practicing law," she says.
A fondness for the law seems to run in Moonay's blood, as her father and brother are attorneys, too. She is well-versed in the financial aspects of divorce cases, including the intricate issues related to complex business valuations and forensic accounting matters. While she is a skilled litigator with extensive experience handling complex divorce matters, she also has acquired training in areas such as alternative dispute resolution, including arbitration, mediation and collaborative law.
Moonay works to stay as connected to the legal community as she does to her neighbors. She has served in leadership roles for the family law section of the Pennsylvania and Bucks County bar associations, and most recently she was admitted to the prestigious American Academy of Matrimonial Lawyers.
Whenever possible, she takes the opportunity to share her expertise with other attorneys so they can better serve their clients. For example, she contributed to Slicing Up the Pie: Property Distribution in Pennsylvania, a book published by the Pennsylvania Bar Institute Press. She has been featured as a case note contributor for the Pennsylvania Family Lawyer, has authored articles for The Legal Intelligencer, including "The Impact of Social Media on Family Law Matters" and "Post-Retirement Benefits in Matrimonial Litigation," and frequently lectures on a variety of family-law topics.
A New Chapter
Moonay enjoyed a reputation as a strong, capable family law attorney prior to joining the team at Philadelphia-based Obermayer. When the opportunity arose, she saw Obermayer as a natural fit; after all, the client-first philosophy she holds so dear has been a hallmark of the firm since its founding in 1904. Likewise, the firm has a long history of performing respected work and obtaining favorable results for clients in a dedicated, expeditious and cost-effective manner.
"Aside from legal representation, I try to make clients realize that things will be OK in the end," Moonay adds. "We'll find ways to get them through the tough parts. Sometimes, you have to be creative, which is one of the things I love about my job. You have to give clients the confidence so they can adjust to their new norm. For them, it's like a new beginning. I can help clients who have been at the end of their rope see the light. I can also show them they can have a brand-new chapter of life ahead of them."
Whether she is assisting clients during a divorce or a custody battle or volunteering her time to enrich her community, Moonay sees a common thread between the two.
"It's about helping people," she says. "My ethos is: How can I help people? What's my role in their lives? What can I do to help somebody get through a difficult time in their life to a better place? Nothing is more important."
Obermayer Rebmann Maxwell & Hippel LLP
108 N. Main Street
Doylestown, Pa
(215) 606-0755
Obermayer.com
Photography by Jeff Anderson