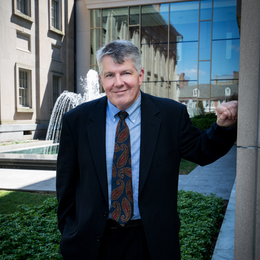 Driven to Serve, Ready to Fight
Lee A. Ciccarelli leads a team of lawyers determined to help clients attain the justice they deserve.
Some attorneys view a career in law as a path to a payday. Lee A. Ciccarelli had a different mission in mind. His parents were committed to putting each of their eight children on a path to living a purpose-driven life devoted to helping others.
"I grew up in Williamsport, Pa., a small working-class town west of Wilkes-Barre, and my parents' upbringing was rooted in public service," says Ciccarelli, founder of Ciccarelli Law Offices in West Chester. "So as I was thinking about what to do with my life, I found myself asking questions like, 'How can I make a difference?' and 'What steps can I take to help other people?' I saw law school as a path to achieving a greater purpose, and I became a lawyer because I believed it was a way to do the right thing."

He chose The George Washington University School of Law, in the heart of the nation's capital, a well-respected law school known for its excellence in public-interest law. There, he found the opportunity to hone his skills in constitutional law and as a trial lawyer. After earning his Juris Doctor and successfully passing the bar exam, Ciccarelli began working as a trial lawyer in cases pertaining to personal injury, criminal defense and workers' compensation. He came to the conclusion that his mission was to achieve success for his clients.

Ciccarelli spent 10 years developing his skills with other firms as a successful trial lawyer before beginning his own law firm approximately 20 years ago. Early on he found himself tackling the same kinds of cases he handled as a young lawyer—representing individuals who were injured as a result of others' negligence, and defending clients accused of crimes. Over time, as clients' legal needs expanded, the firm added more attorneys with expertise in areas such as estate law and family law. The firm also extended its reach to serve clients from Lancaster County in the west to metro Philadelphia in the east.

"Whether a client's injuries appear to be slight or if someone has been killed or suffered a catastrophic injury, the process we use for each case remains the same," says Ciccarelli, whose practice still focuses primarily on personal injury and criminal defense. "We meet with them, connect with them, and discuss how the injury occurred. Then, in a doggedly analytical way, we start building a case so we are prepared to go to trial. We're at a point now with our firm that when the defense sees us on the other side, they realize they have to bring their A-game. They take it as fact that we're going to trial."

This relentless approach has helped the firm recover substantial sums for its clients, in some cases without even going to trial. In the past year, for example, Ciccarelli's firm recovered $2.6 million for a client who was a passenger in a commercial vehicle and suffered serious injuries in an accident ascribed to driver inattentiveness. Ciccarelli attributes the settlement to the fact that his team exhibited the great lengths it would go in order to seek justice for the client.

At Ciccarelli Law Offices, attorneys are involved in each injured client's case from the initial free case evaluation, through the development of the case, demand and negotiation, as well as preparation and appearance in the courtroom to ensure a just result of its injured clients—something that sets Ciccarelli's firm apart from so many others.

"Whenever we take on a case, we intend to be fully engaged with our client," he says. "Whether it's a home visit, a hospital visit or at a rehabilitation or nursing home, every client deserves to meet with an attorney in our legal team and not an investigator. Unlike a firm that relies on support staff to manage and prepare the case, our lawyers are the individuals that are in contact with our injured clients to help ensure the most complete and successful experience for our clients."
Ciccarelli takes pride in the fact that he has built a team of passionate and caring attorneys who have the resources, experience and determination to make a difference in their clients' lives. Although he knows it may sound cliché, he says this shared devotion stems from the desire to treat every client as if he or she is a member of the family.
"If I am a client who is going through a dramatic time in my life, I need an advocate who is going to come up with answers," he says. "I'm looking to my attorneys to provide guidance and leadership. I am looking for a team who is available when I need them and who provides confidence and a sense of peace that I am doing the right thing.
"I want people who work hard, who are loyal to their clients, and who are dogged in and passionate about their purpose," he continues. "That's what we try to do for every client. It's what they expect and, more importantly, it's what they deserve."

Ciccarelli Law Offices
304 N. High Street
West Chester, Pa.
(484) 235-5705
Ciccarelli.com
Photography by Jody Robinson