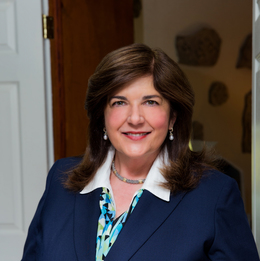 Turnaround Specialist
As a highly skilled negotiator and creative problem solver, attorney Robin Bond of Transition Strategies LLC empowers executives and other clients to overcome challenges in the workplace.
"I have many repeat clients," says Robin Bond, the founder and principal of the Wayne-based employment law firm known as Transition Strategies LLC. She thinks she knows why.
"The reason people come back to me is my strong client focus, and the fact that I'm a creative problem solver and effective advocate," she says. "I ask every client, 'If I can make you happy, what would that look like?' Then we partner to decide the best way to go out and get it. Every case is different, so I constantly have to think of new ways to figure out how I'm going put a notch in the win column, so to speak. You can be nice and you can be forceful, but if you're not creative, you're not going to get the results your clients need."
Clients aren't the only ones who see the value she provides. Over the years, Bond has seen a parade of awards and accolades come her way. Some of the most recent:
* The Nation's Top One Percent honors from the National Association of Distinguished Counsel for 2017 through 2019;
* A 2016 Veterans of Influence Award from the Philadelphia Business Journal, honoring military veterans who have become distinguished business leaders in the Greater Philadelphia Area;
* The 2015 Delaware Valley HR Consultant of the Year Award from the Society for Human Resource Management (SHRM);
* and Top Employment Lawyer distinction from respected publications such as Super Lawyers, Main Line Today and Suburban Life for several years running.
If those honors weren't enough, billionaire businessman Mark Cuban wrote the foreword for her 2013 book, How to Negotiate a Killer Job Offer. Bond says she very much appreciates the recognition, but that's not why she does what she does.
"I want people to feel empowered in their careers," says Bond. "The kind of strategic and tactical advice I offer is ideal for employees who want to finesse better employment deals and job-termination offers. Even though it's apparently a strong economy, we're not seeing wage growth that is commensurate. With a little guidance and strategic input, my clients can wind up putting themselves in a much better position, or in other cases saving themselves tens or even hundreds of thousands of dollars and the aggravation of protracted litigation."
Bond often represents clients in claims and disputes in workplace matters pertaining to civil rights discrimination, breaches of contract and executive compensation, but she considers her "sweet spot" to be helping corporate employees "navigate the minefields" in their bid to excel. Whether someone needs help regarding a new job, an existing job or a job they're preparing to leave, Bond can help the individual negotiate salary and bonuses, employment perquisites and job protections in the form of non-competes.
"I believe in being strategic and proactive," she says. "That means from the very first sign of a problem, don't delay in contacting someone like me. If you're an executive and someone else has suddenly become 'the favorite child' or you notice other behaviors that suggest something could be amiss at work, that's the time to act. That's when you have the greatest potential to turn things around."
She takes pride and joy in helping clients get the results they want, which she's been doing effectively for more than 20 years. Two recent examples of her magic: a client who, as he was preparing to leave a company, was able to obtain more than $1 million in equity that otherwise would have been lost; and a female executive who felt undervalued working in a male-dominated business and was able to negotiate a significant pay increase until she was able to secure the "job of her dreams" elsewhere.
The secret to Bond's success, she believes, comes from her ingenuity—her ability to "figure out a way to tell your story."
"When a client comes in, I'm a very active listener," she says. "I learn what their circumstances are and what kind of outcome they're looking for. Then it's my job to tell their story, to have their employer hear it and then to be persuaded by it. That's the art form."
Her approach begins with behind-the-scenes attempts to persuade a client's employer to do "the right thing." Early on, her presence tends to be largely invisible, perhaps by crafting a client's communication to an employer as a way to make the client appear to be an expert negotiator. If these efforts fail, she will then ramp up the pressure by negotiating with the employer on the client's behalf.

No matter the circumstance, Bond is prepared to lead each client to the best possible outcome. And based on the number of familiar faces she sees in her office each year, her clients certainly have no complaints.
Transition Strategies LLC
88 Militia Hill Drive
Wayne, Pa.
(610) 640-5373
robin@transition-strategies.com
Transition-Strategies.com
Photograph by Jody Robinson
Published (and copyrighted) in Suburban Life magazine, July 2019.
For more info on Suburban Life magazine, click here.
To subscribe to Suburban Life magazine, click here.
To advertise in Suburban Life magazine, click here.