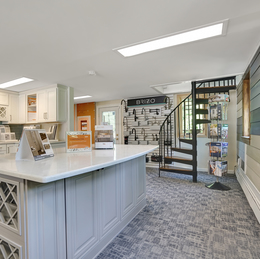 Above and Beyond
Long known for its expertise with home exteriors, G. Fedale Roofing and Siding extends its reach to help clients turn any home-improvement dream into a reality.
G. Fedale Roofing and Siding is proof that an exceptional reputation requires exceptional workmanship.
Throughout southeastern Pennsylvania and into Delaware, G. Fedale has become known as a premier provider of home-exterior services—roofing, siding and windows, primarily—since its founding more than 15 years ago. In fact, G. Fedale has earned a number of prestigious awards for its craftsmanship and client service, including a 2015 Better Business Bureau Torch Award for business ethics and a President's Club Award from GAF, North America's largest roofing manufacturer.
While such accolades are certainly appreciated, G. Fedale takes the most pride in the satisfaction of the individuals who have hired the company to beautify and safeguard their homes. On the G. Fedale website, homeowners offer testimonials describing the company's workmanship and organizational skills as "exceptional," and its staff as "friendly and helpful."
Homeowners will take delight in the fact that G. Fedale has added significantly to its areas of expertise. The company now aims to be a comprehensive resource for homeowners looking to enhance virtually any aspect of their homes, whether inside or out. In recent years, G. Fedale has expanded its team with new employees who have years of experience in interior design and renovations. In addition, the company has purchased a sprawling showroom on Route 202 in Chadds Ford, right on the Pennsylvania-Delaware border. Known internally as "the 202 office," the showroom has since been fully remodeled and refurbished to showcase all of the company's capabilities.
"We're doing a lot more now than just adding curb appeal to a home," says Allen Fedale, co-owner of G. Fedale Roofing and Siding. "We can now call ourselves a full-service contractor. We've hired a team of individuals who specialize in things like painting and interior work, and we've also partnered with a number of specialty trades, so we're now able to offer our expertise with kitchens, bathrooms, additions and remodels, basement renovations, decks, custom window treatments, skylights—you name it."
In fact, G. Fedale has launched a campaign called "Love Your Home," to spread the word that the company can help homeowners turn any home-improvement dream into a reality.
"The people we have on staff love what they do, and we want to work with homeowners so they can fall in love with their homes," Allen adds. "Whether it's a new roof, a new kitchen or a whole-home remodel, we're able to offer a full range of interior and exterior design-build services to help homeowners bring their imagination to life."

Family and Community
G. Fedale takes tremendous pride in being a family-owned and operated business. The Fedale brothers—Glenn, Adam and Allen—co-own the company, and many other members of the Fedale family are involved in the business' daily operation. Even so, the company considers every employee to be an extension of the Fedale family. For example, if an employee believes strongly in a certain cause or charity, G. Fedale wants to be involved, too.
"We're strong partners with the Cancer Support Community, in large part because it was important to one of our employees," Fedale says. "He had testicular cancer and had to go through several weeks of chemotherapy, and the Cancer Support Community helped him through it. He's in remission now and back to work for us as one of our top guys, but he's still heavily involved in supporting the organization's mission. We have a lot of cases like that, because we want to support the passions of our employees."
Likewise, the company strives to be ingrained in the communities in which it does business. Besides supporting locally based charitable organizations such as Habitat for Humanity and the Ferris School for Boys in Wilmington, among many others, G. Fedale strives to make a difference in people's lives through efforts such as the Roofs From The Heart Foundation.
How it works: Twice a year, usually spring and fall, the company asks members of the public to nominate themselves or others who may be deserving of a new roof. Once all the entries have been received, the company designates a board to select five finalists, whose stories are voted on through social media until one homeowner or family is selected to receive a new shingle roof. The company is currently accepting nominations, which can be made through the company's website, GFedaleRoof.com, or by sending an email to RoofsFromTheHeart@GFedaleRoof.com.
"We used to have employees come to me or one of my brothers and say, 'This customer is in a tough position and in need of help, and I'd like to help them,'" says Allen Fedale. "Some of these employees even offered to give up their weekends to help, and that really hit home for us. The Roofs From The Heart Foundation grew out of that kind of passion. Whether we're out in the community or working at a client's home, this kindness and respect are part of the company culture here, and they're key ingredients in everything we do."

For more information, visit GFedaleRoof.com.



Photography by Jody Robinson