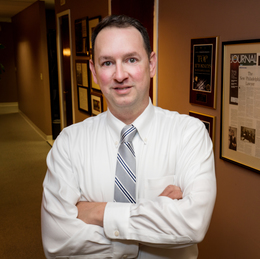 Eager to Help, Prepared to Fight
John Zurzola and his fellow attorneys in Weber Gallagher's Family Law Group do everything in their power to help clients through divorce, complex child custody, support and alimony, and other challenging issues.
The most successful family law attorneys must possess a clear and complete understanding of the law and its myriad procedures and protocols, as well as integrity beyond reproach. John A. Zurzola believes two additional attributes are vital when representing clients in divorce and family law cases.
"You need nerves of steel and, at the same time, a sense of empathy for what the client is going through," says Zurzola, a partner in the Family Law Group of Weber Gallagher Simpson Stapleton Fires & Newby, based in Norristown. "Family law is not work for the timid; there's no place in this for a go-along, get-along person. You need to be the kind of lawyer who is willing to fight for the client, and leave no stone unturned. I think he or she has to have the disposition to first, want to be a lawyer and second, do this kind of work."

In addition, he believes a skilled family law attorney needs to be able to manage the all-too-delicate balancing act between advocating for clients and providing emotional support during what can be one of the most traumatic periods of their lives.

"Sometimes their life is in chaos," Zurzola says of the experience many clients have in the early stages of divorce proceedings. "Their home may be in foreclosure, money may be being hidden by their spouse, or their children may be being alienated or withheld from them. You have to be aware of the emotional aspect of what the client is going through, as well as the dollars and cents at issue."

Addressing Every Need
Weber Gallagher, which is based in Philadelphia, started its family law practice in 2009 as a service to clients. Rather than building from the ground up, however, the well-established firm decided to acquire an existing five-county practice in Norristown that was already brimming with talent. The Family Law Group has grown stronger in the years since. The highly experienced attorneys are: Zurzola, as well as fellow partners Lynne Z. Gold-Bikin and Carolyn R. Mirabile (also the group's Chair), and associate Donna M. Marcus.

Zurzola has been with Weber Gallagher since early in 2016, and he has practiced law for more than 18 years. He received his Juris Doctor from the Widener University School of Law in 1999 and has a Master's in Business Administration from St. Joseph's University. This background comes in handy when complex financial issues are present in his clients' high-asset cases. While he concentrates his practice on matters including high-net-worth/complex divorce and child-custody cases, as well as in assisting clients who require prenuptial and postnuptial agreements, the Family Law Group as a whole can assist clients in every facet of family law including domestic violence/protection-from-abuse cases, adoptions, alimony, and spousal and child support.
With each new client, the individual's legal and emotional needs are addressed immediately, according to Zurzola.

"Yes, this is about how to get two people's finances divided," he says. "But we're also dealing with families, or those in a relationship or not, or those with addiction, abuse or infidelity issues. As such, the exercise of gathering information on assets and debts is equally as important as the emotional side that comes into play. That's something we address at the first client meeting."

Zurzola emphasizes that not only are the legal and emotional concerns of Weber Gallagher clients met by the lawyer who is handling their case, but also, if needed, by a range of professionals from outside the firm.
"We've been doing this so long and are so sophisticated, we have a wide network of professionals, like psychologists, accountants, private investigators, financial and real estate professionals, to assist our clients," he adds. "We're here to do all we can to help our clients. I think that's what drew me to choosing the law as a career, the aspect of helping people. That and the independence of it, the ability that you are a person helping a client through a particular difficulty.

"You can be a hero to a client, and I've had some tell me as much—that they see you that way because you help them when they're down."

In It to Win It
As much as the firm's attorneys are heavily invested in each client's case, they are equally as involved in the community, both personally and professionally. The attorneys' outside-the-courtroom affiliations, including being involved in professional education associations with judges and in local and state bar association events, represent yet another aspect of Weber Gallagher's ability to best serve its clients.

"A client must have someone who has dealt with these issues in one form or another for a long time in front of judges from all the surrounding counties," he says. "We practice in all five counties around Philadelphia, and it helps to have that institutional knowledge. Clients should know if their attorney has done this before in front of the judge that may be assigned to their case."

Zurzola recognizes that each client may be in the fight of his or her life when a client takes the bold move to hire a lawyer. Some clients, he says, have no knowledge of their financial status because his or her spouse paid the bills, so they say, "I don't know what we have." Others, meanwhile, are looking to their attorney for guidance and direction regarding co-parenting after the divorce is complete. Still others are dealing with false charges of abuse being lodged against them, or children being alienated from them or withheld from them entirely.

"If people have the ability to choose a seasoned attorney, they'll be getting one with us who has done this work before and is not willing to settle for an outcome because it's the easy way out," Zurzola says. "That's where you have to put your bulldog on. It's our nature to do what's right for the long-term future of our client. We will say no, we will go to court, and we will do everything in our power to win."

The Family Law Group of Weber Gallagher Simpson Stapleton Fires & Newby LLP
One Montgomery Plaza
425 Swede Street, Suite 1001
Norristown, Pa.
(610) 272-5555
jzurzola@wglaw.com
Webergallagherfamilylaw.com
Photography by Jody Robinson